A tremendously tasty traybake.
I suppose I should have asked for this recipe from Lulu Bonneville, having enjoyed it at a lovely long lunch with her and Hugh (aka Lord Grantham). But what I love doing is taking someone's recipe that I really like and not copying it but just paying homage with my own version. I love getting recipes from those understated but really good cooks who manage to produce something delicious and are also so organised that they are around for the glass of champagne on arrival. They just seem to magic the food up.
Serves: 6-8
INGREDIENTS
4 tbsp olive oil
12 chicken thighs, skin on and bone in
Juice of 1–2 lemons
5 garlic cloves, chopped
Small bunch of thyme, leaves stripped from stalks
3 courgettes, cut into thick slices on the diagonal
2 fennel bulbs, trimmed and sliced
8 new potatoes, scrubbed and cut into thick slices
Sea salt and black pepper
METHOD
Preheat the oven to 220°C/Fan 200°C.


Add a small amount of the oil to a large frying pan and place it over a medium-high heat. Working in batches, fry the chicken thighs for a few minutes until the skin has taken on a deep golden colour. Turn the chicken over and cook for a minute or so on the underside.


Mix the lemon juice, garlic, thyme and the rest of the olive oil in a bowl. Arrange the slices of courgette, fennel and potato in a large roasting tin and pour over two-thirds of the lemon and oil mixture. Toss to coat the vegetables and season with salt and pepper.


Arrange the chicken on top, skin-side up, and pour over the remaining lemon and oil mixture. Season the chicken with salt and pepper. Bake for 35–40 minutes until the chicken skin is crisp and golden and the vegetables underneath are tender. Nice with a green salad or green beans.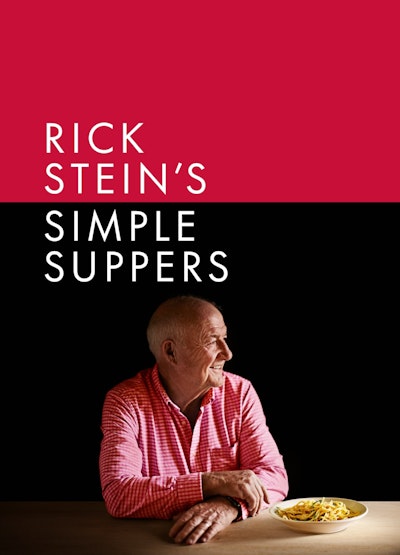 Rick Stein's Simple Suppers
From bestselling cook and food writer Rick Stein, comes the iconic Simple Suppers - a joyful collection of over 100 genuinely easy and delicious recipes paired with stories that celebrate the simple things in life.
Read more