These lovely aubergine rolls are from Rick Stein's The Road to Mexico.
In Sausalito, just across the bay from San Francisco, there's an area filled with houseboats. They're beautiful, not boring little things, and some of them are permanently fixed on floating concrete pads. Others you can genuinely put to sea. Quite a few famous literary and arts figures have rented boats out there and invited friends like Jack Kerouac, Allen Ginsberg and William Burroughs to visit. And it is also where Otis Redding wrote 'Sittin' on the Dock of the Bay'. I was invited for lunch on a houseboat by Paula and Cory, whose best friend was English and had seen my programmes. In the end about 15 locals showed up, all bringing fabulous food. I know they may have been trying to impress, but they were all people who were used to cooking regularly and eating well and healthily. I remember thinking, this is California, this is good. These lovely aubergine rolls stuffed with feta were brought along by Olivia, one of the guests.
Char-grilled Aubergine & Feta Rolls
Serves 4 as a starter or part of a mezze
INGREDIENTS
2 aubergines (eggplant)
4 tbsp olive oil
175g feta cheese
175g ricotta cheese
Small handful flatleaf parsley, chopped
5–6 rasps freshly grated nutmeg
10 turns black peppermill
1 ½  tbsp capers, chopped
To serve:
100g mixed rocket, watercress and baby spinach
Juice of ½ lemon
2 tbsp extra virgin olive oil
Seeds from ½ pomegranate
Salt and pepper
METHOD
Cut the aubergines lengthwise into slices about 5mm thick. You should get about 6 slices from each aubergine. Brush the aubergine slices on both sides with oil and grill them in batches on a barbecue or griddle pan for 3–4 minutes on each side until browned, tender and pliable. Set them aside.
Mash the feta and ricotta in a bowl with a fork and add the parsley, nutmeg and black pepper. Stir in the capers.
Spoon a generous tablespoon of filling on to the wide end of each aubergine slice and roll it up like a Swiss roll.
To serve, arrange the salad leaves on a platter, dress them with lemon juice and olive oil, then season. Arrange the aubergine rolls on top, seam-side down, and decorate them with pomegranate seeds. Serve at room temperature as a starter or part of a mezze.
---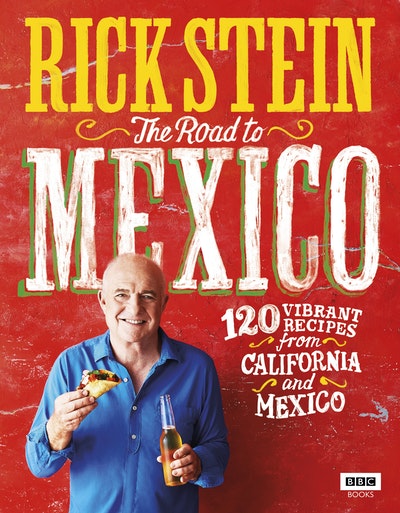 Mexico is the new India. This landmark book and major BBC series from Rick Stein brings his expertise and joie de vivre to the hottest food trend.
Buy now
Buy now
---