Try this free recipe from Rick Stein's From Venice to Istanbul.
From Venice to Istanbul by Rick Stein explores the mythical heart of Greece to the fruits of the Black Sea coast; from Croatian and Albanian flavours to the spices and aromas of Turkey and beyond. Evoke the magic of the Eastern Mediterranean at home with this lamb kofte recipe...
For these you really do need a flat metal skewer, the sort of thing that you are bound to buy in a shop somewhere in Turkey on holiday and then find again a year or two later languishing in the back of the garage. You need the surface area to enable you to turn them. If you use a thin, round skewer, the meat will fall off. This is what I would call the epicentre of Turkish cuisine. Köfte are popular all the way from Greece to Iran and as far as India, but the combination of fennel, coriander and cumin with minced lamb, pistachio nuts and chilli flakes sums up Turkey.
LAMB KÖFTE
Makes eight to ten
Ingredients 
1 tsp cumin seeds
½ tsp fennel seeds
½ tsp coriander seeds
1.2kg minced lamb Handful flat-leaf parsley, chopped
1 tsp dried mint
2 eggs, beaten
10g/2 cloves garlic, crushed or grated
75g pistachios, roughly crushed
1 tsp chilli flakes
1 tsp salt
3 turns black peppermill
Juice of 1 lemon
Plain flour to bind, if necessary
Olive oil, for brushing
 
METHOD
Crush the spice seeds with a pestle and mortar, then mix all the ingredients together. If the mixture is too wet, add a little plain flour. Form with wet hands into sausage shapes on metal skewers. Brush with a little oil. Cook on a charcoal barbecue or under a hot grill for about 8 minutes, turning regularly, until cooked through. Serve with pide bread, Cacik and salad.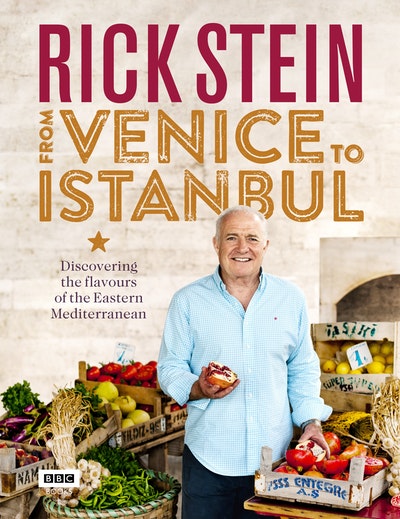 Rick Stein: From Venice to Istanbul
This is a memorable food odyssey: journeying through an ancient landscape discovering great food, creating dishes from recipes that have lasted the course of time. This beautifully illustrated book contains 120 recipes from Rick's major 2015 series on BBC2.
Read more