A crisp, toasted sourdough sandwich put together quickly with a little béchamel.
A croque monsieur should have an element of crispness to it since the French verb croquer is onomatopoeic, meaning to crunch or crack. For me, it means a crisp, toasted sourdough sandwich put together quickly with a little béchamel. The normal cheese and ham 'toastie' that's served up in motorway service stations as a croque monsieur I would simply class as a stomach filler. This, on the other hand, is a pleasure, from the crisp toast to the hint of bay leaf and nutmeg in the béchamel, and the Gruyère cheese and good ham inside.
CROQUE MONSIEUR
SERVES 2
10g butter, softened for spreading
4 slices sourdough bread
1–2 tsp Dijon mustard
2 thick slices good-quality ham (about 50g each)
85g Gruyère or Comté cheese, grated
A few rasps freshly grated nutmeg
Béchamel
25g butter
25g plain flour
270ml whole milk
1 bay leaf
A few rasps freshly grated nutmeg
Salt and black pepper
For the béchamel, melt the butter in a pan, then add the flour and stir for a couple of minutes. Take the pan off the heat and gradually whisk in the milk, beating after each addition to avoid lumps. Add the bay leaf, put the pan back on the heat and bring to the boil, then cook, stirring all the time, until thickened. Season with nutmeg, salt and pepper, then set aside.
Preheat the grill to a high setting. Butter the slices of bread on one side and place them butter side up under the grill until golden. Preheat the oven to 220°C/Fan 200°C.
Put the slices of toast on a board, turn them over and spread the untoasted side with Dijon mustard. Spread 2 of the slices of toast with some of the béchamel, then add quarter of the grated cheese and a slice of ham to each one. Top with the remaining slices of toast, toasted side up, and spread with the remaining béchamel sauce. Sprinkle over the rest of the cheese and add nutmeg and black pepper.
Transfer the sandwiches to a baking sheet and bake them for 10–12 minutes until golden and bubbling. Eat at once!
---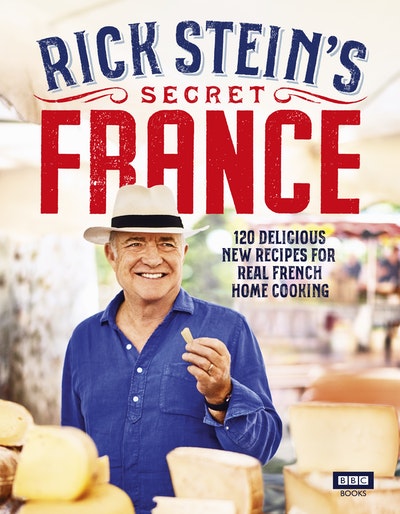 Almost twenty years after French Odyssey, which sold 280,000 copies, Rick returns to his beloved France to discover real, simple French cooking, distilled into this collection of 120 brand-new delicious recipes.
Buy now
Buy now
---