A case of shortcrust pastry with plenty of leeks sweated down in butter then bound with an egg and cream mixture and baked. Delicious.
Many versions of this leek tart or pie from Picardy exist, some with a top of puff pastry or brioche or with added ingredients like cheese or lardons. Being something of a purist I prefer just a case of shortcrust pastry, my mother's recipe and really short, with plenty of leeks sweated down in butter then bound with an egg and cream mixture and baked. Delicious.
LEEK TART FROM PICARDY
FLAMICHE
SERVES 6​
Shortcrust pastry
200g plain white flour, plus extra for rolling
60g cold butter, cubed
40g cold lard or vegetable shortening, cubed
Pinch of salt
2 tbsp ice-cold water
Filling
1.25kg leeks, cut in half lengthways, washed and cut into 1cm slices
75g butter
300ml full-fat crème fraiche
2 large eggs, lightly beaten
A few rasps freshly grated nutmeg
Salt and black pepper
First make the pastry. Put the flour, salt, butter and lard in a food processor and process until the mixture resembles fine breadcrumbs. Transfer it to a bowl and add enough of the water to make a smooth but not sticky dough.
Put the dough on a floured work surface and roll it out to a circle about 28cm in diameter. Place the pastry in a 25cm loose-bottomed fluted tart tin, then trim the edges and prick the base with a fork. Cover with cling film and refrigerate or freeze for at least 30 minutes.
Melt the butter in a large shallow pan, add the leeks and leave them to sweat, uncovered, over a medium to low heat for 20–30 minutes until soft, stirring occasionally. If the leeks seem very watery after this time, cook until the liquid has reduced. Stir in the crème fraiche and beaten eggs, then season well with salt, pepper and nutmeg.
Preheat the oven 200°C/Fan 180°C. Remove the pastry case from the fridge or freezer, line it with baking parchment and fill with baking beans. Bake it for about 10 minutes, then remove the paper and beans and continue to cook for another 4–5 minutes to allow the pastry base to dry out a little. Turn the oven down to 190°C/Fan 170°.
Fill the pastry case with the leek mixture and grate over a little nutmeg and black pepper. Bake the tart for 25–30 minutes, then serve warm or at room temperature.
---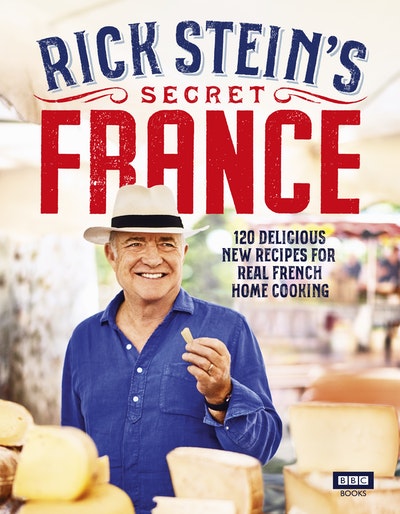 Almost twenty years after French Odyssey, which sold 280,000 copies, Rick returns to his beloved France to discover real, simple French cooking, distilled into this collection of 120 brand-new delicious recipes.
Buy now
Buy now
---