A creamy, gut-loving treat from Eat More, Live Well.
Plant Points 4.25
Makes 12 slices
Prep 15 mins
Cook 40 mins, plus chilling
FODMAP Lite
I love cheesecake, but shop-bought versions can be notoriously high in saturated fat. This creamy cheesecake is a gut-loving treat, with fermented dairy, bursts of colour from the juicy berries, and a deliciously nutty base that's just sweet enough.
Base:
100g cooked quinoa
200g walnuts
6 Medjool dates, pitted (approx. 100g)
1 tbsp ground ginger (optional)
1 large egg, lightly beaten
Cheesecake:
500g ricotta
200g thick live yogurt
2 large eggs, plus 1 egg yolk (use the leftover white in tomorrow's omelette bowl)
3 tbsp honey, or sweetener of choice
3 tbsp plain flour
juice of 1 lemon (about 45ml), plus zest
150g frozen raspberries
Topper (optional):
Preheat the oven to 190°C/170°C fan/gas mark 5, and line the base and sides of a 20cm high-sided spring-form cake tin.
Place the quinoa, walnuts, dates and ground ginger in a food processor and blitz until combined (approx. 30–60 seconds), leaving some texture in the crumb. Stir in the egg.
Pour into the lined cake tin and press down in an even layer. Place into the preheated oven and bake for 20 minutes.
Meanwhile, place all the cheesecake ingredients, except the frozen berries, into a food processor and blitz to combine for about 1 minute. Scrape the sides and blitz again for another minute.
When the base has been in the oven for 20 minutes, take it out and pour the cheesecake mix on top, dotting over the frozen berries as you go.
Turn the oven down to 180°C/160°C/gas mark 4, and return the cake tin to the oven. Bake for 40 minutes until the middle has just set. If there is still any wobble, give it another 5–10 minutes.
Turn the oven off, crack the door and allow the cake to cool in the oven. Then remove and chill in the fridge overnight before serving with fresh berries.
Storage
Best eaten soon after it's chilled, but keeps for 3 days in an airtight container in the fridge.
Switch
Already had raspberries this week? Swap for blueberries.
Hungry for more recipes? Sign up to our foodie email here
---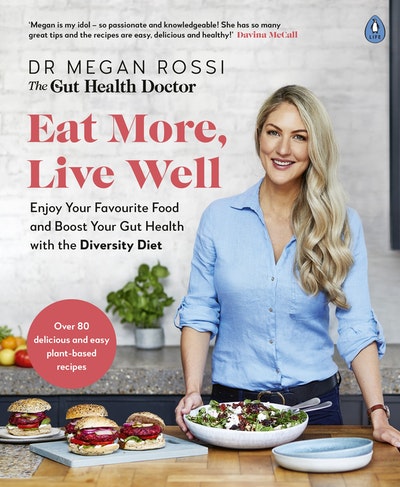 From the bestselling author of Eat Yourself Healthy, over 80 plant-powered recipes and expert advice to diversify your diet, help boost your gut microbiome and support your overall health
Buy now
Buy now
---