A comforting dessert just like granny used to make.
This comforting dessert brings back memories of digging into my granny's fruit crumble. I pop this in the oven as I sit down to dinner; by the time I'm finished, the baked fruit, nut and cinnamon aromas have filled the kitchen and it's ready to eat. This recipe works all year round with whatever fruit is in season, and contains double the fibre (not to mention the plant diversity) of a lone piece of fruit.
Serves 4
Prep 10 mins
Cook 35-45 mins
4 large extra ripe nectarines, peaches, apples or pears, or a mix of each (approx. 600g)
6 Medjool dates, made into a paste, or 6 tbsp sweetener of choice
1 tbsp extra virgin olive oil
40g mixed nuts, chopped
40g whole oats
½ tsp ground cinnamon
juice of 1 lemon (approx. 45ml), and zest to taste
Topping
50g live thick yoghurt, or cream-less icecream
Preheat your oven to 190°C/170°C fan/gas mark 5 and get out a small roasting tin. You want the fruit to sit snugly inside the tin, so they don't dry out.
Cut your fruit in half (if there is a core, remove it) and make a small hollow the size of a two-pound coin. If using stone fruit, simply remove the stone.
Place the fruit in the roasting tin, cut side up, and put to one side.
Mix the date paste, oil and 1 tbsp of water together in a bowl, then add the nuts, oats, cinnamon and lemon juice. Mix until you have a sticky crumble mixture. Taste and adjust zest to preference.
Fill the hollows of the fruit with even amounts of the crumble.
Cover with foil and bake in the oven for 20 minutes (or 30 minutes if using apples or pears), then remove the foil and bake for a further 10–15 minutes until the crumble is nicely browned and the fruit is tender.
Serve with your choice of yoghurt or ice cream.
Tip: Short on time? Cook the fruit in the microwave for a few minutes first to soften it (approx. 3–4minutes), before adding the crumble and baking for 10 minutes uncovered in the oven, or until golden brown.
Storage: Best served straight out of the oven. Keeps in the fridge for up to 3 days.
Switch: Want to up your plant-based points? Switch the whole oats for rye flakes.
Hungry for more recipes? Sign up to our foodie email here
---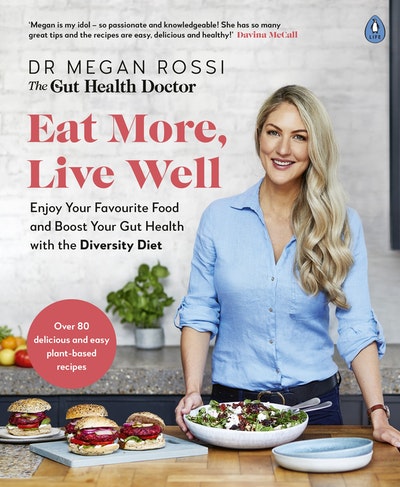 From the bestselling author of Eat Yourself Healthy, over 80 plant-powered recipes and expert advice to diversify your diet, help boost your gut microbiome and support your overall health
Buy now
Buy now
---