A fresh and delicious lasagne to enjoy regularly.
This is a fresh and delicious lasagne that we enjoy regularly at home. The spinach pasta is the hero of the dish so I would love you to have a go. I must admit that on occasion I never get as far as 'lasagne', but make tagliatelle instead, and serve it with the tomato sauce and ricotta – bellissimo! If you want to go the other way and 'pimp up your lasagne', a few additions such as pancetta, or pork and fennel sausage make a nice change. I often substitute the tomato sauce with the bolognese, or meatballs and sauce, and add a layer of cheese sauce for a more traditional but equally satisfying dinner.
Serves 4
Once you have cut 4 sheets of pasta to the length of your lasagne dish, cut any leftover pasta into strips or rags, pop into a container and freeze for a quick meal another time. Fresh pasta can be cooked from frozen in a couple of minutes.
fine sea salt
650 g baby spinach leaves
150 g tasty cheddar, grated
150 g mozzarella, grated
SPINACH PASTA
1 free-range egg
125 g reserved blanched spinach (see above)
200 g tipo '00' flour
½ teaspoon fine sea salt
1 tablespoon olive oil
FILLING
remaining reserved spinach
400 g firm fresh ricotta, drained
⅓ cup (80 ml) cream or mascarpone
finely grated zest of 1 lemon
1/4 teaspoon sea salt flakes
freshly ground black pepper
Preheat the oven to 180°C fan-forced (200°C conventional).
Bring a large saucepan of water to the boil over high heat, then add ½ teaspoon salt and the spinach leaves. Press the leaves down into the water and cook for 30 seconds. Drain into a colander and immediately run under cold water, lifting and moving the spinach to ensure it cools in seconds. Drain and squeeze as dry as you can with your hands, then place on a paper towel to further absorb any remaining moisture. Weigh out 125 g for the pasta and chop the remaining blanched spinach for the filling. Set aside separately for later.
To make the spinach pasta, place the egg and the reserved 125 g squeezed spinach into a blender and process until smooth and green. Place the flour and salt into a large bowl and create a well in the centre. Add the spinach mixture and the olive oil to the well. Gradually draw the flour into the wet mixture with your fingertips and mix into a dough. Turn the dough out onto the benchtop and knead for 2–3 minutes until the dough is soft and pliable. Wrap in plastic film and set aside for 30 minutes to rest.
Meanwhile, for the filling, chop the remaining blanched, squeezed spinach and loosen with your fingers. Combine in a medium mixing bowl with the ricotta, cream or mascarpone, lemon zest, salt and a generous amount of pepper. Mix well and set aside.
Bring a very large saucepan of water to the boil and add a pinch of salt.
Divide the pasta dough into 4 pieces and dust the bench with flour. Using a pasta machine, roll each piece out into a 1 mm thick pasta sheet as described on page 61. Cut to the length of your lasagne dish. Drop the pasta sheets gently into the boiling water and cook for 1–2 minutes. Remove carefully with a lifter or large slotted spoon onto an oiled tray and spread out to prevent them from sticking. Set aside to cool.
To build the lasagne, start with a layer of the ricotta mixture, then a layer of tomato sauce. Sprinkle with the grated cheeses and then add a layer of pasta, trimming the sheets to fit neatly. Repeat 3–4 times, depending on how thick you like the layers. Finish with a layer of sauce and cheese.
Place the lasagne dish onto a baking tray and bake for 35–40 minutes or until bubbly, brown and hot in the centre.
---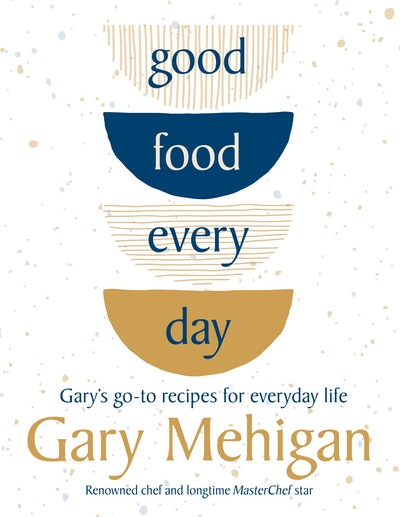 The essential collection of Gary's favourite home recipes, for down-to-earth and delicious cooking that's achievable any day of the week.
Buy now
Buy now
---