The burnt Basque cheesecake surely owes its newfound popularity in part to #lockdown 2020.
Instagram was inundated with pictures of this delicious dessert, which originated at La Viña in the Spanish town of San Sebastian, and with good reason. It's good . . . really good! Because it is cooked at a high temperature the crust is dark and actually burnt, giving this sweet cheesecake a distinctive savoury and caramelised flavour essential to its success. This recipe is for a small cheesecake as I found using a kilo of cream cheese is just too much of a good thing.
SERVES 12
I have used an electric mixer in the recipe for ease, but it's pretty easy to mix by hand and actually quite satisfying if the cream cheese is at room temperature and already soft before you begin.
400 g cream cheese, at room temperature
20 g plain flour
½ teaspoon fine sea salt
300 ml thickened or pouring cream
3 free-range eggs, plus 1 egg yolk
¾ cup (120 g) icing sugar, sifted
1 teaspoon vanilla bean paste
finely grated zest of 1 lemon
Preheat the oven to 240°C fan-forced (don't use conventional setting). Line the base and sides of a 20 cm springform cake tin with a double layer of baking paper, extending the paper above the edge of the tin by 10 cm, to allow for expansion during cooking.
Place the cream cheese into a large mixing bowl of an electric mixer and attach the paddle. On low speed, mix the cream cheese until smooth.
Sift the flour and salt into a different bowl, add 1/3 of the cream and whisk together to remove any lumps, then add the remaining cream and whisk until smooth. Set aside.
Add the eggs and egg yolk to the softened cream cheese one at a time, making sure each egg is fully incorporated before adding the next one. Sprinkle in the sifted icing sugar and mix for a further minute, then pour in the cream and flour mixture. Add the vanilla paste and lemon zest and continue to mix until completely smooth. This process should be done gently and at low speed, or mix by hand. The idea is to keep the mixture free from bubbles or aeration.
Pour the mixture into the prepared cake tin. Run a knife through the mixture in the tin to remove any bubbles. Bake for 35 minutes or until the cheesecake is just set, with just a slight wobble in the centre (the internal temperature will read 55°C on a digital thermometer). The surface will be very well coloured.
Remove from the oven and allow to sit for 3–4 hours to cool completely before attempting to remove the tin.
Serve at room temperature. Leftovers can be kept in the fridge for up to 1 day.
---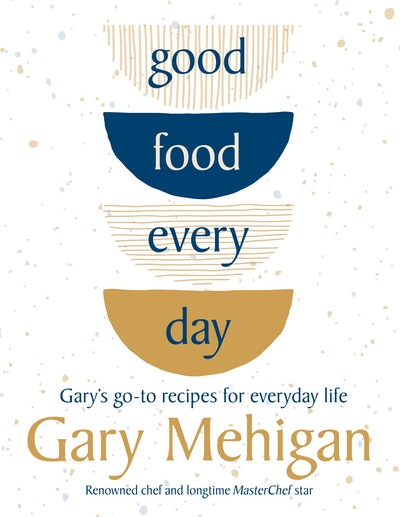 The essential collection of Gary's favourite home recipes, for down-to-earth and delicious cooking that's achievable any day of the week.
Buy now
Buy now
---