The TV chef shares his secrets to successfully entertaining friends and family over the holidays.
There's just one thing TV chef Gary Mehigan wants for Christmas — a table groaning with beautiful fresh ingredients and a generous amount of food.
Christmas lunch is such a big part of our holiday tradition, where family and friends gather to enjoy fresh prawns or pork crackling.
While it is one of the things we look forward to most, it can also be what causes the host the most stress.
To make the holidays that little bit more enjoyable, Gary, who has just released his new book Good Food Every Day, has offered his top five tips to make Christmas lunch slightly less chaotic.
1. Shop with plenty of time
Gary says people should order their lunch essentials from their butcher or fishmonger ahead of time. He orders his ham at the end of November or start of December, while doing the same for prawns, whiting and snapper.
'I pre-order so I've got it in the bag and can pick it up on Christmas Eve,' he says.
'Also most prawns are frozen on the boats in Australia these days so I'm never hesitant to ask for frozen green prawns, then you defrost them and they stay fresher throughout the Christmas period — Christmas Day, Boxing Day and December 27.'  
2. Utilise the kitchen table
Gary loves the idea of family and friends gathered around the kitchen bench indulging in a champagne and nibbles before sitting down for the grand feast.
'For the first course I just have some dips and nibbles, whether it's pate, a beetroot dip, hummus — things you can have with that first glass of champagne,' he says.
'Everybody is standing around the kitchen table chatting and just letting their hair down.
'I would say no to trying to cook a three-course meal.'
3. Prepare what you can in advance
The TV chef says pre-preparation is absolutely key to a successful Christmas lunch, with many making the mistake of biting off more than they can chew.
'Don't try to do everything at once and have a practise — don't try cooking something new on Christmas Day,' he says.
Nobody wants to be stuck in the kitchen while everybody is having a good time, so look at what you can prepare in advance, like salads or dressings, and only cook a couple of elements on the day so you're not glued to the stove.
'My secret — if I cook a ham that can be cooked in the morning and glazed and ready to go at 11am or 12pm and guests arrive at 1pm, then I just have salads to dress and prawns to put on the barbecue,' he says.
'I'd rather do hard work beforehand and have a chilled Christmas Day more than a frantic Christmas Day.'
4. Slow down
Gary suggests people take some time to slow down on Christmas Day and not rush.
'If you're cooking a turkey, it needs plenty of time to rest. People still seem to think that things need to be piping hot when you eat it, and really that's not the case,' he says.
'Allow something to rest and have all those lovely juices spread through and then give it a quick flash through the oven if you want to pop a bit of heat on before serving it.
'People forget by the time you've sat down and pulled the Christmas crackers and told a few jokes, it's at room temperature anyway.
'If you worry about being a three Michelin Star restaurant for your family you may spoil the fun for everyone.'
5. Send guests home with leftovers
We all know hosting Christmas lunch means you spend weeks eating nothing but ham sandwiches. Gary said people can save on food wastage and ensure everybody's stomach is satisfied if you send them home with some leftovers.
'I always think about that — I let everybody go and I tidy up and I think about all this food I have leftover,' he says.
'Make sure you have some takeaway containers for Christmas Day and give your food away and leave just enough ham for your toasties.
'Buy some recyclable containers, be smart and send everyone away with a gift and leave yourself with a lean fridge.'  
---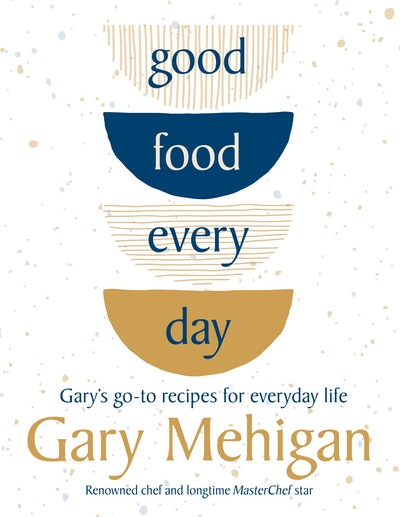 The essential collection of Gary's favourite home recipes, for down-to-earth and delicious cooking that's achievable any day of the week.
Buy now
Buy now
---