The TV chef has revealed the one Christmas favourite he leaves off the menu.
If TV chef Gary Mehigan was cooking your Christmas lunch, you'd be forgiven for expecting a three-course meal and succulent turkey.
But that's not how the Good Food Every Day author does it in his house, with turkey off the menu and first courses replaced with nibbles and a glass of champagne. 
While he is in charge of the cooking, Gary's number one priority is making sure he's not stuck in the kitchen missing out on spending time with friends and family. 
'I'm not a very traditional lunch kind of person,' he says.
'Obviously I'm English, but after years of hospitality the idea of turkey on Christmas Day turns me off. My Christmas dinners tend to be made up of the season's best — you've got asparagus, fresh peas, artichokes, summer greens and all kinds of crunchy and delicious ingredients.'
Instead of making an extravagent entree or slaving over a hot stove, Gary instead spends time with his guests around a kitchen table strewn with nibbles.
'Back in England, mum would try to do three courses. Everything was hot — we got soup, turkey, ham, hot roast potato — she'd be working her socks off,' he says.  
The barbecue is always a main feature of Christmas in the Mehigan household, and while he still glazes a holiday ham, he likes to keep things simple.
'It always seems crazy that on what could possibly be a 38 degree day the Anglo-Saxon community in Australia are sticklers for these hot, sweaty lunches with turkey,' he says.
When it comes to dessert, Gary still continues to buck the trend and likes to serve his guests cold or light desserts, with a steamed mulberry and sour cherry treacle pudding his top pick.   
'It's a traditional Christmas recipe from my grandad,' he says.
'It still has the kind of flavour of Christmas pudding but it's just lighter, and it can be made in advance.
'I also have a plum tart, it doesn't immediately make you think of a traditional Christmas, but it's still festive and extravagant. It could even be a tiramisu to be honest, it doesn't have to be a traditional Christmas if it can be pre-prepared and easy.'
Gary's Christmas menu suggestions
If you need some inspiration for what to serve on Christmas Day, Gary has some ideas from Good Food Every Day that will be sure to help you impress friends and family while still ensuring you get to enjoy the holiday as well.
First course
Firstly, he says the first course should just be an array of nibbles on the kitchen table to enjoy with a glass of champagne before the main feast.
He recommends a chicken liver pâté, an asparagus with goat's curd and green olive tapenade or a beetroot and feta dip.
Gary also suggests salmon rillettes with little toasts as a nice Christmas starter.
'It's a really easy recipe and you can make some little toasts out of day-old baguette — just brush it with butter and salt and pepper and pop it in the oven for 10 minutes,' he says.
'Those little toasts then also become vehicles for the dips or bruschetta.'  
Main
Gary says a lamb dish or some pork belly could be great star dishes for Christmas lunch.
'Crispy cracking pork belly with green bean, celery and apple salad, slow-cooked leg of lamb with onions, garlic and gravy or lamb cutlets — this is why I like the idea of the barbecue — these are the kinds of things I would probably do,' he says.   
Dessert
Other than cold or light desserts like the plum tart and steamed mulberry and sour cherry treacle pudding, Gary says he enjoys an apple pie despite it being an untraditional dessert choice for Christmas.
'I sit it on the kitchen bench, served with some Crème Fraîche,' he says.
While Gary steers away from some Christmas traditions, he admits he still makes his family a fruit pudding.
'But we have to have the trifecta — ice cream, cream and custard, we have to have all three.'
Lastly, the TV chef says some sweet biscuits can also be the perfect nightcap.
'They're great to have in the evening — Greek walnut biscuits, peanut and white chocolate chip cookies, chocolate honeycomb, shortbread or honey madeleines,' he suggests.
---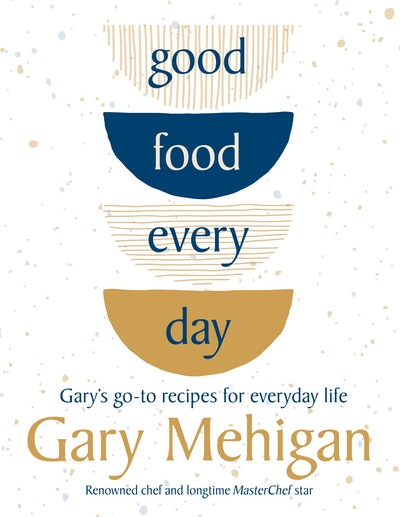 The essential collection of Gary's favourite home recipes, for down-to-earth and delicious cooking that's achievable any day of the week.
Buy now
Buy now
---