A delicious, boozy dinner party dish that's sure to impress.
Now this is one recipe that's perfect for entertaining. It will have everyone talking – vodka pasta?! And we're not cooking off the alcohol, so it's even got a kick! (1 standard drink per person, for anyone driving.) The sauce is your typical Italian pink or rose sauce, rich and silky, and we're using my favourite hack: cooking the pasta right in with the sauce in the slow cooker! Not only does it cut down on washing up, but the starch released as the pasta cooks adds a subtle body to the sauce. By the time you sit down for dinner, the chopping board, knife and frypan have long ago been washed, the kitchen is clean and the stage is set for a relaxing evening.
Serves 4
Hands-on time: 20 mins
Total slow cooker time: 4 hours 40 mins or 8 hours 40 mins
2 tablespoons extra virgin olive oil
1 brown onion, thinly sliced
4 garlic cloves, diced
1 kg ripe tomatoes, diced, or tinned diced tomatoes
2 chicken-style stock cubes or 1 tablespoons faux-chicken style stock powder
3 teaspoons fine salt
2 cups (500 ml) water
500 g penne pasta
½ cup (120 g) double cream or plant-based butter
½ cup (125 ml) vodka
FIRST
Heat oil in a large frypan over medium heat. Once hot, add onion and sauté for 5–10 minutes or until soft. Add garlic and continue cooking for a couple of minutes. Transfer to slow cooker.
Add tomatoes, stock cubes or stock powder, salt and water. Cover and cook for 4 hours on high or 8 hours on low.
4 OR 8 HOURS LATER
Give everything a really good stir. Add pasta, pushing down with the back of a spatula if necessary, ensuring that pasta is fully submerged. Cover and cook for 30 minutes on high (this is one of those times you need to be exact with time or you'll overcook the pasta).
Add cream and vodka and give the pasta another really good stir. Cover and cook for a further 10 minutes on high.
Test pasta for doneness – it should be cooked al dente, but if not, cover and cook for a further 10 minutes on high. Serve your pasta straight away – don't leave in the slow cooker on the keep warm setting or you'll overcook it. Delicious as is, but my favourite way to serve it is piled high with fresh rocket and a generous drizzle of my chilli and fennel seed infused oil.
---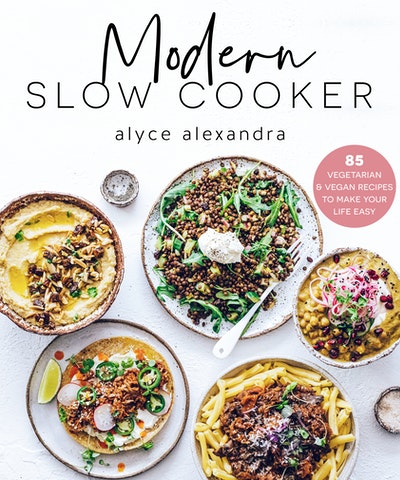 A fresh, modern and meat-free take on slow cooking: the cheapest, easiest way to cook!
Buy now
Buy now
---