It's so moreish and delicious everyone will want a slice.
For everyone! Because firstly, it's so moreish and delicious everyone will want a slice, and secondly, it's free of dairy, eggs, soy and nuts (also making it vegan), and you can happily sub in gluten-free flour. It's one of those desserts you can make no matter who you're feeding, and without any compromise on texture or flavour – promise. This recipe might look on the longer side, but I promise it's really quick and easy – my sister Ellen couldn't believe 'that's it?!' when she tested it for me, and proclaimed it her new go-to entertaining recipe.
Serves 8
Hands-on time: 10 mins
Total slow cooker time: 5 hours + 10 mins standing
2 cups (280 g) pitted dates
1 cup (250 ml) boiling water
1 tablespoon flaxseed meal*
1 teaspoon bicarbonate of soda
½ cup (110 g) brown sugar
2 tablespoons light tasting olive oil + extra for greasing
1 ½ teaspoons mixed spice
1 cup (150 g) plain flour**
2 teaspoons baking powder
EXTRAS
2 L pudding basin or small casserole dish(preferably with lid) that fits inside slow cooker
FIRST
Place dates, water, flaxseed meal and bicarbonate of soda in a high-powered blender or food processor, stir to combine. Stand for 5 minutes.
Add sugar, oil and spice. Process until well combined and dates are chopped but still a little chunky, 5–10 seconds.
Add flour and baking powder, process on low speed until just combined. Fold any leftover flour in with a spatula.
Grease a 2 L pudding basin with olive oil using a pastry brush. Pour in date mixture. Give it a couple of bangs on the bench to release any air bubbles. Cover pudding with lid or foil, sealing tightly.
Place inside slow cooker, then add water until pudding basin is two-thirds submerged. Cover and cook for 5 hours on high.
5 HOURS LATER
Check a skewer inserted in the pudding comes out more or less clean – not covered in raw mixture. If needed, cover and cook for a further 30 minutes on high.
Once cooked, remove pudding basin from slow cooker and allow to stand for 10 minutes, then turn out onto a serving plate.It's warm and ready to serve! Cut thick slices and serve with cream, gooey caramel sauce (page 173), poached pears (page 39), ice cream or fresh strawberries . . . or a combination. Just as good served cold, so don't stress if you're struggling to get the timing exactly right – you can make it up to 3 days in advance and store in an airtight container in the fridge.
*Flaxseed meal is simply flaxseeds (also known as linseeds) milled down to a fine powder. You can buy it pre-milled, but honestly, it's often not fresh and frankly not very nice – it's best to mill your own as needed, or mill a couple of tablespoons at a time and store in the fridge or freezer. Use a high-powered blender or coffee grinder, and remember 1 tablespoon of whole flaxseeds will come out as less than 1 tablespoon of flaxseed meal.
**Use gluten-free flour for a gluten-free option.
---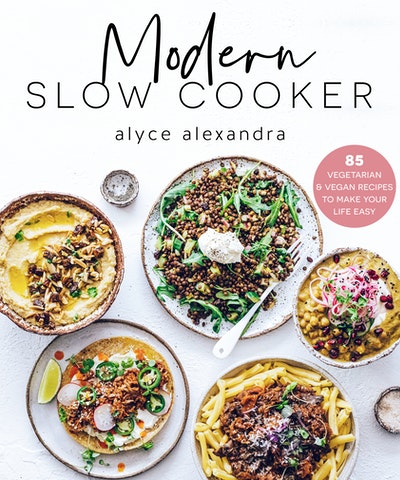 A fresh, modern and meat-free take on slow cooking: the cheapest, easiest way to cook!
Buy now
Buy now
---