We caught up with Saman Shad to learn about her past projects, idea behind 'The Matchmaker' and fulfilling her childhood dream of becoming an author.
What was your writing process like for The Matchmaker? Did you have a writing routine or any regular rituals?
As I have three kids and I also work, my writing process is a bit haphazard. It mostly involves me sneaking in time to write when the kids are at school, in the evenings, on the weekends – pretty much anytime I can. However in order to crack a big portion of writing with my novel, I did take myself away to an Airbnb for a few days and wrote intensely during that time. I'm very good at being efficient in small periods of time.
How did you first come up with the idea for the book?
A family member asked to have an arranged marriage and it got me thinking about the concept of how one has an arranged marriage in a place like Australia – especially as nobody in my immediate family (or myself) had one. 
And that's when the concept of a modern matchmaker came to my head. I've also found it fascinating how several reality TV shows are now essentially using the concept of arranged marriages to bring people together. It's a different way of finding love and I thought it was one worth exploring.
What was your big break into publishing?
I've been writing for a long time and in lots of different mediums. I moved to London in my early 20s and started my writing career there. I began as a playwright and had my plays shown in various theatres. After that, I was a scriptwriter for a BBC radio show for five years. When I moved back to Sydney, I started my career in journalism and have since written for a number of publications. I've also been lucky to have been a scriptwriter for a TV show (that's coming to ABC in 2023) and am currently working on some screen projects. But writing a novel has always been my dream, and I'm so glad it's becoming a reality.
How long have you been working on this book?
It's been about four years from the time I discussed the initial concept with my agent, to writing and editing the book, and then to publication.
What was the publishing process like (finding an agent, submitting manuscripts, etc.)?
It's been a very long process for me if I think back to my days in London, writing a novel, trying to get an agent for many years and then finally getting one . . . but then it didn't work out because they couldn't sell my book. 
When I moved to Australia, I was introduced to my agent, Tara Wynne, from a mutual contact. Tara and I discussed various projects. A few were pitched that didn't find a publisher, but once I came up with the concept for The Matchmaker we knew it had potential. 
Tara thought it would have a good home at Penguin Random House (PRH) and I was introduced to my editor, Radhiah Chowdhury, who liked the concept. After that, I started writing some chapters and running them past Radhiah who then pitched it to PRH, and that's how my book got acquired.
What most excites you about your book being published in 2023?
The last few years have been tough for many people because of Covid. I wanted to work on something light and funny that could help distract people from the day-to-day. 
I wanted to write something that could put a smile on a person's face and I hope I can do that with this novel. I also wanted to talk about the Pakistani/Indian community living in Australia, as we are growing in number but aren't shown in the mainstream media as much. I hope the book gives people an insight into what the desi community is like —especially in Sydney.
Do you have a favourite book or author?
I have many faves but they also change depending on my mood. I grew up reading Michael Ondaatje, Salman Rushdie, Hanif Kureshi and Kazuo Ishiguro. I also enjoy reading anything by Kamila Shamsie, Monica Ali and Zadie Smith. 
Currently, I'm reading books by Taylor Jenkins-Reid, and I'll often pick up anything by Liane Moriarty. Popular books are often not given the literary credit they deserve, but anything that gets large groups of people reading deserves all the merit.  
What inspired you to become a writer?
Like many authors, I wanted to become a writer as a child. I entered a poetry competition at the age of eight and won. When I saw my name in print, I was hooked.
What did you want to be when you grew up and why?
A writer because I found the best way to express myself was through my writing. I'm so glad that I get to do what I've always aspired to do. But it wasn't an easy journey by any means, and it took literal decades to get here.
If you could go back in time and give your past self one piece of advice, what would it be and why?
You thought you were patient, well guess what you've seen nothing yet. It will take patience and time to get where you want to be. So take a deep breath and accept the journey ahead.
What is the best writing lesson/ tip you ever received?
It wasn't just one tip from one person, but I've had people tell me – especially when I've been close to giving up on my writing dream – to keep going. It's hard to hear at the time because you're feeling down and out. But I'm glad I kept going, and I would tell anyone who is maybe thinking of giving up on their dream – keep going. If nothing else, just by doing so, you'll get better at your craft.
Interested? Read an extract here.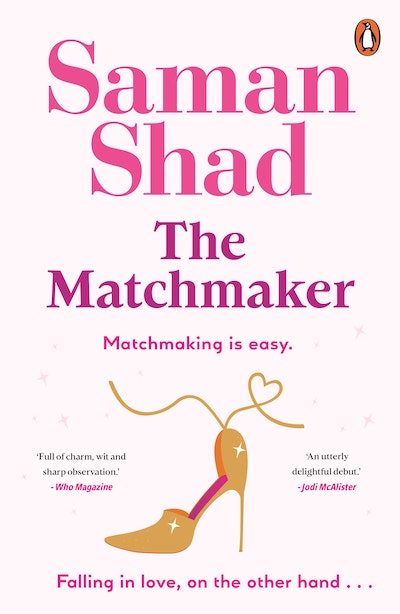 The Matchmaker
'A debut novel full of charm, wit and sharp observation.' WHO WEEKLY 'Full of life, charm and wonderfully observed detail, an utterly delightful debut.' JODI McALISTER Sparks fly in this glittering romantic comedy about love, marriage and mistaking your own identity.
Read more