A charming rom-com to read with your book club.
As a professional matchmaker, Saima always finds the perfect partners for other people. So why is it that she can't seem to find a match for herself? When a handsome bachelor's parents come to her for help, Saima knows this could be her chance to prove herself – and get a good payday. The only catch . . .  He can't find out. Will she be able to recognise a perfect match?
Discussion points and questions
Romantic comedy, 'rom-com' has been a steadfast and popular genre in cinema, but has only recently flourished in books. Why do you think that might be?
How do you feel about Saima agreeing to make Kal a client on the down low? Is this an ethical overstep, or a well-intentioned, temporary, 'overlooking' of the standard procedures?
Is an arranged marriage something that you could imagine working - even for those outside of the Desi community? How does an arranged marriage intersect with programs like 'Married at First Sight' or 'The Real Love Boat'?
Saima protests and rejects her attraction to Kal. Why do you think this is? Is she using her business, or the community, as a convenient excuse?
The Matchmaker explores the lived experiences of 'third culture kids', people who were raised in a culture other than their parents', or the culture of their country of nationality. What sort of challenges and advantages would this bring?
Migrants sometimes hold on to cultures and customs that they experienced growing up when they migrate to their new homes, even when these practices are no longer customary or commonplace 'back home'. What is behind this?
Because Rahat refused to talk about the past Saima had imagined a much worse reason for her parent's separation, and was denied the opportunity to know her father and his chosen culture. What price is Saima paying for that intergenerational trauma?
Have you, like Saima, ever reverted to putting tasks – administrative or emotional – in the 'too hard basket'? How has that worked out for you?
Why do you think Kal has rejected his Pakistani heritage and cultural celebrations? What, aside from Saima, pulls him back towards his culture?
Saima and Kal live in a city that is evidently populated by people from many different cultures. What advantages does living in a multicultural city bring?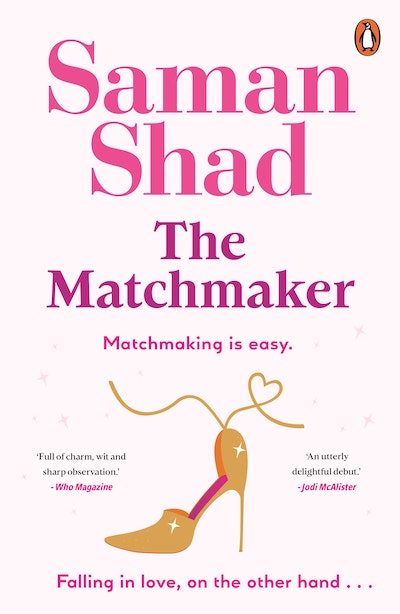 The Matchmaker
'A debut novel full of charm, wit and sharp observation.' WHO WEEKLY 'Full of life, charm and wonderfully observed detail, an utterly delightful debut.' JODI McALISTER Sparks fly in this glittering romantic comedy about love, marriage and mistaking your own identity.
Read more