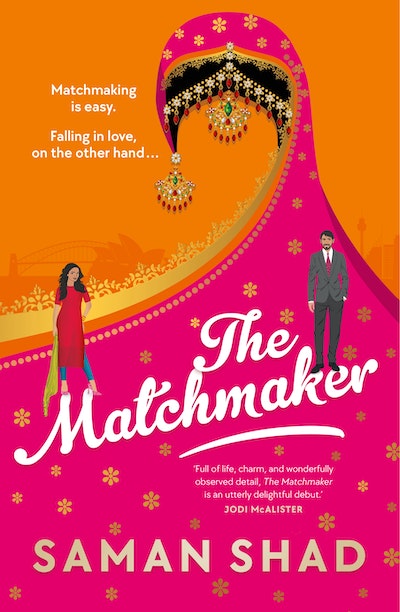 Published:

31 January 2023

ISBN:

9781761044694

Imprint:

Viking

Format:

Trade Paperback

Pages:

320

RRP:

$32.99
The Matchmaker
Extract
This would be her fifth wedding this year and it was not yet March. And yet she couldn't help but enjoy it as if it was her first wedding. It was probably why she did what she did.
The groom flew in the face of tradition and walked into the hall by himself. Throwing his arms open, the spangles on his embroidered pagri glimmering in the spotlight, he began to lip sync to the lyrics to Ban Ja Rani. He called to his lady love, asking her to become his queen. And then his queen appeared through the doorway, an enormous smile on her face as she approached her groom.
Saima estimated that the ornate red bridal lehenga weighed around ten kilos, decorated as it was with all that heavy zari and stonework. The dupatta that covered the bride's head would probably be another seven kilos. Desi brides really needed to do strength training, she'd always thought. They wore garlands of flowers around their necks, lavish necklaces underneath, then the dupatta, the lehenga, the teeka and armloads of bangles, with ears weighed down by earrings the size of small plates. But beneath it all, the brides never seemed to mind. This was their time to shine, and when it came to shine, Pakistanis didn't do things by halves.
 'Thank you everyone for being a part of our special day,' the groom began.
'Aunty!' The bride suddenly exclaimed loudly into the micro­phone. Saima ignored her, assuming she was calling out to one of her relatives. 'Saima Aunty!'
What? Saima stopped in her tracks. The blood rushed from her face. She was the aunty?
Was this the moment? That pivotal moment where she went from being a young woman going about her business to being lumped in with the 'aunties' and all the connotations – gossip and excess arm fat included – that went with it?
As she turned around, she noted, for the most part, curious, smiling eyes, but also some that were narrowed and beady – the eyes of women twice her age, running their gaze up and down her body. The women's hushed whispers rang loudly in Saima's ears. I'm only thirty-three! she wanted to yell.
 'I just wanted to start off by thanking Saima Aunty here. Though, sorry, I really should be calling you baji, shouldn't I? I never know how to get that right. Who's a baji, who is an aunty, it's all a bit  confusing, am I right?' The bride laughed self-consciously. 'It was Saima here – is it okay if I call you Saima? – it was Saima who brought us together, which was why I wanted to thank her first. Without her matching us up, this guy next to me would still be living at home, getting his mum to wash his chuddies.' The crowd erupted with laughter. 'And I would've risked becoming the career woman who never found time for love.' Warm applause.
You're only twenty-four, Saima wanted to reply. You've got nothing but time on your side.
But she knew that by traditional South Asian standards, by twenty-four you were expected to be married and contemplating giving birth to your first child, if not your second. Small wonder that at thirty-three, she was being seen as an aunty.
'So, anyway, if you're looking for a matchmaker, I say give Saima a go, 'cos she's really good at what she does and I'm sure she'd appreciate your business.' The bride smiled beatifically at her for a moment before moving on to thank the many friends and family in attendance.
Saima's face felt hot. Not just content with calling her an aunty, the bride had also mentioned her business. Usually, the couples she matched didn't thank her in their wedding speeches at all. If they did, they just mentioned her in passing. And they most certainly did not refer to her services as a business that needed actual clients to keep going.
She was accosted on her way back to her table. 'So, you're a matchmaker?' She had tasteful blonde streaks through her hair, cleverly concealing any sign of greys against the black, enormous eyelash extensions and fierce eyebrows. She may well have been over fifty, those eyebrows suggested, but don't you dare go and call her aunty.
Saima pinned a vague, pleasant smile on her face, thinking longingly of her seat and the exit beyond. The woman let her laser gaze run the length of Saima's body, gathering facts on age, weight, height and complexion. Saima could almost hear her thoughts:
Somewhere around thirty years of age. Though the bride called her aunty, so maybe closer to thirty-five.
Could lose a couple more kilos, but not too skinny, that's good.
Five foot four. Good height.
Very tanned, but a few weeks indoors with the right skin cream could fix that. Probably a wheatish complexion under that sun damage.
Her mental cataloguing complete, the woman asked, 'You are here with someone?'
'No,' Saima replied.
'Oh!' The woman couldn't hide her shock as a group of teenage girls walked past. 'A single woman like you, matchmaking? I've never heard of such a thing. You didn't arrange a match for yourself?'
Saima was used to this question, but it didn't mean she didn't find it annoying. A matchmaker, most people assumed, would be a middle-aged woman, probably with adult children, who had enough time on her hands to arrange marriages as a hobby. They didn't expect a young(ish) single woman who did matchmaking as an actual job. In fact, it was her full-time profession. And she'd been doing well at it, too – until recently, at least.
'Are arranged marriages even legal in this country?' one of the teenagers asked her friends loudly as she walked past, sending the rest of the group into fits of laughter.
'Arre, you'll see in a few years when your mother starts to fix you up!' the woman shouted at them as the girls quickly scarpered. 'Honestly, our young people think they are above our cultural tradi­tions,' she said, turning back to Saima. 'But they don't know what's good for them. I myself have learned a fine lesson these last few years. I have been too patient, some would say. But enough is enough.'
 'Where are you from?' the woman suddenly asked. When the question was asked within the South Asian community, they were either trying to pigeonhole each other by religion, ethnicity, caste, or the hastily drawn boundaries Britain had carved on a map many decades before she was born, or they were trying to figure out if they had family or friends in common.
'Here,' Saima answered wearily, refusing to rise to the bait.
'Yes, my son would say the same. But you both know you're not really from here, are you? The goras won't let you forget.'
The hall began thumping with loud Bollywood beats and the crowd livened back up after the too-long speeches. The woman with the blonde-streaked hair continued to talk, but she was quickly drowned out by the noise. Saima decided this was her chance to make her apologies and leave.
'My son isn't here yet, but I want him to meet you,' the woman said. Saima mimed that she couldn't hear what she was saying.
'My son!' the woman shouted. 'He will be here soon!'
'Too loud,' Saima mouthed back.
'He needs someone to set him straight!' the woman persisted. She waved her arms in the air, as though that would help Saima hear her better. Saima deliberately misunderstood it as a wave.
'Bye, Aunty!' Saima waved back and started to walk away. There seemed no other way to get rid of the woman.
---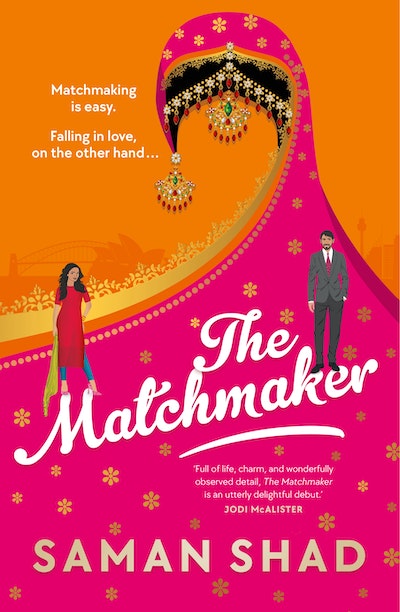 A debut novel full of charm, wit and sharp observation.WHO WEEKLYFull of life, charm, and wonderfully observed detail, an utterly delightful debut. JODI McALISTER Sparks fly in this glittering romantic comedy about love, marriage and mistaking your own identity.
Buy now
Buy now
---