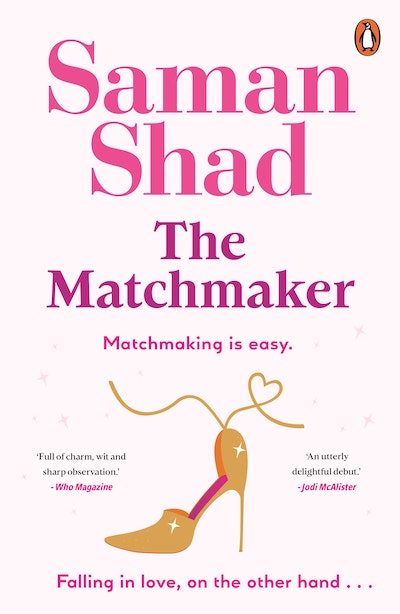 Published:

30 January 2024

ISBN:

9781761345494

Imprint:

Penguin

Format:

Paperback

Pages:

320

RRP:

$22.99
The Matchmaker
---
---
---
'A debut novel full of charm, wit and sharp observation.'
WHO WEEKLY
'Full of life, charm and wonderfully observed detail, an utterly delightful debut.'
JODI McALISTER
Sparks fly in this glittering romantic comedy about love, marriage and mistaking your own identity.
'A wonderful addition to Australian romance literature.'
BOOKSELLER + PUBLISHER
'Honestly, I think I had a smile on my face the entire time I read this book. Rom-com readers, this one is for you.'
JACLYN CRUPI
Matchmaking is easy. Falling in love on the other hand . . .
Saima knows that she's a great matchmaker. She has the weekly wedding invitations to prove it. So why has her community started turning against her?
There are eyes, ears and mouths everywhere, and Saima's feeling firsthand the impact gossip can have. Too modern, too focused on compatibility.
She's about to pack it all up and move back in with her Ammy when an eligible bachelor's wealthy parents show up at her door. They're offering the biggest payday she's had in years, but there's a catch: she has to convince their son to accept her services without letting on that it's his parents pulling the strings.
Kal is handsome, successful and starting to worry about his path in life. What does it mean to be a third culture kid? When a woman falls into his life challenging everything he thought he knew about heritage, life and love, it might be the answer he's been searching for.
But Saima wrote off love a long time ago – has she hardened her heart too much to see what's right in front of her?
Can a matchmaker recognise a perfect match?
Published:

30 January 2024

ISBN:

9781761345494

Imprint:

Penguin

Format:

Paperback

Pages:

320

RRP:

$22.99
Praise for The Matchmaker
A debut novel full of charm, wit and sharp observation.

Who Weekly
Full of life, charm, and wonderfully observed detail, The Matchmaker is an utterly delightful debut.

Jodi McAlister
Shad explores what it feels like to straddle two worlds, and to belong to a culture that sits between them, with beautiful fluency. This story reminds us of the powerful relationship we have with our culture and, in turn, the way that it shapes us.

Mary-Louisa Horrigan, Readings
The 'desi' (South Asian) culture of matchmaking makes for a sweet and spicy subject in this debut novel of 'Parramatta meets Pakistan'. Matchmaker, Saima, is paid by Kal's parents to secretly set him up with chance encounters in Sydney. When Saima mistakes Kal's car for her Uber, a little bit of stardust has been sprinkled.

Australian Women's Weekly
My favourite scene in any romantic movie is when the leads realise their discord is an act of verbal foreplay that masks their true feelings for each other. Shad executes this build-up with endearing coyness, following a tradition that stretches back to Mr Darcy and Elizabeth Bennet. The Matchmaker's conversational style and relatable depictions of family dynamics, diasporic communities, and finding love and friendship make it easy to devour.

Vyshnavee Wijekumar, The Saturday Paper
Saman Shad breathes fresh life into the romance genre, weaving a funny, charming and insightful love story against the background of Sydney's desi community. Shad has crafted a must-read with endearing desi characters, quippy dialogue and a thoughtful exploration of culture and identity, with a stunning depiction of the vibrancy and nuance of the desi diaspora in all its warm, complex and chaotic vibrancy.

Sarah Mohammed, The Big Issue
The heady magic of first romance, drawing on the lightness and quandaries of early 2000s movie rom-coms such as Bridget Jones's Diary and Maid in Manhattan, shapes this work into the classic that first-generation kids have been craving. The witty dialogue and realistic descriptions of culture and class ('Yes, Saima, I have been to the West before,' says North Shore-dwelling Kal with a grin) draw on complex themes of generational trauma and internalised racism. For a light read that still delves deep into the complexities and heartbreak of immigrant and first-generation experiences, The Matchmaker is a wonderful addition to Australian romance literature.

Raveena Grover, Books + Publishing
Saman Shad has delivered a contemporary rom-com brimming with humour and heart.

Amal Awad, author of The Things We See in the Light
You know when you're reading a romance novel and you can't help but grin like an idiot because everything is just so damn cute? Well, that's what will happen when you read Shad's debut novel The Matchmaker.

Life Hacker
It's classic romcom trope and we know how it will end up, but getting to that point is all the fun. I absolutely loved the cultural references, which lent itself to this genre perfectly. and i loved how Shad explained her culture, not shying away from the social frustrations, but adding some nice warmth as well. A refreshing newcomer to the romance genre and well worth the read.

mercsbooknook
A vibrant, entertaining novel that mixes romance and humour with interesting insights into the Australian Desi community. A polished and engaging read.

Canberra Weekly
Shad has written a delightful dual narration Cinderella desi love story with tones of Jane Austen and a great meet-cute and i am here for it. Honestly I think i had a smile on my face the entire time I read this book. Rom-com readers, this one is for you.

Jaclyn Crupi
It's so refreshing to read a romcom where both of the protagonists are culturally diverse. And so refreshing to read a romcom based in Sydney's western suburbs. Hunt this book out, you'll be glad you did.

mercsbooknook
It's a classic rom-com trope and we know how it will end, but getting to that point is all the fun. This is a refreshing newcomer to the Australian romance genre.

Mercedes Maguire, The Herald Sun