Fiona McIntosh talks about staying regimented during lockdown, the surprising catharsis of writing The Orphans, and her infamous research process.
You're notorious for deep-diving during the research phase of your books. What did research for The Orphans look like? Did you have a specific research process?
Because the story is set in Australia and I have not researched at length at home before, it certainly felt different but I followed my usual pattern of first reading everything I could about topics that relate to my story. In this instance, it was learning about the life of an undertaker and mortician during the 1930s. That sort of information is not easy to find because it has a social history strand to it that you cannot get from dry books and I was very fortunate that a fourth-generation funeral home owner, who was also a highly qualified mortician took me under his wing and essentially taught me the history from the turn of the previous century onwards. I was able to pore over his books including anatomy and mortuary techniques but also more general aspects such as the costs of burying someone. Cremation was not popular in this era as it is now.
I also read a lot about outback towns in this era and particularly Farina…then about wool classing and other social history books on life in the shearing shed to get that iconic space just right for the story.
Once the reading is done, I get out to all the locations in my story. I went to the Flinders Ranges three times to get that part of the book right and walked around the port of Adelaide and the streets of its neighbouring suburbs to understand what it would have looked and felt like in the 1930s. 
My research process never changes no matter which style of book I'm writing but it definitely felt twice as hard in Australia because the records and photographic material are not nearly as plentiful as I'm used to discovering say in the UK or Europe.  
The Orphans is your first fully Australian book. How was writing about your home state different from your previous books which are set overseas?
It's nerve-wracking to write about the town you live in. Although I was born and raised in England I've now lived longer in Australia and I've spent the last 35 years in Adelaide, so there's a nervousness that creeps up and clings when you are going to turn a spotlight on a place that all your friends, family, and acquaintances know. I didn't want to let anyone down by getting it wrong and a lot of people don't want to hear anything negative about their home town so there's a bit of a juggling act in finding the right recipe that is authentic but not critical in its observations. I would prefer not to be writing about where I live but given the constraints of Covid and lockdowns in 2020, when the 2022 book needed to get going on its research, I had no choice.
What I did discover was a joy in learning about Adelaide all those decades ago. 
We do tend to take our home cities for granted and it's enlightening to learn about their early years, their growth, what made them flourish and the type of people that were working hard to make that happen. Plus, the great surprise for me was going out to the Flinders Ranges. I've lived in the Northern Territory briefly so I am familiar with a rugged outback terrain but there was something incredibly daunting about the landscape in this book and I think it's because people chose to live in this most isolated of towns of Farina. Learning about life on a massive sheep station at Witchelina where my husband's ancestors lived and worked, was sobering. The sheer size alone – twice the size of today's greater Adelaide - and the loneliness, dangers, sorrows, it brought. It required intrepid men and women with a great well of stoicism to be able to live and thrive in that situation. 
It blew me away and then the Flinders Ranges were magnificent to encounter up close.  
How did you come up with the idea of basing the story in The Orphans around a female mortician?
It was by chance and in the end, I think it was a means of catharsis for the grief I was experiencing at the death of my father. I have said on countless occasions since his passing that the loss of a parent is a complex event with far-reaching ripples that move through one's life. Dad died in 2019 and I was a quiet mourner; keeping my pain to myself but we all respond differently and there is no easy or right way to grieve and it can't be avoided. It can be set into the background, which is probably what I did, while I got on with writing The Champagne War during 2019. But then in 2020 when I needed to have an idea for a new novel, I found myself pressing hard on something that had already troubled me, which is what happened to Dad in between his death and the funeral. I wanted to know. The funeral home was so taken by my questions and my obvious lingering frustration that they invited me to come and learn about life behind the scenes of a funeral home and in the mortuary. It was so generous and exactly what I needed to lay to rest all my questions, fears and indeed fascination. And once I learned that there were no women involved in undertaking or mortuary services in 1930, I was determined to use that as a basis for a story and Fleur Appleby was born. I felt quite strongly about this because women in centuries previous had always been the keepers of the dead in the homes…they would wash and shroud bodies, they would keep vigils and look after the mourning until the wakes were done and the dead were taken away. It seemed ludicrous that they'd lost their important role and so the story focused on Fleur pushing through into that man's world and reclaiming a place for women.
You've said in the past that you wrote this book during lockdown. How did you find the motivation to stick with it during those tough times?
I didn't struggle if I'm honest. Being a novelist with regular deadlines for my daily crust does mean I've learned to self-motivate because writing is a lonely business. The very nature of a writer's job is singular. You do need to get lost in your own imagination and that takes quiet, uninterrupted time alone – I never want anyone else sharing my space when I'm creating - and so lockdown was no hardship for me. In fact it allowed me to speed up and since 2020 I've been writing two books per year with far fewer distractions.
In The Orphans, you reference characters from your book Nightingale. Do you have a system for keeping track of all the many worlds you create in your novels, or do you simply remember all the details?
I don't have a very detailed mind. I think I'd always describe myself as a gunslinger when it comes to life and especially researching and writing. I don't keep copious notes, I don't plan my stories. So it's always humbling if someone asks me a question about a book from, say, 10 years ago. I use the excuse that it's 25 books ago but the truth is that I don't hold such detail and so when I reference a previous character in a new book, I am firstly doing that purely as entertainment value for the loyal reader. Only someone who has read all my books will pick up on it and enjoy that ping of pleasure. For newcomers, it doesn't matter that the reference sails past them. And I rarely go into a lot of detail – it's usually a mention of someone or something they did, or their work. It's enough to have that tiny detail to bring pleasure to loyal readers and I never forget a main character so while I don't need a lot of detail, they all still roam around my mind and step forward when I need them to.
Catch Fiona McIntosh on her tour around Australia October - December 2022. See tour dates here.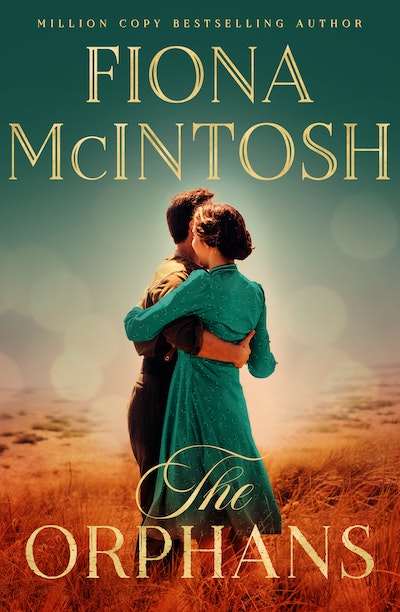 The Orphans
The highly anticipated new historical adventure by the bestselling author of The Spy's Wife.
Read more