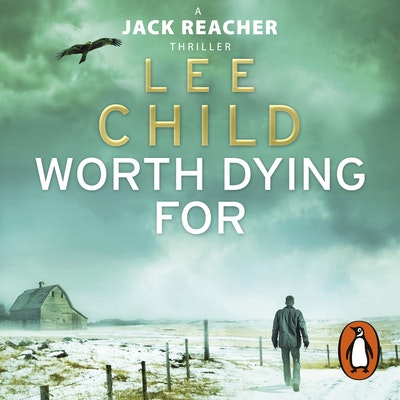 Published:

2 December 2010

ISBN:

9781446436318

Imprint:

Transworld Digital

Format:

Audio Download

Length:

13 hr 2 min

Narrator:

Kerry Shale

RRP:

$32.99
Worth Dying For
(Jack Reacher 15)
---
---
---
Following on from the cliffhanger ending of 61 Hours, Worth Dying For is the kind of explosive thriller only Lee Child could write, and onlyJack Reacher could survive. Includes first three chapters of the new Reacher thriller, The Affair.
Featuring Jack Reacher, hero of the blockbuster movie starring Tom Cruise, in an explosive follow-up to the cliffhanger ending of 61 Hours.
Has Jack Reacher finally met his match?
61 Hours ended with Reacher trapped in a desperate situation from which escape seemed impossible. Even for him.
Was that really the end of the road for the maverick loner?
Worth Dying For is the kind of explosive thriller only Lee Child could write - a heart-racing page-turner no suspense fan will want to miss.
_________
Although the Jack Reacher novels can be read in any order, Worth Dying For follows on directly from the end of 61 Hours.
And be sure not to miss Reacher's newest adventure, no.26, Better off Dead! ***COMING SOON and AVAILABLE FOR PRE-ORDER NOW***
Published:

2 December 2010

ISBN:

9781446436318

Imprint:

Transworld Digital

Format:

Audio Download

Length:

13 hr 2 min

Narrator:

Kerry Shale

RRP:

$32.99
Praise for Worth Dying For
A sequel to the terrific 61 Hours (try to read it first)... one of the great storytellers of the thriller genre

The Times
His is an ironclad storytelling ethos, a gift for narrative that grips like the proverbial vice... Reacher, as ever, is sui generis - a violent force for good set down by the author to eliminate evil and move on. But what counts is Child's ability to keep the reader turning the pages. If anyone can put down Worth Dying For after the first few pages, then they shouldn't really be reading thrillers at all

Independent
As a warrior who lacks a car, credit card, phone or weapon of his own, and has no continuing human ties or home, he is even more of a lone, denuded outsider than Lisbeth Salander, the heroine of Stieg Larsson's Millennium trilogy. Both are avengers who play on our atavistic instincts: when we cheer their lethal justice - if we do - we're acknowledging the pull of a primitive hatred that demands death and can't wait, scornful of the protracted pussyfooting of the law

The Sunday Times
Worth queuing up for

Sun
Explosive as ever

Daily Mirror
Just like Lisbeth Salander, Stieg Larsson's super violent super-genius, Reacher always find a way... Another cracking story from Child, who just seems to get better and better

City A.M.
Forget Tony Blair's memoirs, for most people the new Lee Child is the most anticipated book of the year. And with good reason... this is Child on fine form

Shortlist
A master craftsman of action thrillers. More than just compulsively readable, Mr Child's work shows a perfectly-fashioned understanding of his protagonist, dogged and moralistic. Reacher may get old some time, but he's sure not showing any signs of it

Wall Street Journal
Adrenaline-fuelled adventure... He knows exactly how to press all the buttons... yet another awesome performance

Evening Standard
Reacher is vengeance personified, a walking, fighting revenge fantasy... what he normally chooses to do is right wrongs and defend the weak against the forces of oppression... Characteristically, Child drives the plot like a rally car, a hair-raising ride careering down the route a break-neck speed... Lee Child's loyal fans know only too well that those who enter his Reacher tales have no reason to abandon hope. Quite the opposite and Worth Dying For is no exception

Sunday Express
It looked like Lee Child cheekily killed off the seemingly unstoppable Jack Reacher in his last book - but no. Reacher is battered but upright- still the thinking man's action hero, supreme butt-kicker and smartest guy in the room... [another] hell-for-leather story

Seattle Times
A model of suspenseful storytelling and an outstanding addition to a series that stands in the front rank of modern thrillers

Washington Post
Child's gift for pacing makes it almost impossible to start one of his novels without finishing. Worth Dying For is grade-A escapism

Independent on Sunday (Books of the Year)
Child presses all the buttons... Another awesome performance

Mark Sanderson, The Scotsman
Brings a shock of moral horror that is unprecedented in Reacher novels

Toronto Star
Utterly compelling... one of Child's best. He keeps up the lightning pace, great writing and punchy one-liners throughout

Daily Express
A contender for top thriller of 2010

Sun (Best books of 2010)
A turbo-charged page-flipper: you're on page 300 before you take a breath...Child is a master of distances, spaces and the physics of opposing forces

The Scotsman