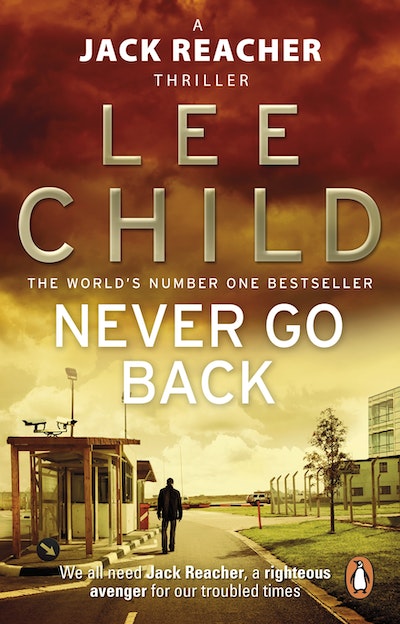 Published:

1 May 2014

ISBN:

9780553825541

Imprint:

Bantam

Format:

Paperback

Pages:

544

RRP:

$22.99
Never Go Back
(Jack Reacher 18)
---
---
---
By addictive bestseller Lee Child, the brand new, action-packed, high-tension Jack Reacher thriller, which sees Reacher, at the end of his long journey, honing in on his target in Virginia at last...
'FAST-PACED, TAUT AND PUNCHY' Sunday Times
After an epic and interrupted journey all the way from the snows of South Dakota, Jack Reacher has finally made it to Virginia. His destination, the closest thing to a home he ever had: the headquarters of his old unit, the 110th Military Police.
Why? He wants to meet the new commanding officer, Major Susan Turner. He liked her voice on the phone. But now he's arrived, she's disappeared, and things are getting weird.
Accused of a sixteen-year-old homicide and co-opted back into the army, Reacher says nothing.
But he's sure as hell thinking of a way out.
'One of Reacher's best...a must' Daily Express
_________
Although the Jack Reacher novels can be read in any order, Never Go Back follows on directly from the end of A Wanted Man.
And be sure not to miss Reacher's newest adventure, no.26, Better off Dead! ***OUT NOW***
Published:

1 May 2014

ISBN:

9780553825541

Imprint:

Bantam

Format:

Paperback

Pages:

544

RRP:

$22.99
The bone-crunching, joint-popping action is as technically precise and primevally satisfying as ever. The extra-lean prose is as ruthlessly linear as the plot.[However,]Lee Child proves he can write about emotions other than lust and anger and reveals his hero to be more than just a man of steel. Eighteen novels in, his franchise shows no sign of running out of steam.

Mark Sanderson, Evening Standard
Lee Child's bodacious action hero, Jack Reacher, has already tramped through 17 novels and three ebook singles. But his latest, "Never Go Back," may be the best desert island reading in the series. It's exceptionally well plotted. And full of wild surprises. And wise about Reacher's peculiar nature. /Mr. Child's Jack Reacher series is as brainy as it is brawny...Starting with an opening sequence that throws three huge surprises at Reacher, there are more neat tricks and clever set pieces in this one volume than Mr. Child has ever strung together before...Read it. You'll see why.

Janet Maslin, New York Times
Is Reacher getting soft? Not a chance. The righteous violence when it comes is still pretty astonishing. This is one of Reacher's best outings. A must for all fans.

Daily Express
Jack Reacher is a man's man, a loner, a renegade crusader for justic...The harder-than-nails hero is on the top of his form...You'd better read it.

Sun
Fast-paced, taut and punchy, fans will love this.

Sunday Mirror
This may well be the best of the bunch...some of the best, wiliest writing Child has ever done.

Scotland on Sunday
As always, Reacher's laidback style of narration belies a propulsive pace,although Never Go Back finds Reacher emotionally vulnerable for once, and a warmer, more satisfyingly empathic character for the experience.

Irish Times