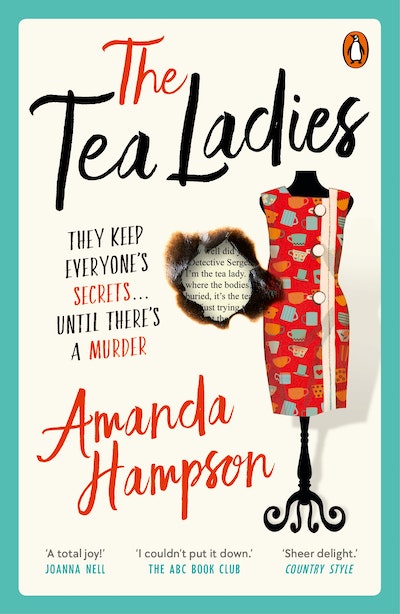 Published:

3 January 2024

ISBN:

9781761344626

Imprint:

Penguin

Format:

Paperback

Pages:

384

RRP:

$22.99
The Tea Ladies
---
---
---
A wickedly witty cosy crime novel set in Sydney in the swinging sixties, ideal for fans of Richard Osman and Bonnie Garmus.
They keep everyone's secrets, until there's a murder...
Sydney, 1965: After a chance encounter with a stranger, tea ladies Hazel, Betty and Irene become accidental sleuths, stumbling into a world of ruthless crooks and racketeers in search of a young woman believed to be in danger.
In the meantime, Hazel's job at Empire Fashionwear is in jeopardy. The firm has turned out the same frocks and blouses for the past twenty years and when the mini-skirt bursts onto the scene, it rocks the rag trade to its foundations. War breaks out between departments and it falls to Hazel, the quiet diplomat, to broker peace and save the firm.
When there is a murder in the building, the tea ladies draw on their wider network and put themselves in danger as they piece together clues that connect the murder to a nearby arson and a kidnapping. But if there's one thing tea ladies can handle, it's hot water.
'The Tea Ladies is a total joy! With her ear for dialogue and eye for authentic detail, Amanda Hampson has created a refreshing take on a murder mystery that is both wickedly funny and highly entertaining. Hazel, Betty, Irene and Merl leapt straight off the page and into my heart. I can still hear them laughing, gossiping and plotting, long after I finished this delightful book.' Joanna Nell
Published:

3 January 2024

ISBN:

9781761344626

Imprint:

Penguin

Format:

Paperback

Pages:

384

RRP:

$22.99
Praise for The Tea Ladies
The Tea Ladies is a total joy! With her ear for dialogue and eye for authentic detail, Amanda Hampson has created a refreshing take on a murder mystery that is both wickedly funny and highly entertaining. Hazel, Betty, Irene and Merl leapt straight off the page and into my heart. I can still hear them laughing, gossiping and plotting, long after I finished this delightful book.

Joanna Nell
For her first foray into crime fiction, writer Amanda Hampson has thrown her cap into the increasingly crowded cosy crime ring with a novel that thoroughly deserves to find itself in the upper echelons of the genre alongside The Thursday Murder Club and the Rowland Sinclair series. A twisty mystery with short, pacy chapters, The Tea Ladies has everything: embezzlement, a private eye, police corruption, Russian gangsters – and perhaps more importantly, a charming cast of characters. Not the least of these is Hazel herself, who – in addition to being able to make a good, strong cup of tea – has an excellent memory, an analytical mind, and a talent for sniffing out lies. The Tea Ladies provides readers with a satisfying mystery, a trio of intrepid older women discovering their own strengths, and a window into a vanished past. I give it five TimTams.

Readings
This hilariously dark crime novel about a group of tea ladies who accidentally become sleuths will have you enthralled! Think Only Murders In The Building meets The Thursday Murder Club.

Woman's Day
Gorgeous!

ABC Book Club
. . . a multi-layered fictional world inhabited by vivid characters who bounce off the page . . . Crime, comedy and fashion, it's a layer cake of which any tea lady would be proud.

Sydney Morning Herald
The wonderful friendship of four older ladies will draw you in and give you a good laugh as they try and solve a murder. These are feisty women who don't take rubbish from anyone . . . The story rattles along at a great pace and I found I couldn't put down. Such a wonderful enjoyable read and there is a sequel coming out to look forward to.

ABC Book Club
Hampson's novel vividly conjured the atrocious work mitigated by female solidarity and merry laughter . . . Cosy murders is the name of the genre, but Hampson's tale is sophisticated and expertly put together . . . Sheer delight.

Country Style
It's always a treat to see older women as lead characters in a book, and these four very different women, with a common job but vastly different lives, create a terrific set of storytelling dynamics. But Hazel isn't just a Miss Marple type – she has her own approaches, and her own troubles, too, with her discovery of her husband's secrets (and keeping one of her own). These elements weave around and through each other as the tea ladies court get deeper into dangerous territory and begin to wonder who they can trust. At the same time, Jean Shrimpton has sent shockwaves through Australia's fashion industry by appearing at Derby Day in Melbourne in a miniskirt. Amidst all the mysteries surrounding the murder, orders of their old-fashioned designs have dried up. The response of the factory floor is another delightful thread of gold weaving in and out of the main crime plot. All of these elements are beautiful combined with a powerful sense of place and time, a hint of nostalgia, wonderfully crafted characters and friendships, a soupçon of magic realism, and an intricate crime plot that brings deadly danger to one of the most delightful amateur sleuths I've read. The Tea Ladies is a fabulous book, and highly recommended.

Sisters in Crime