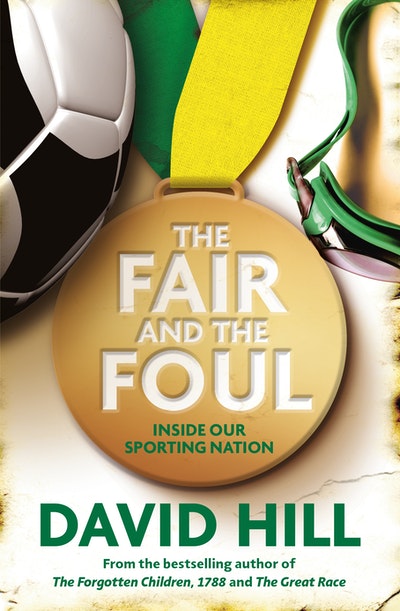 Published:

31 July 2017

ISBN:

9780857987570

Imprint:

William Heinemann Australia

Format:

Trade Paperback

Pages:

336

RRP:

$34.99
The Fair and the Foul
Inside Our Sporting Nation
Extract
In 1983 a potato farmer from Beech Forest in southern Victoria had an ambitious idea. He decided to enter the Sydney–Melbourne ultramarathon – a gruelling 875-kilo­metre event in which he'd be competing against much younger and vastly more qualified competitors, including a number of world ultramarathon record holders.1
Cliff Young was no one's idea of a model athlete. A skinny, sixty-one-year-old bachelor who had got serious about long-distance running only four years earlier, he lived with his eighty-nine-year-old mother and his brother Sid, and had never married because he was 'too bashful' with girls.2 While he was a relative novice at athletics, he was nevertheless pro­digiously fit and thought nothing of jogging to Colac and back in his trademark gumboots – an 80-kilometre round trip – just to get a haircut.
Nobody seriously believed Young could win the ultra-marathon – except Young himself. The physical endurance he had honed from an early age bolstered his confidence.
I grew up on a farm where we couldn't afford horses or four-wheel drives, and . . . whenever the storms would roll in, I'd have to go out and round up the sheep. We had 2000 head, and we have 2000 acres. Sometimes I would have to run those sheep for two or three days. It took a long time, but I'd catch them. I believe I can run this race. It's only two more days; five days. I've run sheep for three.3
From the outset, the oldest competitor in the race attracted media attention, not least because of his laconic humour. He announced at a press conference before the event that he'd be replacing his gumboots with a new pair of runners. 'They're so good,' he claimed, 'it takes me 200 metres to slow down and stop.'
Cliff's back-up team included his sister, Eunice, his masseur, Wally, and a few friends who followed him along the course of the race, driving a borrowed van towing a small caravan. They carried supplies of eggs, pumpkin juice, pears, beans and potatoes for the staunch vegetarian.
This inaugural Sydney–Melbourne ultramarathon was sponsored by the giant Westfield Group, which put up the $60,000 prize money. New South Wales Premier Neville Wran fired the starting gun at Westfield Parramatta shopping centre in Sydney at 10.30 am on 27 April, with Young's confidence soon appearing to be hopelessly opti­mistic. It wasn't long before the potato farmer was running last. 'The pace was so fast, the others were quickly out of sight,' said Cliff. And the veteran hadn't done himself any favours.
I took the wrong road following a jogger who turned into a shop. By the time I cut back to the road I was far behind.4
Most of the runners pounded the asphalt for eight or more hours before sleeping for five or six. Young, though, ran for almost thirteen hours, stopping at 11.30 pm for 'cold beans out of a can with a spoon' in his little caravan, before going to sleep.5
Cliff's mate Wally then made a slight timing error that would change the entire complexion of the race.
Wally woke me at 5.30 am and shouted I'd overslept. Off I went amazed how dark it was. Then Wally found he'd mistaken the time. It was 2.30 am.6
But Young said it was a blessing in disguise. As all the other runners slept, he eked out a lead of twenty kilometres over his rivals before they were even awake. On day two and running in short steps that became known as the 'Cliff Young shuffle', he reached Yass, some 280 kilometres from Sydney, where he slept for another two to three hours.
At the start of the third day Cliff was almost halfway to Melbourne at Gundagai and four hours ahead of the next runner, the expatriate, eccentric Englishman Joe Record. But after the ageing farmer stopped that evening, Record overtook him while he was asleep.
I leapt out of bed and hared off into the night. I passed him [Joe] when he was getting ice on his leg. I called, 'Good luck, Joe!' and he said, 'See you later'.7
Because he was running for more than twenty hours a day and taking so little rest time, Young was never again headed.
On day four when he reached Seymour in Victoria, almost 770 kilometres from Sydney, Cliff was increasingly confident of victory. As he approached Melbourne, however, with the lack of sleep he became disorientated.
The crowds got thicker . . . I ran up Bourke Street like a zombie. I kept asking for the finish. Where the hell was it? I don't know how I got up the West Gate Bridge. I have only a dim recollection of the finish.8
It was 1.34 am when Young eventually shuffled across the finishing line at Westfield's Doncaster Shoppingtown, in Melbourne's eastern suburbs. He was greeted by an ecstatic crowd of 10,000 people, brass bands, fireworks and marching girls. Cliff had been running for five days, fifteen hours and four minutes – he completed the ultra-marathon almost ten hours ahead of the next runner. During the arduous race he'd stopped to rest for a total of just twelve hours.
The bachelor potato farmer was instantly an unlikely national hero. And while his extraordinary feat of endur­ance had guaranteed his fame, he was even more popular for his genuine humility. When feted by the media he claimed he wasn't cut out to be such a public figure, admit­ting, 'I don't mind talking to the kids and making a few speeches, but I'm not very good at it.' 'I'm just a farmer really,' he said.9 On other occasions he referred to himself as a tortoise.
But behind Young's shyness and humility there was real conviction.I run to win. When other entrants said they'd win, I'd think, that's what you think!10Cliff Young epitomised what Australians like about their sporting heroes. He was the underdog, the rank outsider. He was gritty and determined and would never give up . . . And he was a winner. 
1. Essam, Phil
2. Sydney Morning Herald, 15 May 1983
3. Upton, Paddy, The Remarkable Story of Cliff Young, 20 November 2012
4. Sun-Herald, 15 May 1983
5. Ibid
6. Ibid
7. Sydney Morning Herald, 15 May 1983
8. Ibid
9. Essam, Phil
10. Ibid
---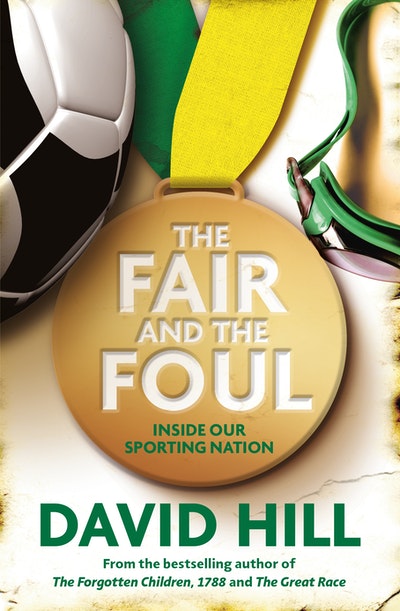 Sport in Australia is a national obsession. In this book David Hill recalls his encounters with the great and the good in Australian sport, as well as some of its darker moments.
Buy now
Buy now
---