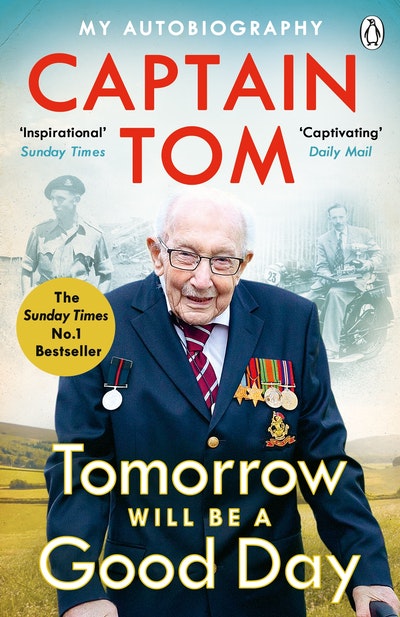 Published:

16 November 2021

ISBN:

9780241486122

Imprint:

Michael Joseph

Format:

Paperback

Pages:

400

RRP:

$22.99
Tomorrow Will Be A Good Day
My Autobiography - The Sunday Times No 1 Bestseller
Extract
Prologue
I heard them long before I saw them, the throaty rumble of their Second World War engines reverberating in my hearing aids as I sat outside on the morning of my 100th birthday. With a blanket draped over my shoulders to protect me from the April chill and my face tilted to the sky, I spotted the valiant Hurricane first as it wheeled in from the west for my birthday fly-past. Then came the Spitfire, that gutsy little plane that captured the hearts of the nation and came to represent the British spirit.
As the aircraft came in low directly overhead, their two young pilots from RAF Coningsby's Battle of Britain Memorial Flight kindly dipped their wings at me before heading home. Raising a clenched fist, I punched the air and cheered along with everyone else, thrilled to bits by this timely reminder of all that helps make this country great. It is this very gumption that I knew would get us through the coronavirus pandemic that held us all in lockdown.
It was eighty years earlier that I saw my first Hawker Hurricane when three of them swooped low over our Yorkshire valley on the day war was declared. I was nineteen years old and I remember thinking to myself, 'So, this is what they mean by war.' I saw more Hurricanes and Spitfires later as a trainee soldier, both bravely fending off German Messerschmitts over Cornwall during the Battle of Britain. And it was Spitfires 5,000 miles away out in Burma that helped us defeat the Japanese as we rolled in to fight them with our tanks.
As the relics of those dark days disappeared behind the clouds and my special birthday fly-past was over, I turned to the film crews back in our garden in force and said, 'I can't believe all this fuss is for me, and only because I went for a little stroll.' In fact, the previous twenty-five days beggared belief, because everything that had happened had sprung from what was started as a family joke when I was recovering from a broken hip. The idea for the fundraising walk that was to change my life first came to me a few weeks after I'd returned from another routine check-up at the local doctor's surgery and – as usual – had taken the staff some chocolates to keep them going.
'You're such an inspiration, Tom,' said Clare, one of my favourite nurses, after I told her I was considering ordering a treadmill. 'I can't think of many ninety-nine-year-olds who'd be thinking about buying a running machine!'
'It's you lot who are the inspirational ones,' I countered. 'For all the patience and kindness you've shown me over the last eighteen months, for the doctors who saved the life of my son-in-law, and for those who cared so wonderfully for my late wife Pamela. I only wish I could do more.'
Clare's parting advice to keep mobile was what sparked my mini challenge two weeks later, by which time we were all under lockdown. It was Sunday, 5 April 2020, the first really sunny day of the year, and my daughter Hannah and her family, with whom I live in Bedfordshire, decided to have a barbecue. Instead of doing my exercises in my room that day, I decided to take my walker outside for the first time and try a few laps of our 25-metre driveway. In what was a typical, fun conversation, my family began to tease me.
'Keep going, Granddad,' Benjie, sixteen, called as he flipped the burgers. Georgia, eleven, laid the table and Hannah said casually, 'Let's see how many you can manage.' Her husband Colin added, 'We'll give you £1 per lap, so see if you can do a hundred by your hundredth birthday.'
I thought they were joking because I hadn't walked that far since I came out of hospital eighteen months earlier, but as I kept walking, step after step, I began to think about what they'd said. What if I did raise a bit of money and gave it to the nurses and other healthcare workers who'd looked after us over the years? Even £100 would be a nice gesture. And how much might I raise if I could manage enough laps before my 100th birthday to help them combat Covid-19? Maybe if Hannah could persuade enough people to donate then we might be able to make a small contribution towards our brave army of frontline carers to whom I owed so much. But first I had to manage one whole lap.
Two years earlier I'd have managed 1,000 laps or more, but after a silly fall in my kitchen I'd fractured my hip, broken a rib and punctured a lung, which almost did for me. I have to admit that my subsequent loss of mobility knocked my confidence and badly affected my independence. Before that I'd been fit and well – driving, mowing the lawn and managing much of the gardening myself, even using the chainsaw. In my nineties I'd travelled to India and Nepal on my own because I wanted to see Mount Everest. I flew over the summit and sent some postcards home, then came back. Life is to be lived and I've always believed that age is no barrier to living it.
Once I'd finished the first lap that Sunday and earned myself a pound, I turned my walker carefully and attempted lap number two. 'That's it,' Hannah encouraged, laughing. 'You might even make a fiver!' Secretly, I wondered if I could, but with the family egging me on, there was no way I was going to stop. They knew me well enough to accept that I'd do my best. A Yorkshireman's word is his bond. Before I knew it, though, they'd set up a fundraising page for me with a £1,000 target, contacted the local media to help drum up support for what they called my 'Walk with Tom', and left me to do the rest.
I find the events that followed hard to fathom, even now. All I did was go for a walk, but it seemed to touch a nerve. As I ticked off my laps slowly and steadily, step by step, ten each day, my modest little fundraiser went viral and my target was surpassed within twenty-four hours. Before I knew it there were journalists at the gate, TV crews in the garden, and I was on breakfast television. As the money kept flooding in, so I kept walking. The entire adventure was so surreal and exciting that it really put a spring back in my step and I thoroughly enjoyed every second. Never in my almost 100 years on this Earth could I have imagined just how much we would go on to raise.
I am still so humbled and grateful for the love and gratitude I have received from far and wide. I'm in awe of the generosity and kindness of all those marvellous people who contributed to what started out as one old man's attempt to do his bit. It has gone far beyond my wildest expectations. I want to thank everyone from the bottom of my heart, not just for the amount we've been able to give to the NHS but for the wonderful boost you have given me and my family.
Before all this happened, I was a quiet little soul living out my days peacefully and reflecting back on my life with its long and happy marriage, two lovely daughters and four terrific grandchildren. I was preparing to mark VE Day and then VJ Day to commemorate seventy-five years since the end of World War Two, a conflict in which I'd served in India and Burma as part of what has become a largely forgotten campaign. And, of course, I was looking forward to marking my 100th birthday at a nice little party with friends and family before returning to peaceful obscurity. After my walk, though, it seemed that everyone not only knew my name but also wanted to know much more about me. I'm now known around the world as simply 'Captain Tom'. I am thrilled that I inspired so many people to undertake their own fundraising efforts, especially the younger generation, because they are the future. Everyone keeps saying that what I did was remarkable, when it was actually what everyone did for me and for the whole country that was remarkable. It has certainly filled me with a renewed sense of purpose.
Astonishingly at my age, with the offer to write this memoir I have also been given the chance to raise even more money for the charitable foundation now established in my name. Its goals are those closest to my heart, with a mission to combat loneliness, support hospices and help those facing bereavement – all in the wake of the unprecedented crisis we found ourselves in. I am so deeply honoured to be given yet another opportunity to serve the country of which I am so very proud.
This, then, is my story.
Tom
---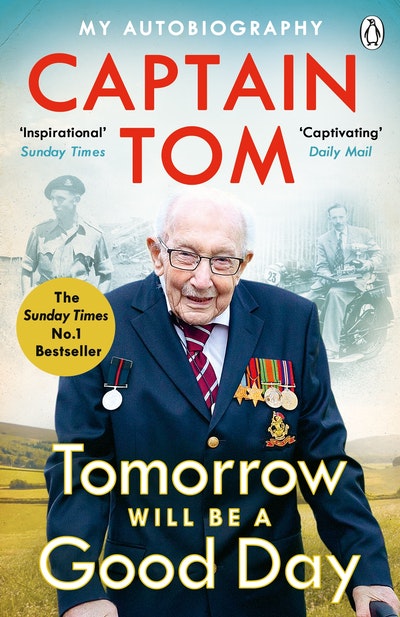 Tracking our country's past hundred years through the remarkable life of Captain Sir Tom Moore.
Buy now
Buy now
---