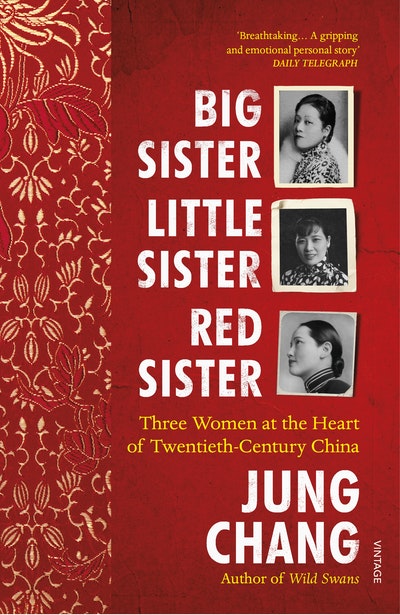 Published:

17 November 2020

ISBN:

9781784703967

Imprint:

Vintage

Format:

Paperback

Pages:

400

RRP:

$22.99
Big Sister, Little Sister, Red Sister
Three Women at the Heart of Twentieth-Century China
Extract
Introduction
The best-known modern Chinese 'fairy tale' is the story of three sisters from Shanghai, born in the last years of the nineteenth century. Their family, named Soong, was wealthy and prominent and among the city's elite. The Soong parents were devout Christians, the mother a member of China's most illustrious Christian clan (that of Xu, after whom a district of Shanghai is named), and the father the first Chinese to be converted in the American South by the Methodists, when he was in his teens. Their three daughters – Ei-ling ('Kind Age', born in 1889), Ching-ling ('Glorious Age', born in 1893), and May-ling ('Beautiful Age', born in 1898) – were sent as children to America to be educated, something extremely rare at the time; and the girls returned home years later speaking better English than Chinese. Petite and square-jawed, they were not great beauties by traditional standards, their faces not shaped like melon seeds, eyes not resembling almonds and eyebrows no arching willow shoots. But they had very fine skin, delicate features and graceful bearing, enhanced by fashionable clothes. The sisters had seen the world; they were intelligent, independent-minded and self-confident. They had 'class'.
What ultimately made them modern China's 'princesses', though, were their extraordinary marriages. One man who fell first for Ei-ling and then for Ching-ling was Sun Yat-sen, who pioneered the republican revolution that overthrew the monarchy in 1911. Known as the 'Father of (republican) China', Sun is revered throughout the Chinese-speaking world. Ching-ling married him.
Sun died in 1925; his successor, Chiang Kai-shek, courted and married May-ling, Little Sister. Chiang went on to form a Nationalist government in 1928, and ruled China until the Communists drove him to Taiwan in 1949. Little Sister was the first lady of the country for twenty-two years while he was in power. During the Second World War, as Chiang led the Chinese resistance against Japanese invasion, she became one of the most famous women of her time.
Her eldest sibling Ei-ling, Big Sister, married H.H. Kung who, thanks to his wife's connections, occupied the posts of prime minister and finance minister for many years. These jobs in turn helped Ei-ling as she succeeded in becoming one of the richest women in China. The Soong family, which also had three sons, constituted the inner circle of Chiang Kai-shek's regime – except Ching-ling, Sun Yat-sen's widow, who joined the Communists. She was sometimes referred to as Red Sister. Thus two antagonistic political camps separated the siblings. During the civil war following the Second World War, Red Sister did her best to help the Communists beat Chiang, even though this meant the ruin of her family. After the collapse of Chiang's regime and the founding of Communist China under Mao Ze-dong, in 1949, Red Sister became Mao's vice chairman.
Clearly the sisters were exceptional beyond their influential marriages. In the Chinese-speaking world, people never tire of talking about them, including their private lives. I remember two particular stories from when I was growing up in Mao's China from the 1950s to the 1970s, when the country was under rigid totalitarian control and completely isolated from the outside world. One was that Mme Chiang – Little Sister – bathed every day in milk to keep her skin luminous. In those days, milk, highly nutritious and desirable, was scarce and unavailable to the average family. Using it as bath water was deemed an outrageous indulgence. Once a teacher attempted to redress this common myth and muttered to his pupils, 'Well, do you really think it would be pleasant to bathe in milk?' He soon entered the ranks of the condemned 'Rightists'.
The other story that left a deep impression on me was that Ching-ling, vice chairman of puritanical Red China, was living together with her chief bodyguard, who was less than half her age. It was said that they had developed a physical relationship as a result of the bodyguard carrying her on and off her bed, when she was old and wheelchair-bound. People endlessly speculated about whether they got married, and argued over whether the relationship was acceptable. The word was that the Party permitted the affair out of consideration for the fact that Ching-ling had been widowed for a long time and needed a man, and that the Party even allowed her to keep the prestigious name of Mme Sun. I remember this tale particularly well because it was so rare to hear gossip about the sex life of a leader of the country. No one dared wag their tongue about any other top officials.
After Mao died in 1976 and China opened up, I settled in Britain and learned much more about the sisters. I was even commissioned in the mid-1980s to write a short book about Red Sister, Ching-ling. But although I did some research and put together some 30,000 words, curiously I felt uninvolved with my subject. I did not even try to get to the bottom of the scandal involving the bodyguard.
In 1991, Wild Swans: Three Daughters of China, the book about the lives of my grandmother, my mother and myself, was published. I went on to write a biography of Mao with my husband, Jon Halliday. Mao and his shadow dominated the first twenty-six years of my life, and I was eager to find out more about him. Then, Empress Dowager Cixi, the last great monarch of China (uncrowned, as women were not allowed to be monarchs), caught my attention. Rising from a low-rank concubine to a stateswoman, Cixi ruled the empire from behind the throne for decades and brought the medieval country into the modern age. Both my subjects riveted me and absorbed twenty years of my life. Whom I should write about next was a difficult choice. The idea of the Soong sisters came up, but I ruled it out. After Wild Swans, I had been writing about programme-setters and history-changers, which the sisters were not.
As individuals, from the information available, they remained fairy-tale figures, summed up by the much-quoted description: 'In China, there were three sisters. One loved money, one loved power, and one loved her country.' There seemed to be no mental conflicts, moral dilemmas, or agonising decisions – all the things that make human beings real and interesting.
 Instead I thought of writing about Sun Yat-sen, the Father of republican China. Living from 1866 to 1925, and rising to prominence in the period from Cixi to Mao, Sun was a programme-setter like them, and was a sort of 'bridge' between them. Under Cixi, China had begun the journey towards parliamentary democracy, and was expecting greater freedom and openness. And yet, four decades after her death in 1908, Mao took power, isolated the country and plunged it into a totalitarian tyranny. What happened in those four decades, in which Sun Yat-sen played a key part? The question had been bugging me. Now, this was my chance to find out.
For the Chinese, and for those outside the Chinese-speaking world who have heard of him, Sun's image is that of a saint. But was he? What exactly did he do for China, and to China? And what was he like as a person? I wanted to discover the answers to these and many other questions.
It was as I was piecing together Sun's life – and that of people around him – that the depth of character of his wife and her sisters emerged and captured my imagination. Sun, I realised, was a consummate political animal who pursued his ambitions singlemindedly. That he was no saint was a relief (to a biographer). To follow his road to power, which was full of ups and downs, gangsters and gangster methods such as vendettas and assassinations, was like reading a thriller. And to uncover how this man made history was satisfying. But the women's lives, of which politics was only a part, gradually became richer and more appealing to me. I decided to make them the subjects of this book.
When I switched my focus to the sisters, my eyes were opened to just how extraordinary they were. Their lives spanned three centuries (May-ling died in 2003, aged 105) at the centre of action during a hundred years of wars, seismic revolutions and dramatic transformations. The backdrop moved from grand parties in Shanghai to penthouses in New York, from exiles' quarters in Japan and Berlin to secret meeting rooms in Moscow, from the compounds of the Communist elite in Beijing to the corridors of power in democratising Taiwan. The sisters experienced hope, courage and passionate love, as well as despair, fear and heartbreak. They enjoyed immense luxury, privilege and glory, but also constantly risked their lives. In one narrow escape from death, Ching-ling suffered a miscarriage, and she was never able to have children. Her anguish would play a big role in her behaviour as Communist China's vice chairman.
May-ling also had a miscarriage that left her childless. Her husband Chiang Kai-shek, whose political career had taken off after he killed one of Sun's foes, was himself pursued by assassins, two of whom got close to her marital bed one night.
Ei-ling helped Little Sister fill the void left by childlessness, but she had to cope with her own lifelong disappointments, not the least of which was a universally bad reputation: she was seen as greedy and wicked Big Sister, while Red Sister was treated as a pure goddess and Little Sister as a glamorous international star. The relationship between the three women was highly charged emotionally, and not just because Ching-ling was actively working to destroy the lives of the other two. Chiang Kai-shek killed the man she loved after Sun's death – Deng Yan-da, a charismatic natural leader who had formed a Third Party as an alternative to the Communists and the Nationalists.
Modern Chinese history is intimately intertwined with the personal traumas of the Soong sisters. In writing about them – and China's colossi Sun Yat-sen and Chiang Kai-shek – I have been blessed with abundant materials. Copious correspondence, writings and memoirs, including many kept in China, have been published or made available. In Taiwan, now a democracy, archives have opened their doors. London, where Sun initiated his own 'kidnap' that launched his career, offers many insights. Above all, in America, to which the extended family was closely connected, institutions and libraries house numerous collections of documents that are simply treasure troves. A most valuable, fairly recent addition is Chiang Kai-shek's diary, which he wrote every day for fifty-seven years, and which is unusually personal, with many revelations about his marriage with May-ling. The story of the Soong sisters began as China embarked on its transition from monarchy to republic. The man who played the biggest part in this historic process was Sun Yat-sen. Sun and his republican revolution would shape the lives of the three sisters.
---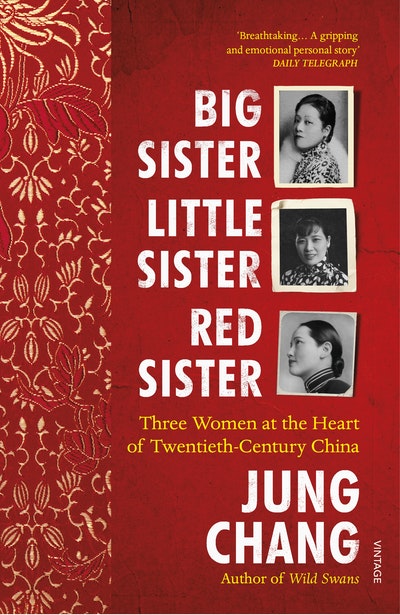 A major new biography from the internationally bestselling author of Wild Swans, Mao and Empress Dowager Cixi: a gripping story of sisterhood, revolution and betrayal, and three women who helped shape the course of modern Chinese history.
Buy now
Buy now
---