Try this free recipe from Stephanie Alexander's The Cook's Companion.
If a suitably sized buffe is hard to find, buy a 5-7 kg turkey and use the legs for another dish. The advantage of this is that you will have more skin to work with. The cooked legs can be roasted separately and used for a salad or to make Turkey and Chutney Pasties.
Roasted Christmas Turkey Roll
Serves 6-8
Ingredients
1 x 4.5 kg turkey buffe (not self-basting)
200 g butter
2 cloves garlic, finely chopped
grated zest of 1 large lemon
salt
freshly ground black pepper
1/3 cup freshly chopped herbs
water
Sauce:
turkey roasting juices
1 tablespoon plain flour
200 ml dry white or red wine
1 cup poultry stock
redcurrant or apple jelly or quince paste (optional)
 
METHOD
Ease skin from turkey with your fingers, trying not to tear it, and set aside. Remove the 2 breast fillets (each will weigh 500-600 g). Set legs aside for another dish. Chop carcass roughly and reserve to make stock (you could use this stock for the sauce).
Heat butter and garlic in a frying pan, stirring, until butter has melted and garlic is fragrant but has not begun to brown. Remove pan from heat and add lemon zest. Spread turkey skin on your workbench, inner surface uppermost. Cut away and discard any excess fat, then brush skin with some of the garlic butter. Place 1 breast fillet on skin. Season well and brush liberally with more garlic butter. Scatter with herbs. Season second fillet, then brush underside with garlic butter and position it 'top to tail' over first fillet. Finish with remaining garlic butter. Pull up skin to form a fat roll and tie securely with string at 5 cm intervals. Wrap entire roll firmly in buttered muslin, then weigh it. Put roll into a suitably sized baking dish and refrigerate until ready to cook.
Remove turkey roll from refrigerator 30 minutes before cooking. Preheat oven to 200°c. Calculate cooking time, allowing 30 minutes per kg (and remember you need at least 20 minutes' resting time). Pour 1/2 cup water into baking dish and put into oven to cook. Turn halfway through cooking and replenish water every 30 minutes to stop juices burning. Pierce with a thin skewer to test whether turkey is cooked - the juices should run clear. If using a thermometer, the internal temperature should be 75°C (167°F) when done.
Remove roll to a warm platter, then ease off muslin and cover meat loosely with foil. Keep warm and allow to rest for at least 20 minutes.
To make the sauce, tip juices from baking dish into a jug and allow to settle, then spoon off and discard fat. Add flour to baking dish and stir and scrape over a medium heat to loosen any stuck-on browned bits. Add wine, allowing it to bubble up and scraping some more, then add stock and reserved juices, and stir until smooth. Add redcurrant jelly, if you like.
Using a very sharp knife, cut thick slices from roll. Transfer slices to a hot serving platter and spoon over a little of the sauce. Offer remaining sauce separately. This very elegant presentation can be accompanied by traditional roast vegetables, or maybe a dish of asparagus or perfect small beans or small carrots or shelled peas, or all of these.
 
Herbs: A good combination of herbs to use here is a mixture of parsley, tarragon and chives.
---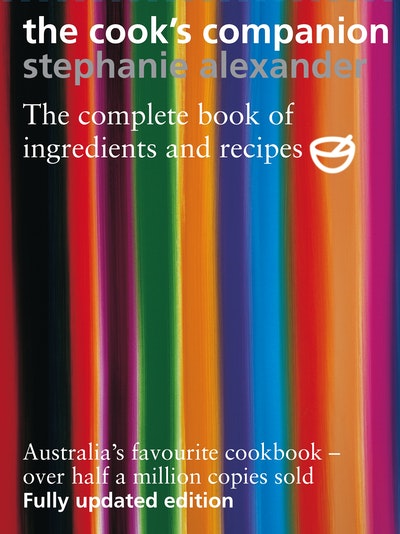 The Cook's Companion has established itself as the kitchen 'bible' in over 500,000 homes since it was first published in 1996. In 2004, Stephanie Alexander added over 300 new recipes as well as 12 new chapters in an updated edition. This latest revision includes two major new chapters, two expanded chapters, 70 new recipes and a complete revision of the text to reflect changes in the marketplace and new regulations.
Buy now
Buy now
---