Try this free recipe from The Cook's Companion by Stephanie Alexander.
This recipe originally came from a family friend and, as always seems to happen, there have been a few changes made along the way. As with all products that use dried fruit it is important to buy the best quality, as the final result can vary considerably. The cake is best made a few weeks before Christmas and can be covered with a layer of marzipan and iced with Royal Icing, if desired. (I do not do this, as many people, especially children, dislike the bitter almond flavouring in marzipan and will pick it off the cake.)
CHRISTMAS CAKE FROM MARGARET
Ingredients 
270 g sultanas, roughly chopped
270 g currants
270 g seeded raisins, chopped
120 g Australian dried apricots, chopped
60 g prunes, stoned and chopped
140 ml brandy
270 g softened unsalted butter
60 g mixed peel
40 g slivered almonds
225 g plain flour
1 teaspoon baking powder
1 teaspoon ground cinnamon
1 teaspoon mixed spice
1/4 teaspoon freshly grated nutmeg
250 g dark brown sugar
5 large eggs, beaten
1 tablespoon black treacle or golden syrup
whole blanched almonds for decoration
 
METHOD
Put dried fruit into a large glass or ceramic bowl and add 100 ml of the brandy. Soak overnight. Next day, preheat oven to 150°C (if you have a fan-forced oven, preheat it to 140°C). Grease a 22 cm x 7 cm deep round cake tin well with 20 g of the butter and line with a double thickness of baking paper or brown paper.
Put mixed peel and slivered almonds into a large bowl and coat with a little of the flour to prevent clumping. Sift remaining flour with baking powder and spices. Cream brown sugar and remaining butter in an electric mixer until light and fluffy. Add eggs and flour mixture alternately, then add soaked fruit, treacle, and almond mixture. Mix well. Turn mixture into prepared tin and scoop centre into a slight hollow to allow for rising. Place whole almonds in a circular pattern around edges of cake.
Bake for 3 hours. Insert a fine skewer and, if it does not come out clean, reduce oven to 110°C and check again after 15 minutes. When cooked, remove from oven and drizzle remaining brandy over cake. Allow to cool completely in tin before turning out. Wrap cake in several layers of greaseproof paper and then in foil and store in an airtight cake tin until Christmas Day.
 
Smaller cakes: If you wish to make 3 smaller cakes, use 3 x 13 cm x 6.5 cm deep round tins. For 2 log cakes, use 2 x 25 cm x 10 cm x 6.5 cm rectangular tins. Cook for 2 hours.
---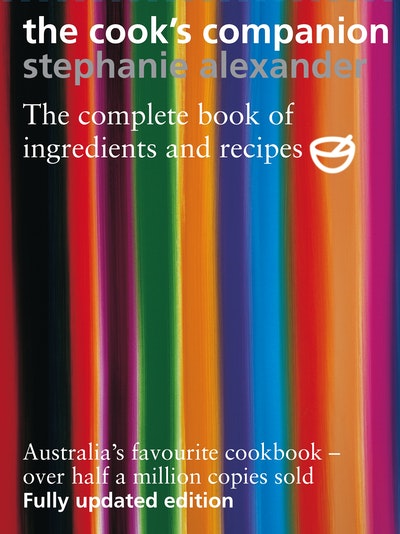 The Cook's Companion has established itself as the kitchen 'bible' in over 500,000 homes since it was first published in 1996. In 2004, Stephanie Alexander added over 300 new recipes as well as 12 new chapters in an updated edition. This latest revision includes two major new chapters, two expanded chapters, 70 new recipes and a complete revision of the text to reflect changes in the marketplace and new regulations.
Buy now
Buy now
---