A delicious loaf from The Cook's Apprentice that's perfect for morning or afternoon tea.
This delicious loaf goes very well at morning or afternoon tea buttered or not and has been made and enjoyed by many students in the Stephanie Alexander Kitchen Garden program. The texture is somewhere between a spice cake and gingerbread but with definite pumpkin character. The advice to be 'careful not to overmix' means that you should stop mixing as soon as you can't see the ingredient you have just added (in this case, the flour). Mixing flour with liquids activates the gluten proteins that give baked goods their structure. This is just what you want when making yeast-based breads, but you do not want the gluten to develop when making yeast-free cakes, muffins and quick breads as it will make the product tough or unpleasantly chewy.
Pumpkin and Honey Bread
Makes 1 loaf
Total time: 1 hour and 30 minutes
INGREDIENTS
1 × 500 g piece pumpkin
½ cup extra-virgin olive oil
185 g wholemeal flour
75 g plain flour
1 teaspoon baking powder
½ teaspoon bicarbonate of soda
¾ teaspoon salt (continued next page)
1 teaspoon ground cinnamon
1 teaspoon freshly grated nutmeg
¼ teaspoon ground cloves
¼ teaspoon ground ginger
½ cup honey
2 large eggs
1 heaped tablespoon pepitas or sunflower seeds
METHOD
Remove the seeds from the pumpkin and cut away the skin if it is present – put the broadest side flat on your cutting board, and cut away from your hand. Cut the pumpkin into 1 cm cubes. You should have 300 g trimmed pumpkin.
Place a wok over medium heat and pour in water to come one-third up the sides. Sit a bamboo steamer basket over the water with its lid in place. Wait for the water to come to a boil and for the steam to rise through the slits in the basket. Carefully arrange the pumpkin in a single layer and steam, covered, for 10 minutes, then check. If tender when tested with a skewer, transfer the pumpkin to a plate. If not, steam for another few minutes and test again.
Tip the pumpkin into a food processor and whizz to form a smooth purée, or mash it with a potato masher. Measure out 1 cup purée (keep any extra for another use).
Preheat the oven to 180°C (160°C fan-forced). Grease a 12 cm × 20 cm loaf tin with a little of the oil.
Tip the flours, baking powder, bicarbonate of soda, salt and spices into a large bowl and mix thoroughly with a whisk.
In another large bowl, whisk the 1 cup pumpkin purée and the rest of the oil with the honey and eggs.
Add the flour mixture to the pumpkin mixture and mix gently to combine. Be careful not to overmix as the bread might toughen.
Pour the mixture into the prepared tin. Sprinkle with pepitas or sunflower seeds. Bake for 40–45 minutes, until a skewer inserted in the centre of the bread comes out clean.
Cool the loaf still in its tin on a wire rack for 10 minutes, then turn it out. Cool completely before slicing.
VARIATION
Bake the mixture in pan-lined muffin tins as a great accompaniment for soup. Bake at 200°C (180°C fan-forced) for 20 minutes until firm. Cool for a minute, then turn out on to a wire rack.
FLOUR
I have chosen to measure flour by weight rather than cups in this book, unless the result doesn't depend on an exact amount. Precision is important when baking. Sometimes it is straightforward to convert a weight measurement to cups, but sometimes it is not and disappointment can follow. One cup of flour weighs 150 g.
---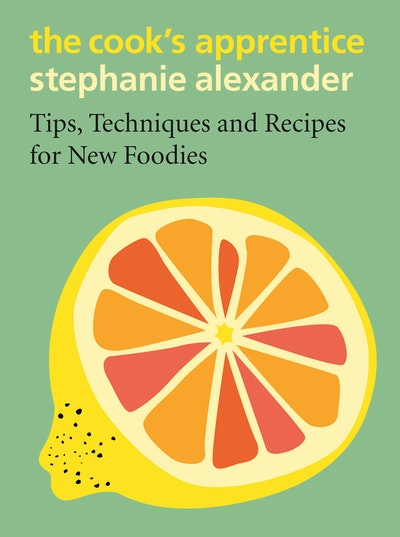 For younger readers, the companion to Stephanie Alexander's classic work, The Cook's Companion: destined to be another go-to cookbook for families across Australia.
Buy now
Buy now
---