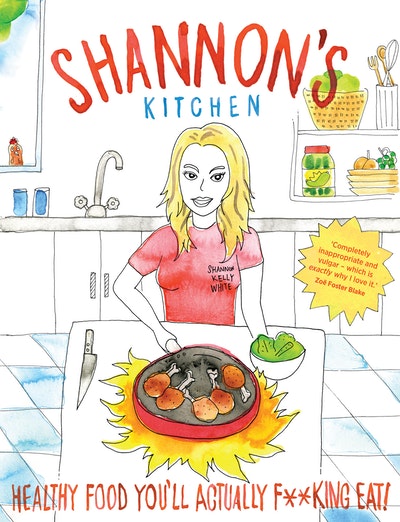 Published:

2 April 2018

ISBN:

9780143792512

Imprint:

Penguin

Format:

Paperback

Pages:

160

RRP:

$34.99
Shannon's Kitchen
Healthy Food You'll Actually F**king Eat!
---
---
---
Healthy food. Inappropriate language. Zero f**ks given.
She's the Donna Hay of not giving a f**k.
Nutritious food makes you feel awesome but it can taste like penis – not to mention that the healthy food world can be as appealing as having your bikini line tidied up with a high-pressure hose. It's a little overzealous, and can be obnoxious, preachy and full of fads.
But healthy food isn't just for uptight health nerds and classy highbrow types – it's for everyone. That's why Aussie nurse and mum Shannon Kelly White created her blog, Shannon's Kitchen, to share her delicious, achievable recipes (along with an inappropriate amount of penis jokes and references to nipple erections).
In Shannon's Kitchen: Healthy Food You'll Actually F**king Eat!, Shannon reveals 60 easy-to-follow recipes for healthy food to help you live a bloody good and fun life. If you've had a gutful of diets, detoxes and perfect clean eating types, then this book is for you – no preachy nonsense or etiquette, just tasty food, inappropriate language and zero f**ks given.
Winner (Australia) of the Gourmand World Cookbook Awards – Health & Nutrition
Winner (Australia) of the Gourmand World Cookbook Awards – Food Writing
Published:

2 April 2018

ISBN:

9780143792512

Imprint:

Penguin

Format:

Paperback

Pages:

160

RRP:

$34.99
Praise for Shannon's Kitchen
This book is completely inappropriate and vulgar – which is exactly why I love it. Shannon has disrupted a saturated and overly earnest genre with her unique medley of filthy language, humour and delicious recipes. I give it 15/10 f**ks.

Zoë Foster Blake
In her own unique potty mouth style, Shannon serves up something to please every taste, free from any try-hard superfood trends or parroting of what the wellness cool kids on Instagram are up to. Never has good food, good taste and foul language gone so well together.

Dr Tim Crowe, Advanced Accredited Practising Dietitian/Creator of Thinking Nutrition
If you're sick of being fed utter BS about food, you need Shannon in your life. Her take on health and nutrition is frank and frankly, filthy. And I can't get enough.

Jo Elvin, Editor of Glamour UK
If you're like me and into rude and crude humour then please do yourself a favour and visit Shannon's Kitchen! … Pure gold.

Sophie Cachia, The Young Mummy
On top of her food and health knowledge, Shannon may just be one of the funniest writers on the block. If fruity words offend you, I suggest this book isn't for you... and you should grow some balls.

Katie 'Monty' Dimond, Radio Presenter/Boss Bitch at Show + Tell
If you hate laughing or feeling joy, you should definitely not buy this book. It will totally ruin your day.

Lauren Dubois, Journalist/Blogger at The Thud
If you are an irreverent type, you'll have a belly laugh at this cookbook of healthy, tasty, achievable recipes, served with a generous side of swearing and vulgarity.

Grass Roots
Gourmand World Cookbook Awards - Australian Division
Winner • 2019 • Health & Nutrition, Food Writing