Shannon Kelly White on her home kitchen and all its wonderful quirks.
I have to let you in on a little secret: I don't actually love cooking all that much. I mean, I like it, but I don't wake up each day and strut into my kitchen with major nipple boners of excitement because, "Hooray, I get to cook three times again today! Yay me!" Most of the time I'm thinking, "For fuck's sake, I just did this yesterday." But even though I'm a bit shitty on the relentlessness of cooking, I do love my kitchen.
That's not to say that my kitchen is perfect. It isn't. It has crumbs on the floor, piles of crap on the bench and pools of spilled egg from the little chefs. My kitchen's had something far more heinous than eggooze grace it. A shoddy vegetable peeler? Well, no, that blunt piece of shit can burn in hell but no, that wasn't the worst. Well then, perhaps it was the $4 avocado I recently purchased that when cut open bore a heart blacker than Cruella de Vil's? Nah, that deceptive fucker can eat a bag of dicks but it had nothing on the worst thing my kitchen has endured: Goddamn pantry moths. AKA weevils. AKA sneaky little fuckers. The discovery started out innocently enough after spotting a cute little crawly thing on a packet of oats. Then as my eyeballs started to look with more vigour I soon realised I was facing a plague of biblical proportions. I was fucked. They were in everything. I considered setting fire to the house, but instead spent an entire day and a half engaged in battle. It was a horror I hope to never endure again.
But it's not all doom and gloom in Shannon's Kitchen, let me tell you about my favourite thing in there: an old stirring spoon. It was my great grandmother's, then my grandmother's and now it's mine. It has the edge worn off one side and it's as tarnished as all fuck, but when I hold it in my hand and I ponder how many sauces, gravies and batters it's stirred, my heart feels all the feels. Then one of my kids will fart on my leg and I'll be brought crashing back to the reality of the moment.
Despite their penchant for making excessive noises of both anal and oral origin, I love having my kids in the kitchen (well, actually, not the 2 year old, he's a huge pest). The kids remind me of the simple joy found in creating and they bring back some of the magic of cooking. Every time it results in a sub-par product and a mess that brings a tear to the eye but… it's bloody fun. Plus I know they're learning a skill for life and gaining respect for the food on their plates (and as a bonus I can blame them if something turns out shit). These family cooking sessions add such life and ease to the kitchen.
Sparkle isn't always organically present in there though. Some days it needs to be conjured. My go-to trick for adding pleasure is to play music while I cook and clean up. If I'm lucky enough to be DJ'ing the kitchen tunes then you'll find me singing and dancing (very poorly) to vintage Red Hot Chili Peppers or Whitney Houston like any normal respectable 80's baby. However, what's pumping is more often than not The Wiggles or some children's song about propellers or jumping or some other shit.
In every way, my children are everywhere in our home. From the aforementioned Wiggles and the fingerprints on the windows to the utensils missing from the third drawer that the toddler has pinched and deftly hidden. Their art adorns the fridge and kitchen walls – painted ducks that appear to have had strokes float on smudged blue ponds, while cheerful suns that take up a third of the sky shine on birds whose beaks are so anatomically incorrect they would not be able to take flight. But there's no more beautiful art in the world in my eyes. Even though it clashes terribly with our exorbitantly expensive dining chairs.
That's what my kitchen is like though; it's inconsistent. A place of joy and chore. A place that's sometimes clean and full of fresh produce and enthusiasm. Other days it's messy and riddled with takeaway containers because there are times I simply don't have the fucks to give. But it's always a place where you can come as you are, you can sit on the bench, you can leave dirty dishes in the sink, you can pour yourself a wine or make a cuppa, because despite being imperfect, it's happy and welcoming.*
*The pantry moths can go get fucked though, those little bastards aren't welcome back.
---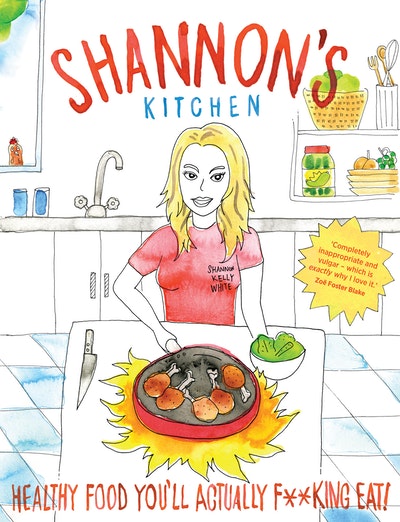 Healthy food. Inappropriate language. Zero f**ks given.
Buy now
Buy now
---