Shannon Kelly White on mum's big day.
I didn't think I would be a mother. I was told at 20 that I was infertile. This person obviously crunched the numbers wrong. Awareness of this inaccuracy would've been helpful before I allowed Mr I Can Pull Out In Time free rein and boom – hello motherhood. Even though it was a surprise, I love being a mother. It's fun. It's warm. It makes me want to be better. It doesn't make me stop cursing. It doesn't make me stop giggling at farts or making excessive doodle jokes. It doesn't make me classy, demure or grown up. But it makes me want to be good. It makes me try harder to be kind and patient. It makes me question my values and myself and makes me keep improving. It makes my heart grow; being a mother is beautiful. It's made me softer, both figuratively and literally.
Which brings me to the dark side of my motherhood experience: My titties. Motherhood hasn't done them a solid. Those things used to be an absolute delight – they laughed in the face of gravity. They behaved themselves. Now, after breastfeeding two little humans, they have a look which could only be described as pendulous. I can no longer go out in heavy winds because they start acting like windsocks and aircraft start landing nearby. I mean, it's just not safe.
This will be my sixth Mother's Day as a mum. The second Sunday in May will start the same way every day starts. With a pair of pale blue eyes the same shade as my own, peering into my face. A small hand on me and a voice, croaky from sleep saying, 'Good morning, Mummy, it's time to get up now. It's morning time!' 'Are you sure?' 'Yep, it's yellow outside.' A brief negotiation punctuated with cuddles will follow, and then I'll toddle downstairs with Jack after scooping Herbie out of his cot as he shouts, 'Hop up! Morning, Mummy!' I can never match their a.m. enthusiasm. I'll flick the kettle and plonk my Clydesdale arse onto the couch. This will engage the children's magnets and within seconds they'll be fighting over who gets to snuggle Mum.
After a cuppa, I'll be keen as fuck for brekkie. I'm not going to lie to you – it'll be incredible. Mr Shannon dominates in the breakfast department. Jack will be his sous chef meaning my day's calcium intake will be excellent thanks to the copious volumes of eggshell that will be incorporated into the poached eggs. I'll have to fight Herbie for the bacon – that little log could eat his bodyweight in cured meats; he's like a pasty baby version of The Rock. He'll happily ignore the tomato, avocado and feta but he'll reinitiate battle for the hash browns.
My boys are young, so they're still under the illusion that I'm a goddess. They'll be so excited to present me with their low-key gifts. Last year I got a homemade necklace fashioned out of string and beads (at least it wasn't macaroni), a painting and a toy horse. Dreams really do come true. This year I overheard Jack telling Mr Shannon he wants to get me a bike which unsettles me as my vulva doesn't appreciate the configuration of a bike-seat. I'd honestly prefer a shitty necklace. As I tear away the wrapping paper with my little chaps' help, Mr Shannon will take my photo. In the captured image, I will look deceased – a pasty face with dark circles and hair that looks like I've just tumbled off the back of a ute. But past experience tells me one day I'll look back on it and find beauty my eyes can't now see. So I'll smile and enjoy it.
My boys will wish me a Happy Mother's Day with genuine love and I'll happily receive it, but to me Mother's Day isn't a day of worship or thanksgiving. My kids didn't choose to be born – they didn't have a say in it. They didn't ask motherhood of me, it was only through the lottery of birth that they landed with me. They're relying on me. So I'll try my best to do good for them for the rest of my life. I'll even smile if I get a fucking bike.
---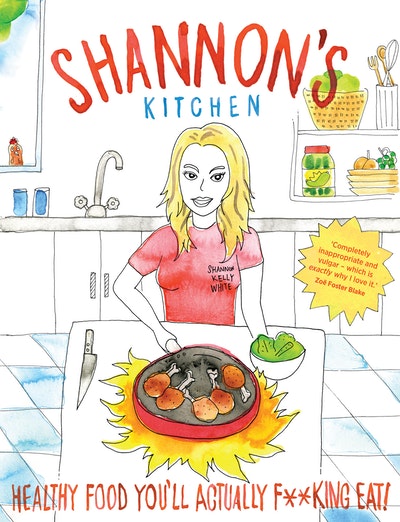 Healthy food. Inappropriate language. Zero f**ks given.
Buy now
Buy now
---