A brief introduction to the novels of the acclaimed Irish writer.
A dozen much-loved novels, eight children's books, seven screenplays and plays and dozens of short stories attest to Roddy Doyle's standing as an Irish writing icon. As do his awards and accolades, which include (among many, many others) a 1991 BAFTA Award (Best Adapted Screenplay) for The Commitments, the 1993 Man Booker Prize for Paddy Clarke Ha Ha Ha, the 2009 Irish PEN Award, and an honorary doctorate from the University of Dundee.
To appreciate Doyle's writing one only needs to be immersed in his deftly drawn worlds. Inhabit his working-class suburbs and engage with the locals (and local lingo), and it can feel as if you've walked the grimy pavements of Great Depression-era Chicago or visited the smoky pubs of 1980s Dublin in person. Get to know his casts of occasionally recurring, often lovable, and almost always inherently flawed characters, and you get a sense of a writer with enormous empathy and understanding of what it is to be human.
From Doyle's standalone novels to his 'Barrytown Pentalogy', his Paula Spencer novels and his 'Last Roundup' series, it can be difficult to know where to start – and where to go next. Here we offer brief introductions to, and a suggested reading order for, the novels of Roddy Doyle.
1. Start at the beginning, with the 'Barrytown Pentalogy'
The Commitments (1987)
It's Doyle's debut novel, the source document of the 1991 cinematic hit of the same name, and the first book in the 'Barrytown' series – so The Commitments is the perfect place to start.
The Commitments are spreading the gospel of soul music in Dublin. Ably managed by Jimmy Rabbitte, brilliantly coached by Joey 'The Lips' Fagan, their twin assault on Motown and Barrytown takes them by leaps and bounds from the parish hall to the steps of the studio door. But can The Commitments live up to their name?
The Snapper (1990)
Now you're getting to know the Rabbitte family, you might as well stick with them through the 'Barrytown' books.
The Rabbitte family are motley bunch of loveable ne'er-do-wells whose everyday purgatory is rich with hangovers, dog shit and dirty dishes. When the older sister announces her pregnancy, the family are forced to rally together. But the question remains: which friend of the family is the father of Sharon's child?
The Van (1991)
Jimmy Rabbitte is unemployed and rapidly running out of money. His best friend Bimbo has been made redundant at the company where he has worked for many years. The two old friends are out of luck and out of options. That is, until Bimbo finds a dilapidated 'chipper van' and the pair decide to go into business...
Paddy Clarke Ha, Ha, Ha (1993)
Paddy Clarke is ten years old. He lights fires and his name is written in wet cement all over Barrytown. Paddy Clarke's heroes are Father Damien (and the lepers), Geronimo and George Best. Paddy Clarke hates his brother Francis, loves his Ma and Da, but it seems like they don't love each other, and Paddy wants to understand, but can't.
The Guts (2013)
In the final instalment of the series, Doyle revisits Jimmy Rabbitte decades on from his Commitments glory days.
The man who invented the Commitments back in the eighties is now forty-seven, with a loving wife, four kids... and bowel cancer. He isn't dying, he thinks, but he might be. Jimmy still loves his music, and he still loves to hustle. Then, on his path through Dublin he runs into a couple of faces from the old days…
2. The Paula Spencer novels
The Woman Who Walked into Doors (1996)
Chronologically this was the book that followed Doyle's Booker Prize-winning and darkly hilarious Paddy Clarke Ha, Ha, Ha. But this deceptively complex story of a woman trying to find dignity among the wreckage of a violent and abusive relationship steers readers to a more foreboding side of what could be the same street.  
Paula Spencer is the mother of four children, and lives in a working-class suburb of Dublin. She is also a battered wife and an alcoholic. In this spiralling story she recalls her contented childhood, the audacity she learned as a teenager, the exhilaration of her romance with Charlo and the marriage to him that left her powerless.
Paula Spencer (2006)
Ten years on from The Woman Who Walked into Doors, Doyle returns to one of his greatest characters.
Paula is now forty-seven, her abusive husband is long dead, and it's been four months and five days since she's had a drink. She cleans offices to get by and lives from paycheck to paycheck. But as she manages to get through each day sober, she begins to piece her life back together and to resurrect her family.
3. 'The Last Roundup' series
After occupying the working-class suburbs of Dublin, it's time to travel with Irish revolutionary fighter Henry Smart, from his homeland to the swinging streets of Depression-era USA.
A Star Called Henry (1999)
Born in the slums of Dublin in 1901, his father a one-legged whore-house bouncer and settler of scores, Henry Smart has to grow up fast. At fourteen, already six foot two, Henry's in the General Post Office on Easter Monday 1916, a soldier in the Irish Citizen Army, fighting for freedom.
Oh, Play that Thing! (2004)
Fleeing the Irish Republican paymasters for whom he committed murder and mayhem, Henry Smart has left his wife and infant daughter in Dublin and is off to start a new life. When he lands in America, it is 1924 and New York City is the centre of the universe. Henry turns to hawking cheap hooch, only to catch the attention of the mobsters who run the district. Then, in Chicago, Henry finds a newer America alive with wild, happy music played by a man with a trumpet and bleeding lips – Louis Armstrong…
The Dead Republic (2010)
Henry Smart is back. It is 1946, and Henry has crawled into the desert of Utah's Monument Valley to die. He stumbles onto a film set, and ends up in Hollywood collaborating with John Ford on a script based on his life. Eventually, Henry finds himself back in Ireland, where he meets up with a woman who may or may not be his long-lost wife. The secret of his rebel past comes out, and Henry is a national hero. Or are his troubles just beginning?
4. Doyle's standalone novels
You've circumnavigated the globe reading the epic 'Last Roundup' series, now it's time to settle in for some gloriously evocative storytelling from a writer at the peak of his talents.
Smile (2017)
Victor Forde goes every evening to Donnelly's pub for a pint, a slow one. One evening his drink is interrupted by a man in shorts and a pink shirt. He seems to know Victor's name and to remember him from school. Victor dislikes the man on sight, dislikes too the memories that Fitzpatrick stirs up of five years being taught by the Christian Brothers…
Love (2020)
One summer's evening, two men meet up in a Dublin restaurant. Old friends, now married and with grown-up children, their lives have taken seemingly similar paths. But Joe has a secret he has to tell Davy, and Davy, a grief he wants to keep from Joe. Both are not the men they used to be. As two pints turns to three, then five, and the men set out to revisit the haunts of their youth, the ghosts of Dublin entwine around them.
Extract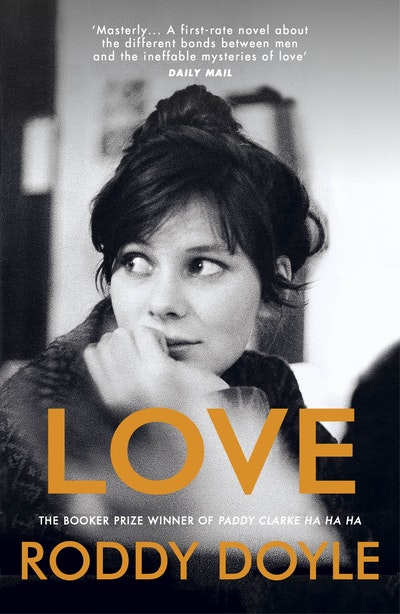 Love
He knew it was her, he told me. He told me this a year after he saw her. Exactly a year, he said.
Extract