Five diverse titles from one of the world's greatest living literary talents.
Author, humanist, free-speech advocate, Man Booker (and two-time Best of Booker) Prize recipient and mentor – for his novels, collected stories, children's books, essays and non-fiction works, Salman Rushdie has amassed critical acclaim and dozens of literary awards and honours throughout his writing life. Rushdie earned renown early in his career for his magic realist approach to historical fiction, via novels like Midnight's Children (1981) and The Satanic Verses (1988). In forty-plus years of writing, his work has traversed thematic material as wide-ranging as cultural and national identity, political satire, international relations and the fragility of the societal narratives with which we fortify our existence. A former president of PEN American Center, he is a member of the American Academy of Arts and Letters and a Distinguished Writer in Residence at New York University. Rushdie was knighted in 2007 for services to literature, and he is credited as lyricist of a U2 song, the namesake of his 1999 novel The Ground beneath Her Feet.
To celebrate the publication of Rushdie's fourteenth novel, Quichotte, here we highlight five very different career milestones of one of the preeminent writers of his generation.
Midnight's Children (1981)
While 1975's Grimus takes the honours as Rushdie's first novel, it was the Booker Prize (and subsequent Booker of Bookers) winning Midnight's Children that put his name on the literary map.
Born at the stroke of midnight at the exact moment of India's independence, Saleem Sinai is a special child. Inextricably linked to his nation, his story is a whirlwind of disasters and triumphs that mirrors the course of modern India at its most impossible and glorious.
Haroun and the Sea of Stories (1990)
Rushdie dedicated his allegorical children's book to his son, Zafar – the book begins with an acrostic poem built around the first letters of his name.
Haroun's father is the greatest of all storyletters. His magical stories bring laughter to the sad city of Alifbay. But one day his father runs out of tales. So Haroun flies off on the back of the Hoopie bird to the Sea of Stories.
Shalimar the Clown (2005)
Winner of India's Crossword Book Award, and finalist of the 2005 Whitbread Book Awards, Shalimar the Clown is Rushdie's eighth novel.
Former US ambassador to India and counter-terrorism expert Maximilian Ophuls is knifed to death in broad daylight on the doorstep of his illegitimate daughter, India – slaughtered by a mysterious figure who calls himself Shalimar the Clown. At first the murder looks like a political assassination, but other forces may be at play.
Two Years Eight Months and Twenty-Eight Nights (2015)
Blending history, mythology and a timeless love story, Two Years Eight Months and Twenty-Eight Nights is a satirical, magical fairytale.
In the near future, after a storm strikes New York City, the strangenesses begin. A down-to-earth gardener finds that his feet no longer touch the ground. A graphic novelist awakens in his bedroom to a mysterious entity that resembles his own creation. A baby identifies corruption with her mere presence, marking the guilty with blemishes and boils. And as manifold stories uncoil, we're revealed the rivalries, conflicts and truths at the heart of so many of humanity's stories.  
Quichotte (2019)
Upon publication, Rushdie's playful inversion of Cervantes' Don Quixote made an immediate impression on the Man Booker Prize judging panel.
In this wild ride through a country on the verge of moral collapse, Sam DuChamp, mediocre writer of spy thrillers, creates Quichotte, a courtly, addled salesman obsessed with television, who falls in impossible love with a TV star. Together with his (imaginary) son Sancho, Quichotte sets off on a picaresque quest across America to prove worthy of her hand, gallantly braving the tragicomic perils of an age where 'Anything-Can-Happen'. Meanwhile his creator, in the grips of a midlife crisis, has equally urgent challenges of his own.
Extract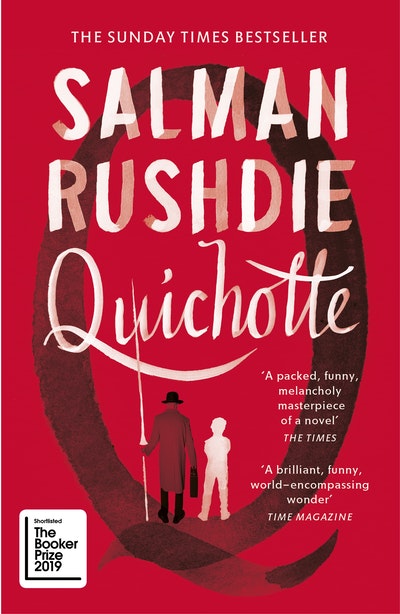 Quichotte
There once lived, at a series of temporary addresses across the United States of America, a travelling man of Indian origin, advancing years and retreating mental powers
Extract