A look at the multidimensional career of a much-loved contemporary Australian author.
Books had an enormous impact on Elliot Perlman as a child, and he started storytelling as soon as he could write. While practising law in 1994 he won The Age short story competition for 'The Reasons I Won't Be Coming', which became the titular story of his bestselling collection, released in 1999.  His debut novel, Three Dollars, arrived to much acclaim in 1998. And the big-screen adaptation – co-written by Perlman and director Robert Connolly, and starring David Wenham and Frances O'Connor – was awarded the 2005 Australian Film Industry Award for Best Adapted Screenplay.
His next novel was 2003's Seven Types of Ambiguity. Upon publication, this psychological mystery told from seven perspectives marked an ambitious raising of the bar from a writer becoming known as a distinctive voice in Australian literature. It was a runaway international bestseller, and in Australia it was shortlisted for the Miles Franklin and Queensland Premier's Award for Fiction, as well as being adapted into an ABC TV miniseries premiered in 2017. Perlman's third novel, 2011's The Street Sweeper, is epic in scale. Spanning the globe and the twentieth century, it traces almost invisible lines of human connection, dealing with love, guilt, heroism, the extremes of racism and unexpected kindness.
Perlman describes himself as a child of 19th-century authors like Dickens, George Eliot and Thomas Hardy – writers, he says, who create all-encompassing worlds that, through their characters and settings, tell us about society at that time. As his novels became increasingly complex and far-reaching, Perlman says he relied on prolific note-taking as well as elements of his legal training to help him keep the big picture in check, while colouring his worlds with finer details. 'I think having studied and practised law encouraged me to try to be as clear as I can be in my written expression,' he says. 'Often writers might choose to be ambiguous, especially poets, but I try to hold myself accountable for any unintentional ambiguity. As Orwell teaches us, clarity of expression is paramount for a writer. Legal training can also encourage someone to think of the other side of an argument which can stimulate empathy, and writers benefit professionally (and personally) from empathy… There are changes in form and style but one is essentially engaged in the same basic enterprise: I want to tell you a story.'
For his fourth novel, 2019's Maybe the Horse Will Talk, Perlman returns his gaze to the complexities of modern life. Warm, dramatic, and at times laugh-out-loud funny, Maybe the Horse Will Talk is a love story, a reflection on contemporary marriage, and on friendship. It is also an unflinching examination of sexual harassment in the workplace and an expose of corporate corruption that taps directly into the pulse of our times.
From his brilliant short stories to his panoramic novels, here we look back at Elliot Perlman's remarkable body of work so far.
THREE DOLLARS (1998)
Eddie finds himself, at the age of 38, with a wife, a child and three dollars. How did he get that way? At any other time the world would have smiled on him. But this was the nineties and the world valued other things…
Three Dollars is a deft portrait of a man attempting to retain his humanity, his family and his sense of humour in grim and pitiless times of downsizing, outsourcing and privatising.
THE REASONS I WON'T BE COMING (1999)
Passionate, witty, vulnerable, intelligent and honest – these are the distinctive features of the Elliot Perlman short stories featured in this collection. Perlman's clever and thoughtful tales explore the complex worlds of lovers, poets, lawyers, immigrants, students and murderers; the corporate betrayals, the lost opportunities, the hopes, the fears and the vagaries of desire.
SEVEN TYPES OF AMBIGUITY (2003)
Following years of unrequited love, an out-of-work school teacher takes matters into his own hands, triggering a chain of events neither he nor his psychiatrist could have anticipated. At once a psychological thriller and a social critique, Seven Types of Ambiguity is a story of obsessive love in an age of obsessive materialism.
THE STREET SWEEPER (2011)
Recently released from prison, Lamont Williams, an African American probationary janitor in a Manhattan hospital and father of a little girl he can't locate, strikes up an unlikely friendship with an elderly patient, a Holocaust survivor who had been a prisoner in Auschwitz-Birkenau. A few kilometres uptown, Australian historian Adam Zignelik finds both his career and his long-term romantic relationship falling apart. As these two men try to survive in early 21st-century New York, history comes to life in ways neither of them could have foreseen.
MAYBE THE HORSE WILL TALK (2019)
Stephen Maserov has problems. A onetime teacher, married to fellow teacher Eleanor, he has retrained and is now a second-year lawyer. Despite toiling around the clock to make budget, he's in imminent danger of being downsized. And to make things worse, Eleanor, sick of single-parenting their two young children thanks to Stephen's relentless work schedule, has asked him to move out. 
To keep the job he hates, pay the mortgage and salvage his marriage, he will have to do something strikingly daring, something he never thought himself capable of...
Extract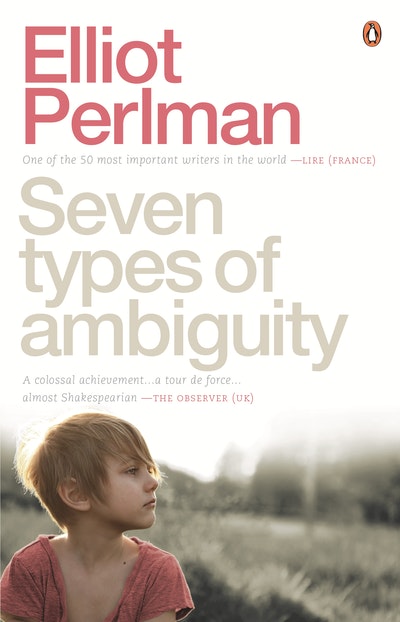 Seven Types of Ambiguity
It is quite well understood that a clinically depressed person will show little, if any, interest in constructive activity concerning future events or outcomes.
Q&A
Elliot Perlman Q&A
The Maybe the Horse Will Talk author reflects on the socio-political conflicts at the heart of the novel.
Extract