Introducing the 21st century novels of one of the preeminent writers of her generation.
Nominated by Nick Hornby and Roddy Doyle as 'the greatest novelist writing in English', Anne Tyler is a writer known for her deep explorations of family and relationships, deft characterisation and attention to life's minutiae. In her fifty-plus-year writing career, she's produced more than twenty novels, published dozens of short stories and created two children's books. For her work she has been awarded the 1989 Pulitzer Prize for Fiction and Time magazine's Book of the Year (Breathing Lessons), as well as the National Book Critics Circle and Ambassador Book Awards for Fiction (for 1985's The Accidental Tourist – which was also adapted into a critically acclaimed film starring William Hurt, Kathleen Turner and Geena Davis). In 2012 she received the Sunday Times Award for Literary Excellence, and she has been shortlisted for esteemed international writing prizes, including the Man Booker, several Pulitzers, Orange Prizes, the American Book Award and Bailey's Women's Prize. Remarkably, after topping bestseller lists for more than half a century, Tyler still averages around one book every two years.
With an imposing bibliography such as Tyler's, it can be difficult to know where to start. Here we give a brief entrée into her 21st century novels, by way of introduction to the most recent additions to her ever-evolving oeuvre.
Back When We Were Grown-ups (2001)
Adapted into a 2004 film of the same name, Back When We Were Grown-ups is a story of several questions…
One morning, Rebecca wakes up and realises she has turned into the wrong person. Is she really this joyous and outgoing organiser of parties, the put-upon heart of her dead husband's extended family? What happened to her quiet and serious nineteen-year-old self, and what would have happened if she'd married her college sweetheart? Can someone ever recover the person they've left behind?
The Amateur Marriage (2004)
They seem like the perfect couple – young, good-looking, made for each other. From the moment Pauline walks into Michael's family's grocery store, they are smitten. And in the heat of World War II fervour, they're propelled into a hasty wedding. But they never should have married.
Pauline, impulsive, impractical, tumbles hit-or-miss through life; Michael, plodding, cautious, judgmental, proceeds deliberately. While other young newlyweds, equally ignorant at the start, seem to grow more seasoned, Pauline and Michael remain amateurs. Even after the disappearance of their seventeen-year-old daughter, and the subsequent rescue of her little boy, they still cannot bridge their deep-rooted differences.
Digging to America (2006)
Two families meet at a Baltimore airport while waiting for their baby girls to arrive from Korea. The Iranian-American Sami and Ziba Yazdan, with Ziba's elegant and reserved mother, Maryam, in tow, wait quietly while brash and all-American Bitsy and Brad Donaldson, plus extended family, are armed with camcorders and a fleet of balloons proclaiming 'It's a girl!'
As they raise their daughters, the Yazdan and Donaldson families grapple with questions of assimilation and identity. When Bitsy's recently widowed father sets his sights on Maryam, she must confront her own idea of what it means to be 'other', and of who she is and what matters most.
Noah's Compass (2010)
Liam Pennywell, who set out to be a philosopher and ended up a primary school teacher, never much liked his job, so early retirement doesn't bother him. But he is troubled by his inability to remember anything about the first night that he moved into a tiny apartment on the outskirts of Baltimore. All he knows when he wakes up the next day in the hospital is that his head is sore and bandaged. His effort to recover the moments of his life that have been stolen from him leads him on an unexpected detour. What he needs is someone who can do the remembering for him. What he gets is something quite different.
The Beginner's Goodbye (2012)
When Dorothy came back from the dead, it seemed to Aaron that some people simply didn't notice.
The accident that killed Dorothy – involving an oak tree, a sun porch and some elusive biscuits – leaves Aaron bereft and the house a wreck. As those around him fuss and flap and bring him casserole after casserole, Aaron ploughs on. But then Dorothy starts to materialise in the oddest places…
A Spool of Blue Thread (2015)
Shortlisted for the Man Booker and Bailey's Women's Prize for Fiction, A Spool of Blue Thread introduces readers to four generations of the Whitshank family.
The Whitshanks are one of those families that radiate an undefinable kind of specialness. But, like all families, their stories reveal only part of the picture. Abby and Red and their four grown children have accumulated not only tender moments, laughter and celebrations, but also jealousies, disappointments, and carefully guarded secrets…
Vinegar Girl (2016)
No one does family like Anne Tyler, and her retelling of Shakespeare's The Taming of the Shrew features one of her most appealing families yet.
Kate Battista is stuck running house and home for her eccentric scientist father and infuriating younger sister, Bunny. When Dr Battista cooks up an outrageous plan that will enable his brilliant assistant Pyotr to avoid deportation, he's relying – as usual – on Kate to help him. Surely there's no way a thoroughly modern, independent woman like Kate would allow herself to be married off? Tyler's exploration of this question demonstrates just how relevant Shakespeare continues to be.
Clock Dance (2018)
Willa Drake can count on one hand the defining moments of her life: her mother's disappearance when she was just a child, being proposed to at an airport at the age of twenty-one, and the accident that would leave her a widow in her forties. When she receives a phone call from a stranger informing her that her son's ex-girlfriend has been shot, she drops everything and flies across the country. This impulsive decision, maybe the first one she's consciously made in her life, leads Willa into uncharted territory.
Redhead by the Side of the Road (2020)
Micah Mortimer is a creature of habit. A self-employed tech expert, superintendent of his Baltimore apartment building, cautious to a fault behind the steering wheel, he seems content leading a steady, circumscribed life. But one day his routines are blown apart when his woman friend (he refuses to call anyone in her late thirties a 'girlfriend') tells him she's facing eviction, and a teenager shows up at Micah's door claiming to be his son. These surprises, and the ways they throw Micah's meticulously organised life off-kilter, risk changing him forever.
Extract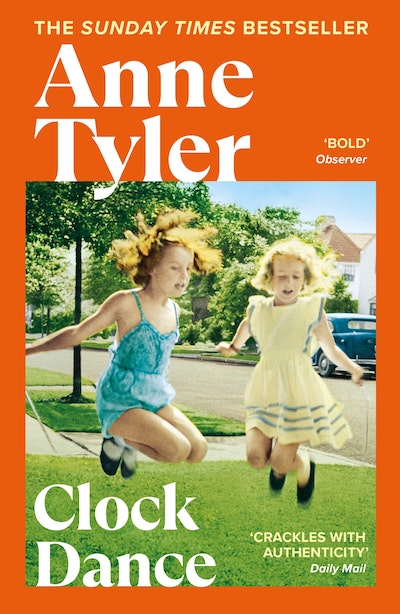 Clock Dance
Willa Drake and Sonya Bailey were selling candy bars door-to-door.
Extract