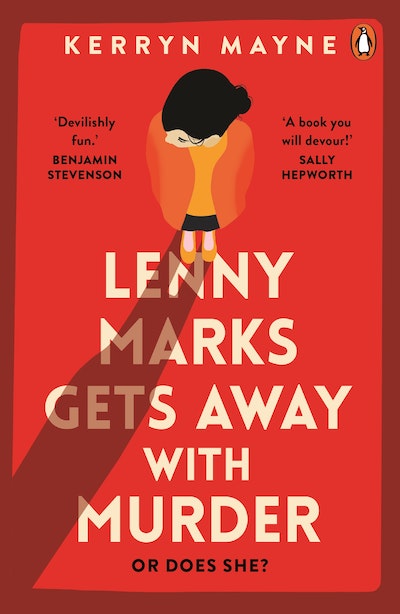 Published:

28 November 2023

ISBN:

9781761345784

Imprint:

Penguin

Format:

Paperback

Pages:

368

RRP:

$22.99
Lenny Marks Gets Away With Murder
---
---
---
Kerryn Mayne's stunning debut is an irresistible novel that's both chilling and charming, suspenseful and uplifting. And, of course, simply unforgettable…

'With Lenny Marks Gets Away With Murder, Kerryn Mayne makes a very grand entrance into the Australian literary scene. With humour, heart and characters you come to love, this is a book you will devour now, and keep thinking about later!' Sally Hepworth, author of The Good Sister
'Such a brilliant combination of light and dark, charm and suspense. A debut you won't forget!' Candice Fox, author of The Chase
'Devilishly fun: top marks for Lenny Marks!' Benjamin Stevenson, author of Everyone in My Family Has Killed Someone
Lenny Marks is good at not remembering.

She has spent the last twenty years not thinking about the day her mother left her when she was still a child. Her stepfather's parting words, however, remain annoyingly unforgettable: 'You did this.'
Now thirty-seven, Lenny prefers contentment and order over the unreliability of happiness and the messiness of relationships. She fills her days teaching at the local primary school, and her nights playing Scrabble with her pretend housemate, watching reruns of Friends and rearranging her thirty-six copies of The Hobbit.
Recently though, if only to appease her beloved foster-mum, Lenny has set herself the goal of 'getting a life'.
Then, out of the blue, a letter arrives from the Adult Parole Board. And when her desperate attempts to ignore it fail, Lenny starts to unravel.

Worse, she starts to remember . . .

'An incredible debut which will have you both laughing and crying . . . This is a blackly funny, tender-hearted story of the dark and light of human nature, and ultimately, love, friendship, family and happiness.' Petronella McGovern, author of The Liars
'Kerryn Mayne takes readers on a suspenseful, deeply emotional, and sometimes humorous journey. Lenny is a unique and remarkable character, who will have readers cheering for her from the very first page... This stunning debut marks Mayne as a powerful new voice in Australian fiction.' Lisa Ireland, author of The Secret Life of Shirley Sullivan
'Compelling. Mayne breaks your heart and shows how sometimes life's greatest mystery is the truth of our past.' RWR McDonald
Published:

28 November 2023

ISBN:

9781761345784

Imprint:

Penguin

Format:

Paperback

Pages:

368

RRP:

$22.99
Praise for Lenny Marks Gets Away With Murder
With Lenny Marks Gets Away With Murder, Kerryn Mayne makes a very grand entrance into the Australian literary scene. With humour, heart and characters you come to love, this is a book you will devour now, and keep thinking about later. Hard to believe it's a debut! I can't wait to see what this new Aussie talent comes up with next.

Sally Hepworth
Such a brilliant combination of light and dark, charm and suspense. A debut you won't forget!

Candice Fox
Devilishly fun: top marks for Lenny Marks!

Benjamin Stevenson
An incredible debut which will have you both laughing and crying. I loved Lenny – a delightful, naive woman, determined to have a stable, predictable life. But life doesn't work that way. This is a blackly funny, tender-hearted story of the dark and light of human nature, and ultimately, love, friendship, family and happiness.

Petronella McGovern, author of The Liars
In Lenny Marks Gets Away With Murder, Kerryn Mayne takes readers on a suspenseful, deeply emotional, and sometimes humorous journey. Lenny is a unique and remarkable character, who will have readers cheering for her from the very first page and thinking about her long after the book is finished. This stunning debut marks Mayne as a powerful new voice in Australian fiction.

Lisa Ireland, author of The Secret Life of Shirley Sullivan
Compelling. Mayne breaks your heart and shows how sometimes life's greatest mystery is the truth of our past.

R.W.R. McDonald
Ned Kelly Award for Best Debut Crime Fiction
Shortlisted • 2023 • Ned Kelly Award for Best Debut Crime Fiction