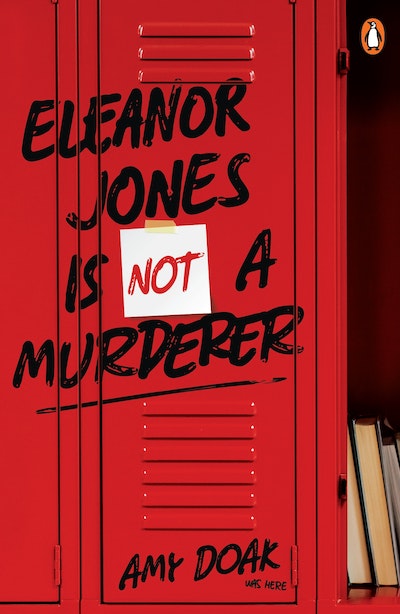 Published:

5 September 2023

ISBN:

9781761342417

Imprint:

Penguin

Format:

Paperback

Pages:

288

RRP:

$19.99
Eleanor Jones is Not a Murderer
---
---
---
Karen McManus and Holly Jackson meets Fleur Ferris in this fast-paced YA murder mystery.
Eleanor Jones has just started at her ninth high school in less than five years. Since she and her mum are always moving on, Eleanor likes to stay on the outer, to stay invisible. So maybe it's just bad luck that the very first person she talks to at Cooinda Secondary College, Angus Marshall, is stabbed and left for dead the same day. The last message on Angus's phone is from Eleanor Jones.
After being interviewed by the police, Eleanor realises they don't have all the facts and decides to investigate. In trying to understand what happened to Angus, Eleanor inadvertently becomes involved with an eclectic group of fellow students – all of whom have their own reasons to want to solve the mystery.
As they slowly unravel Angus's secrets, Eleanor discovers the true meaning of friendship – and uncovers a danger lurking at the heart of the town . . .
Published:

5 September 2023

ISBN:

9781761342417

Imprint:

Penguin

Format:

Paperback

Pages:

288

RRP:

$19.99
Praise for Eleanor Jones is Not a Murderer
Amy Doak has created an intriguing mystery that will keep readers turning the pages. The plot is original and filled with unique Australian-isms making it easy to read. The ending is clever and witty. Eleanor's fun and sarcastic commentary throughout the book creates a fun but tense atmosphere ensuring readers are on the edge of their seats. I think that this book is perfect for fans of Holly Jackson's A Good Girl's Guide to Murder series, and anyone who wants to experience a twisty Australian novel.

Eloise Marsden, Reading Time
Eleanor Jones is Not a Murderer is a tense page-turner that invites readers to sort clues and question everything around them. It's also a book for young readers who, though clever and determined, are nonetheless facing the everyday misgivings of adolescent life. Doak has written an ode to the strength of women, believing in yourself and finally finding your people. This is a book for young feminist readers who love a mystery solved by a strong heroine.

Danielle Bagnato, Books+Publishing
It's a fun, sharp and compelling murder mystery that's an engaging read for YA readers and children aged 13+ . . . Doak writes passionately, and Eleanor has a sharp, funny and sparklingly clear voice . . . Alongside Eleanor, there's a fantastic cast of supporting characters – Troy and Alfie were standouts for me. Any readers can find someone to relate to. There's a shared intimacy in the tone which is Doak's secret ingredient to making this novel sing. If you're a fan of YA who-dunnit mysteries, or want an entry-point for your reluctant young reader, Eleanor Jones is Not a Murderer is the perfect introduction.

Better Reading
This is a fantastic new voice in Oz YA, and one that will have your fans of Fleur Ferris, Karen McManus and Holly Jackson very excited . . . It is fresh, pacey, and there is plenty of humour alongside the mystery/murder . . . Eleanor is smart, sassy, courageous and resourceful, and while her new friends each have their own strengths to bring to their shared investigation, it is she who carries the quest to solve the crime. I, for one, am already eagerly anticipating the next instalment with more of Eleanor's vibrant personality and unique approach.

Sue Warren, Just So Stories
An absolute must-read for fans of mysteries by authors like Karen McManus, Ellie Marney and Holly Jackson. The title is sure to catch the reader's attention, and once the book is started it is very difficult to put it down . . . Highly recommended.

Pat Pledger, ReadPlus