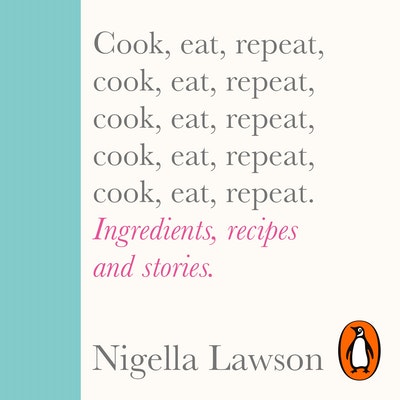 Published:

29 October 2020

ISBN:

9781473577602

Imprint:

Vintage Digital

Format:

Audio Download

RRP:

$24.99
Cook, Eat, Repeat
Ingredients, recipes and stories.
---
---
---
'More than just a mantra, "cook, eat, repeat" is the story of my life': A brilliant new book from Nigella Lawson featuring narrative essays about food, over 100 new recipes and 50 beautiful colour photographs
'Food, for me, is a constant pleasure: I like to think greedily about it, reflect deeply on it, learn from it; it provides comfort, inspiration, meaning and beauty. More than just a mantra, "cook, eat, repeat" is the story of my life.'
Cook, Eat, Repeat is a delicious and delightful combination of recipes intertwined with narrative essays about food, all written in Nigella's engaging and insightful prose. Whether asking 'What is a Recipe?' or declaring death to the Guilty Pleasure, Nigella's wisdom about food and life comes to the fore, with tasty new recipes that readers will want to return to again and again.
'The recipes I write come from my life, my home', says Nigella, and in this book she shares the rhythms and rituals of her kitchen through over 100 new recipes that make the most of her favourite ingredients. Dedicated chapters include 'A is for Anchovy' (a celebration of the bacon of the sea), 'Rhubarb', a loving defence of 'Brown Food', a suitably expansive chapter devoted to family dinners, plus inspiration for vegan feasts, solo suppers and new ideas for Christmas.
Within these chapters are recipes for all seasons and tastes: Burnt Onion and Aubergine Dip; Butternut with Chilli, Ginger and Beetroot Yoghurt Sauce; Brown Butter Colcannon; Spaghetti with Chard and Anchovies; Chicken with Garlic Cream Sauce; Beef Cheeks with Port and Chestnuts; and Wide Noodles with Lamb in Aromatic Broth, to name a few. Those with a sweet tooth will delight in Rhubarb and Custard Trifle; Chocolate Peanut Butter Cake; Rice Pudding Cake; and Cherry and Almond Crumble.
Published:

29 October 2020

ISBN:

9781473577602

Imprint:

Vintage Digital

Format:

Audio Download

RRP:

$24.99
Article
Chicken in a pot with lemon and orzo
This is not exactly the same as perhaps the most precious recipe in my repertoire, My Mother's Praised Chicken, which found a home in my eighth book, Kitchen, but it owes a lot to it. A family favourite, it's a simple one-pot dish which brings comfort and joy, and it is my pleasure to share that with you.
Article
Chocolate, tahini banana bread
I have been making a banana bread with chocolate and tahini on repeat for a while now, and every time I've eaten it over the last year or so, I couldn't help thinking that the particular combination of intense chocolatiness, sweet, texture-softening banana and the rich earthiness of tahini would make the perfect warm pudding.
Article