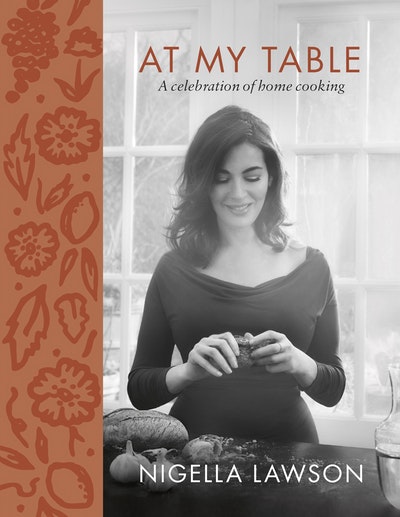 Published:

21 September 2017

ISBN:

9781784741631

Imprint:

Chatto & Windus

Format:

Hardback

Pages:

288

RRP:

$49.99
At My Table
A Celebration of Home Cooking
---
---
---
Over a hundred relaxed, achievable and delicious recipes; enjoy the food that Nigella shares day-to-day at her table.
'I'd happily cook from this book every night' Bee Wilson
'Bursting with what will be instant Nigella classics - not to mention encouraging late-night visits to the fridge for leftovers. This is a book for those who see food as sheer pleasure' Good Housekeeping
**The Sunday Times Bestseller**
Featuring all the inspiring, achievable and delicious recipes from Nigella's BBC TV series - At My Table, plus many more.
Nigella Lawson is a champion of the home cook and her new book celebrates the food she loves to cook for friends and family. The recipes are warming, comforting, and inspirational, from new riffs on classic dishes - including Chicken Fricassée and Sticky Toffee Pudding - to adventures in a host of new dishes and ingredients, from Aubergine Fatteh to White Miso Hummus.
AT MY TABLE includes dishes to inspire all cooks and eaters, from Hake with Bacon, Peas and Cider to Indian-Spiced Chicken and Potato Traybake and Chilli Mint Lamb Cutlets; plus a host of colourful vegetable dishes, like Eastern Mediterranean Chopped Salad and Carrots and Fennel with Harissa.
No Nigella cookbook would be complete without sweet treats, and AT MY TABLE is no exception, with Emergency Brownies, White Chocolate Cheesecake and a Victoria Sponge with Cardamom, Marmalade and Crème Fraîche set to become family favourites.
As Nigella writes, 'happiness is best shared' and the food in this book will be served and savoured at your own kitchen table just as it is at hers.
Published:

21 September 2017

ISBN:

9781784741631

Imprint:

Chatto & Windus

Format:

Hardback

Pages:

288

RRP:

$49.99
Nigella Lawson provides a selection of recipes that will inspire even the most jaded cook to try something new

Bookseller
Nigella is the voice of reason in the food madness that surrounds us

Katy McGuinness, Irish Independent
Lawson's genius is in offering dishes that you want to cook immediately (and that you know she cooks all the time - the recipes just read that way), in the most elegant prose. A gal who writes better than Elizabeth David and can tell you what to eat on a Friday night in front of the telly? That's my kind of food writer

Diana Henry, Daily Telegraph
This book is packed with ideas for meals that can be easily rustled up from what you have in the fridge or find in your local food shop. Despite the simplicity, though, each recipe features a unique Nigella twist

Bianca Barratt, Evening Standard
While her last cookbook, Simply Nigella, favoured a pared-back cooking style, her latest, At My Table, is bursting with what will be instant Nigella classics - not to mention encouraging late-night visits to the fridge for leftovers. This is a book for those who see food as sheer pleasure

Jessica Callan, Good Housekeeping
Nigella Lawson's new book, At My Table, is a celebration of home cooking. This is fitting because more than any other food writer these days, Nigella is the real deal - a proud home cook, definitely not a chef. And while so many cookbooks sell a story of happy gatherings of friends and family, I don't think I am alone in thinking that perhaps some of these authors may be talking the talk, rather than walking the walk. The stories often just don't ring true. You just know from reading one of Nigella's books that she has a real life with food, rather than one made to look pretty for an Instagram feed, all style and no substance. For Nigella, around the table is where these three things meet and when we invite people to sit at our table and eat the food that we've made for them, we are weaving memories amid assertions of love, friendship, hospitality and hope.

Katy McGuinness, Irish Independent
As ever, Nigella provides inspiration for that important, everyday question 'What are we going to eat?' with simple flavour-packed recipes and shortcuts that make life easier without sacrificing taste

BBC Good Food Magazine
Her latest book, At My Table, takes home cooking as its subject and is filled with everyday recipes that will make you want to hole up in the kitchen and invite your whole family round to eat, drink and fall asleep on the sofa together. The woman is a culinary legend, her books are fully deserving of their cult status and her food is the kind that feeds you pure love and added lashings of deliciousness

Ella Walker, Belfast Telegraph Morning
The recipes are varied and delicious, served up with engaging personal stories and stunning photography. There is much to enjoy, especially if you have the confidence to adapt and simplify

Juanita Coulson, Lady
Cook-me-now recipes seasoned with her trademark warm intelligence are the name of the game in Nigella's latest. A must for the bookshelf

Delicious
The latest book by the Domestic Goddess features simple yet indulgent recipes that will soon become go-tos.. As ever, recipes are easy to follow and include plenty of reassuring advice. And even if you don't decide to cook anything, you'll still be entertained by Nigella's characteristically witty prose

Rhian Williams, Independent
This is a relaxed and inviting selection of recipes, organised with no chapter breaks, to signify, as Lawson explains, "the honest jumble of life".

Bee Wilson, Guardian
Nigella, as we know, is master of the art of pootling in the kitchen. I dream of having a free weekend to spend pootling, and I would buy this book for precisely that.

Lucy Dunn, The Pool
At My Table is an instantly lovable collection of recipes that are simple, accessible and unfailingly delicious.

Waitrose Food, Ashleigh Arnott
No one is better at reminding us that cooking is about eating and eating is about sharing.

Julia Platt Leonard, Independent
An alluring reminder of what a fine recipe writer - indeed, writer - she is.

The Observer
The domestic goddess's latest book is a wonderful reflection of contemporary British food – a mouthwatering melting pot of flavours and influences that give rise to sprouts with preserved lemon and pomegranate, and slow roast five-spice lamb with Chinese pancakes. There are also anecdotes and advice, delivered in her usual pally fashion.

Claire Coleman, Metro
Article
Article
Article
Sticky toffee pudding
A rich and intense recipe for this classic British dessert from Nigella Lawson's At My Table.