I have been making a banana bread with chocolate and tahini on repeat for a while now, and every time I've eaten it over the last year or so, I couldn't help thinking that the particular combination of intense chocolatiness, sweet, texture-softening banana and the rich earthiness of tahini would make the perfect warm pudding.
Finally, I tried it out. And much as I adore the elegant subtlety of the banana bread, I was enraptured by it in pudding form. A warm, soft and squidgy cake, it is both embracingly cosy and almost regally sumptu- ous. You could serve it just with crème fraîche, a little bit of tang to offset the pudding-cake's richness, but I stir 4 teaspoons of tahini into 250ml of double cream and whisk gently by hand and for not very long, until it's softly whipped. And I don't stop there: after I've dolloped the tahini cream onto my pud, I drizzle over some (shop-bought, not homemade) date molasses, which is like sticky toffee pudding in syrup form.
Whether you're making the delectable banana bread or the pudding-cake (and, for that matter, any recipe in this book that has tahini in it) do try and get proper Middle Eastern tahini, which is smokier and more fluid, with a full-bodied velvetiness, than the more widely available Mediterranean one on which I have bent more spoons than Uri Geller.
You can easily double the quantities below to fill a 2lb (900g) loaf tin or 23cm round pie dish, depending on whether you're making bread or pud; in either case, I don't find it makes an appreciable difference to the cooking time. You can make a vegan version of both, omitting the egg, and upping the bananas to 350g and the tahini to 75g. For the pudding, you will need to add 50g of plant-based yogurt, too; I used the same almond-soy variety as I do for the Vegan Lemon Polenta Cake (p.257). Neither the pudding nor the bread will rise a lot without the egg, but the taste is still magnificent. Dark chocolate chips should be dairy-free, but do check the packet.
GIVES approx. 10 slices of banana bread or makes a pudding for 2–3
INGREDIENTS
250g (approx. 2 medium) very ripe or overripe bananas (skin-on weight)
60ml olive or vegetable oil
50g tahini, at room temperature (and see recipe intro)
50g full-fat Greek yogurt, at room temperature (but only for the pud) 1 large egg, at room temperature 50g caster sugar
50g soft dark brown sugar for the pud; 35g for the bread
1 teaspoon vanilla extract
60g plain flour (or gluten-free plain flour) 25g cocoa
1⁄2 teaspoon bicarbonate of soda
1⁄4 teaspoon fine sea salt
100g dark chocolate chips
11⁄2 teaspoons sesame seeds, to sprinkle on top (only for the bread)
METHOD
1. Heat the oven to 170°C/150°C Fan if you're making banana bread, or 180oC/160oC Fan for the pudding. Put a paper liner into a 1lb (450g) loaf tin or, for the pudding, get out an ovenproof dish with a capacity of about 750ml; mine is 18cm in diameter and 5cm deep.
2. Peel the bananas (don't throw the skins away, though, but use them to make the Banana Skin and Cauliflower Curry on p.35) and, either by hand or using an electric mixer, mash the bananas, then beat in the oil. I use an American 1⁄4 cup (60ml) measure to do this, and then fill it up with tahini (conveniently, 60ml of tahini weighs 50g) and beat that in. If you're making the pudding, beat in the yogurt (you can also fill the 1⁄4 cup measure with it to get 50g). Whether you're making the pudding or the bread, now's the time to beat in the egg, then the sugars and vanilla.
3. Whisk or fork together the flour, cocoa, bicarb and salt and slowly beat into the batter and when you can no longer see any specks of white, fold in the chocolate chips with a bendy spatula, which you will need to scrape the runny batter into either loaf tin or ovenproof dish. If it's banana bread you're making, sprinkle over the sesame seeds.
4. First, instructions for the bread: cook for 45–50 minutes until risen and firm to the touch, or until a cake tester comes out almost clean; some chocolate chips will make it a little sticky in parts. And don't worry about the cracks on the top; that is part of its deal, as it is for the pudding. Let it cool completely in its tin on a wire rack and – if you can bear to wait – once it's cold, slip it out of the tin and wrap it in baking parchment, then foil, and leave it for a day before slicing and eating. I understand if this is too much to ask;
I confess I don't always manage to wait.
5. And now for the pudding-cake: cook for 40–45 minutes, depending on whether you want it to have a gooily molten centre or not. Once it's out of the oven, let it stand for 5–10 minutes before diving in for that first squidgy spoonful.
---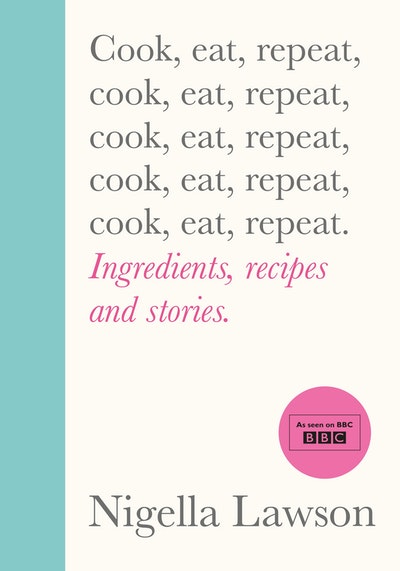 'More than just a mantra, "cook, eat, repeat" is the story of my life': A brilliant new book from Nigella Lawson featuring narrative essays about food, over 150 new recipes and 50 beautiful colour photographs
Buy now
Buy now
---