Learn about Bullet Train author, Kotaro Isaka, and why he's being heralded as the next Murakami.
Kotaro Isaka is one of Japan's most popular crime authors, but until the recently-announced film adaptation of his 2010 novel Maria Beetle, the author has remained relatively unknown internationally.
'But wait, Maria Beetle doesn't sound familiar,' you might be thinking, and if that's the case, you likely know the book by the film's title instead: Bullet Train.
With a cast list including Brad Pitt, Sandra Bullock, Joey King, Bad Bunny and many more A-listers, it's fair to say that Isaka's story is hitting the mainstream. In a few early reviews, the movie has already received praise from film critics and editors around the world, being called a 'major crowd-pleaser.'
What does it mean for the book?
When it comes to book-to-screen adaptations one thing is clear: readers want to watch, and watchers want to read. Whether it's the saccharine beach romance of The Summer I Turned Pretty or the hard-as-nails country tale The Drover's Wife, audiences are crossing over from film adaptations to books and vice versa.
For Isaka this spells good news, and his agents agree. According to The New York Times, there is hope that 'the high profile of Bullet Train will help elevate his work among English-language readers who already have an affinity for Japanese entertainment through manga, anime or Haruki Murakami, the Japanese novelist who is a literary star in the West.' Isaka's translator, Philip Gabriel, who also translates Muraki's novels, agrees.
With 40 novels published in Japanese, Bullet Train might be the first of several hard-hitters for the author in the foreign-language market for English readers.
About Bullet Train, the book
Like the movie, the book, Bullet Train, tells the story of five killers on one train journey together. But who will survive?
Satoshi looks like an innocent schoolboy but he is really a viciously cunning psychopath. Kimura's young son is in a coma thanks to him, and Kimura has tracked him onto the bullet train heading from Tokyo to Morioka to exact his revenge. But Kimura soon discovers that they are not the only dangerous passengers onboard.
Nanao, the self-proclaimed 'unluckiest assassin in the world', and the deadly partnership of Tangerine and Lemon are also travelling to Morioka. A suitcase full of money leads others to show their hands. Why are they all on the same train, and who will get off alive at the last station?
Want to read it? Have a peek at an extract from Bullet Train.
---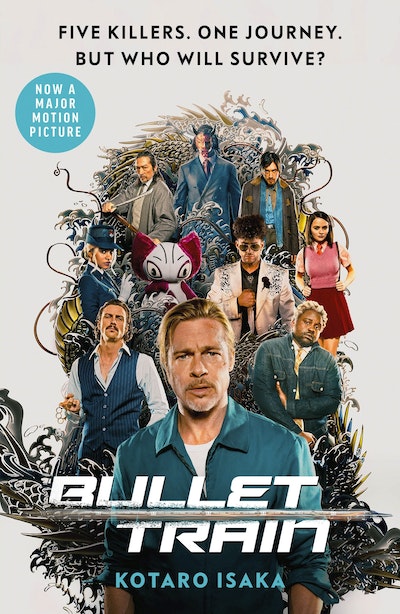 Five killers. One train journey. But who will survive? The original and propulsive thriller from a Japanese bestseller.
Buy now
Buy now
---