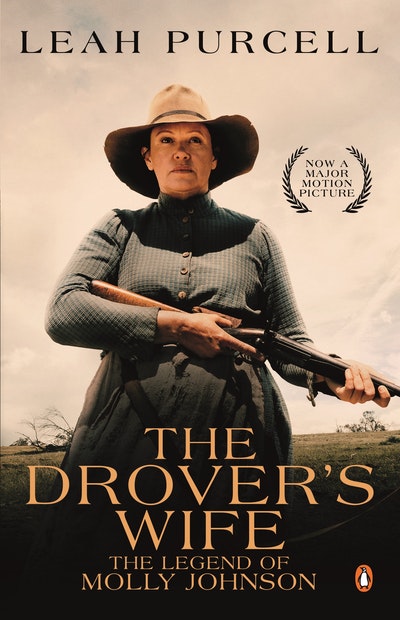 Published:

17 August 2021

ISBN:

9781761041938

Imprint:

Penguin

Format:

Paperback

Pages:

288

RRP:

$22.99
The Drover's Wife
---
---
---
IN CINEMAS NOW, from Leah Purcell, named as one of the 100 figures shaping Australia's creative future.
The Drover's Wife is utterly authentic, brilliantly plotted, thoroughly harrowing and entirely of our times exploring race, gender, violence and inheritance.

Deep in the heart of Australia's high country, along an ancient, hidden track, live Molly Johnson and her children. Husband Joe is away droving, leaving his family in the bush to fend for itself. Molly's children are her world, and life is hard with only their dog, Alligator, and a shotgun for protection – but it can be harder when Joe's around.
Molly's eldest son Danny is the true man of the house, determined to see his mother and siblings safe – from raging floodwaters, hunger and intruders. Danny is mature, but there are some things no child should see. He knows more than most just what it takes to be a drover's wife.
One night, Molly has a visitor – a black 'story keeper', Yadaka. He's on the run from authorities, and exchanges kindness for shelter. Both know that justice in this nation caught between two worlds can be as brutal as its landscape. But in their short time together Yadaka shows Molly a secret truth, and the strength to imagine a different path.
In this brave reimagining of the Henry Lawson short story that has become an Australian classic, Purcell brings us a compelling thriller of our pioneering past that confronts head-on issues of today: race, gender, violence and inheritance.
Published:

17 August 2021

ISBN:

9781761041938

Imprint:

Penguin

Format:

Paperback

Pages:

288

RRP:

$22.99
Praise for The Drover's Wife
To introduce warmth and all-important ethical perspectives, Purcell switches between a third-person account of events and first-person reflections of the emotional and subjective impact of these events. These reflections become meatier as the book rolls on. The real meat of the novel is its characters. New characters trick, trip and undermine the racial anxieties that the colony has about Country and its peoples, while old characters are thoroughly re-created with their own surprises and tensions. These surprises don't happen, as you might think, in the moments of rapidly escalating crises, but rather in the natural lulls of the plot when guards are down – ours and theirs. Purcell's The Drover's Wife offers the edge of one of this continent's sharpest storytellers on one of its cutting colonial stories.

Alison Whittaker, The Saturday Paper
The set-up in Purcell's prose leaves us craving action. Ultimately, we are rewarded. After the reveal, the book blisters at great speed to its well-executed ending. The extent to which Lawson's story has fuelled Purcell's work is evident in the high level of detail faithfully transferred from the original. Purcell has written herself and her mother into Molly Johnson's story because they recognise themselves in it. This layered adaptation reminds me how retellings by those who can offer a different perspective can unsettle the status quo. More appropriations and contestations of 'the classics' by First Nations writers, please.

Ellen Van Neerven, Australian Book Review
Sisters in Crime Davitt Award
Shortlisted • 2020 • Debut crime