Four chilling facts from Kate McClymont's Dead Man Walking.
In Dead Man Walking, investigative journalist Kate McClymont unravels the complex business dealings of Michael McGurk and Ron Medich, in order to build a picture of the whys and wherefores behind a crime that rocked Sydney. Among the story's threads, there are strands that reach to Moscow, Brunei, Indonesia and Hawaii, and involve a cast of 'colourful' characters engaging in crimes ranging from shonky property deals to arson, assaults, kidnapping and eventually murder. What emerges is a story of ultra-wealthy businesspeople, crooks, snitches, double-crosses, shysters and deals gone sour that's so extraordinary you simply couldn't make it up. From the pages of Dead Man Walking, here are four snippets that reveal the complexities of what lurks around the peripheries of life at the big end of town.
Michael McGurk was executed in his own Cremorne, Sydney driveway.
In the passenger seat of his car sat his son, who was days away from his tenth birthday. McGurk had collected him from a friend's house and then stopped to buy takeaway for dinner. If McGurk had been ten minutes earlier he and [gunman, Haissam] Safetli might have bumped into each other at the same little group of shops down the road.
McGurk opened the car door and twisted around to retrieve the barbecued chicken. Resting on his lap was a bag of hot chips, which he and his son had already started eating. He was felled by a single shot from a .22 Norinco rifle. The bullet entered his skull just behind his right ear and he fell onto the damp bitumen next to his Mercedes, his life's end framed by a cascade of deep-fried chips.
McGurk's murder was anything but an open-and-shut case.
'I reckon if you'd thrown the hat around, everyone would have chipped in for the hitter,' one of McGurk's former lawyers told me in the days after the Scot's murder.1 It was a nightmare of a case for detectives from Strike Force Narrunga, the homicide investigation established to explore what looked like a profes­sional hit. McGurk had been feuding with bikies, laundering money offshore, ripping off business partners in property devel­opments, trying to blackmail businessmen and the Sultan of Brunei, using prostitutes to compromise associates, running mortgage and superannuation frauds, quarrelling with former Russian KGB agents, chasing up bad debtors for others using firebombing and beatings as incentives to pay up. He was a prolific user and abuser of cocaine and alcohol. He was in dire financial straits and was being pursued from the top end of town to the bottom over debts and rip-offs. As his mate Jim Byrnes, euphemistically known as a 'colourful Sydney business identity', told me the morning after McGurk's murder, 'I do understand that people who live by the sword sometimes die by the sword. McGurk had a lot of powerful friends who solved a lot of problems for him. Unfortunately, this [problem] wasn't one of them.'2
McGurk revealed to Kate McClymont that property developer Ron Medich was coming after him.
This wasn't the first time I'd heard this from McGurk. 'I don't think you understand what this guy is like and what he is capable of doing,' he said now with some vehemence.3 He then told me that Medich had a 'hit' out on him and that Medich's lieuten­ant Lucky Gattellari was going to make sure the contract killing happened.
I thought McGurk was embellishing these supposed threats in order to eke out his revenge on Medich by manipulating me into writing another story. I didn't know at the time that he had only ten days left to live. Not only had I been forewarned of his murder, I had been given the key to the identity of his assassins.
After break-ins at his office and house, days before his death McGurk supplied his lawyer with a secret, allegedly incriminating tape recording of a conversation with Medich.
McGurk was unnerved by the break-in and he was clearly worried that someone knew he was talking to journalists… He rang his solicitor, Richard Allsop, and asked for an urgent meeting. McGurk walked the short distance from his office to Allsop's, which was on the seventeenth floor of Angel Place, a smart city tower that was home to lawyers, insurance and investment companies.
Allsop, the brother of the Chief Justice of the Federal Court, James Allsop, had had his share of interesting clients over the years but nothing had prepared him for a character as complex or as cunning as Michael McGurk.
McGurk handed him a sealed envelope, telling him that it contained a digital recording of explosive information about Medich paying money to government officials. As he handed over the envelope, McGurk warned Allsop not to open it, and to keep it somewhere safe as certain people were desperate to get their hands on it…
Of all the dirty little secrets that McGurk took to his grave, the existence of a supposedly explosive tape recording involv­ing Medich and corrupt politicians and planning officials was without doubt the worst kept. For months rumours of it had been swirling in the groups in which Medich, McGurk and the Tilleys moved.
But would someone kill for it?
1. Confidential source, interview with Kate McClymont, 16 March 2010.
2. Jim Byrnes, interview with Kate McClymont, 4 September 2009.
3. Michael McGurk, interview with Kate McClymont, 24 August 2009.
---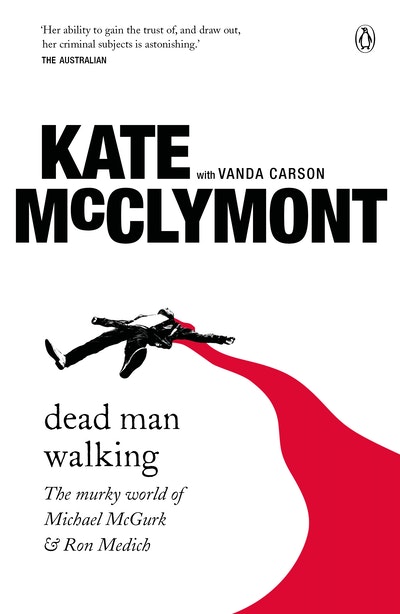 Investigative journalism is not for the faint-hearted. I know our job is not to be loved – our job is to tell the truth and do so without fear or favour. KATE McCLYMONT
Buy now
Buy now
---