In Bowraville, Dan Box learns the burden of the community's trust: keep fighting.
When journalist Dan Box first started reporting on three unsolved murders in Bowraville, NSW, the case barely registered a blip on the national psyche. Despite the fact that all three victims were children, and they were killed within five months of each other, the police investigation had stalled and it appeared justice may never be served. Through Box's investigation – including his Walkley Award-winning podcast – and the victims' families' determined campaigning, the authorities have been forced to re-examine the case.
Bowraville is Box's account of exposing one small town's darkest secrets, and navigating its streets in the aftermath. It's the story of a community divided down racial lines, grappling to come to terms with three unspeakable events. And it's a testament to the power of long-form investigative journalism. In the passage below, Box meets local Gumbaynggirr elder Martin Ballangary, who warns him of a child-stealing spirit – gumburr.
The first time I met Martin Ballangary, he challenged me, 'Try and find a white man who's been jailed for murdering a black man. Because it hasn't happened.'
We were standing outside Fred Walker's house, where I'd been talking about the death of Fred's son, Craig. Fred and Martin were old mates and, when Martin arrived, wearing a Hawaiian shirt, red shorts and round, John Lennon sunglasses, I got the sense he wanted to check out the interloper who had come to ask his friend these questions.
In that moment, I could not think of a single white man who'd been jailed for killing a black person.
'I'm sure it's happened,' I'd said. Martin shrugged.
This time, a few days later, I have got an answer: five white men who killed a black man who they attacked in a dry riverbed in Alice Springs in 2010. They each got between four six years in prison. I've arranged to meet him again, in the Bowraville Hotel, where scattered groups of solid, sunburnt people are drinking in fluorescent work gear after a day spent working on the roads.
But Martin is not impressed.
'Maybe that did happen that time, but it never used to,' he says, dismissing the subject. He refuses my offer of a drink. 'This is redneck through and through,' he says, looking around the hotel and scratching at his stubble. We leave, buy pies and a sliced white loaf at the bakery opposite, then sit together on a bench overlooking the empty main street. A sports car hoons across both lanes beside the town's clock tower, wheels howling as the driver guns it down a side road.
'If that was a blackfella, he would have been booked by the police,' says Martin, wrinkling his nose. I feel myself bridle at this prejudice but say nothing. When he learned that I was planning to meet Martin, Barry Toohey, who I'm staying with, nodded his encouragement. Martin's an elder, he said. If I am going to spend time with this community, and keep reporting on the murders, I needed to pay my respects.
Martin leads me across the road towards the town cinema, and points through a metal gate to where Aboriginal people used to enter through a side door to sit on wooden chairs behind a rope. Martin says he was a boy when the bus carrying the Freedom Riders arrived in 1965, and the activists on board it took him in with them to buy a ticket, then went up and sat in the cushy seats reserved for the white folks. He wiggles his hips from side to side, grinning, to show how comfortable they were.
'And then the bloody police come in: "Get out, you little black bastard."' He makes a jabbing motion with his hands, acting out the way the police had shoved him. 'Poked me out. You wonder why I hate the police?'
We get in the car. I drive, he eats his pie between two slices of white bread and directs me to the old hide factory, where [Bowraville murder suspect] James* once worked and which now sits silently behind locked gates. Martin points down the hillside to our left across which runs a pair of barbed wire fences.
'Access to river's fenced off,' he says.
'Why?'
'Because the council are dickheads.' He's silent for a moment, staring. 'Used to walk across here to go swimming. Family, all big family, used to come here from the Mission. Used to be big tribe but since, whitefellas put up all the bloody gates.'
He wants to show me the river, so I turn the car around and drive to where the road meets the treeline. We get out and Martin leads me down an old vehicle track that falls away over a few dozen metres to the riverbank. As a child, Martin says that he would walk with his father and uncles all the way from here to the coast at Nambucca. As kids, he says, they came to play here at the river, but never to camp. Not without the elders. A gumburr – a bad spirit – walks up and down the river, stealing children.
'You won't see him. You feel him,' says Martin, nodding at the trees behind us, which bend down so low their green limbs almost touch their own reflections in the water. This gumburr can change himself into a little girl or boy, so that he can get right in among you. Gesturing at my feet with the hand holding the pie sandwich, Martin says that the only way to know that he is there is when you look down at his feet, you see he's got a cloven hoof.
'He got devil-foot. He a demon-foot,' says Martin. Never leave your clothes, because the gumburr will pick them up and then he'll come and attack you at night. Never leave your footprints. He looks at a tree where a fork in the trunk has left a space just large enough for something child-sized to crouch there. 'He is up there. Sitting there, watching you.'
If the gumburr catches you, you lose your mind, or die.
Martin hands me a camcorder and walks away, towards the water's edge, telling me to film him and that I can get a good shot where a fallen tree leads the eye down towards the river.
I press record and he leans into the frame, grinning: 'I got to go down to get blessing from the water.' He kicks off his Crocs and wades out up to his knees, bending to cup his hands and calling out, 'Legs! Arms! Face! Head!' as he scoops up the river, using the green water to clean each in turn.
Afterwards, he walks back up the bank, water running down his face from the tightly twisted curls of white hair. I stop the camera and he looks at me. I ask what he was doing.
'Why do it? Because my culture. To keep you safe while you do what you got to do here. Gumburr get your smell, he smell you.' Martin says he needed to do this with me so I know where I stand. He's not a Cleverman, he says, but he knows protocol.
None of this is fully explained. Nor do I know how much he knows about me and the reporting I've been doing. Bowraville, and particularly the Mission, are small communities so he must have been told something, but I don't know if he's been asked to bring me to the river today, or if this is something he chose to do himself, or if he's mad, or winding me up, or how exposed I am to the gumburr, or if the lore says all visitors to Bowraville should receive this protection. I realise just how little I understand about this place and its people.
I think of what Barry and Monica Pullen told me, about not being just another white reporter who turns up, then goes. Squatting down on the riverbank, I tell Martin that I know I have asked a lot of the people in this town, with all my questions about themselves, their lives and the murder of their children. I ask him, 'What can I do for them in return?'
'You know what you can do.' He looks straight at me. 'We've trusted you so far, hey? You keep going.'
*Due to a High Court suppression order preventing the publication of the name of the man suspected by police of murdering the children in Bowraville, his name has been changed.
---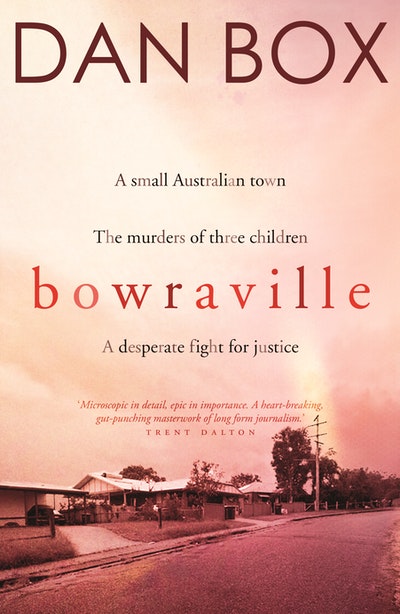 Winner of the Ned Kelly Award for True Crime. From the creator of the Walkley Award-winning podcast comes the story of a small Australian town, the murders of three children and a desperate fight for justice.
Buy now
Buy now
---