It might be the worst, but The Fine Cotton Fiasco wasn't the first.
In The Fine Cotton Fiasco, journalists Peter Hoysted and Pat Sheil give a behind-the-scenes account of Australia's dodgiest horserace. A devious scam. A last-minute change of plans. A shoddy disguise. An almighty cock-up. At the centre of this rollicking crime caper is a ring-in – one of the oldest tricks in the race-fixing book. In the passage below, Hoysted and Sheil introduce the basic premise of the scam, and offer a couple of historic examples that went equally pear-shaped.
The gambler is the easiest of targets for the man on the make. For a start, they come ready-made with a gullibility born of a complete misunderstanding of the laws of probability. Add to that the inherent greed and laziness that are the hallmarks of the 'mug punter', and you have fruit ripe for the picking. Money doesn't grow on trees, it's true, but a fine harvest can be reaped from the fellow who reasons that 'someone always wins – there's no reason it can't be me'.
Better still, unlike most other forms of gambling, at the track there is the supreme seduction of the notion that one can be 'good at it', in a way that no-one can be good at roulette or buying lottery tickets. At the heart of this is that mighty variable that the Greeks and Romans knew about – the horse.
If a gambler will happily throw his money away at a game like roulette, where it is patently obvious that no matter how much you know about the layout of the wheel, the table and the weight of the ball, you are just as likely to lose as the bloke standing next to you, how much more likely is he to take a chance if he thinks he knows something that the bloke next to him doesn't? Information that can give him the winning edge?
A lot more likely, as it turns out. Just as boys and girls are told that if they study hard, they'll get ahead, millions of mugs around the globe spend hours poring over form guides, breeding histories and weather forecasts, in an attempt to maximise their chances.
And it is indeed true that some horses are better than others, and that you actually do have a better chance of winning if you back, say, Winx instead of, say, a nag named Gluepot. But where's the percentage in that?
If Winx wins as predicted, and you've invested $1000 on it, you might win $50. If Gluepot wins at 100/1, and you've invested 50 bucks on it, you'll wind up with five large in your pocket.
Now, old 'Gluey' Gluepot is not likely to salute the judges, which is why the odds on the beast winning are so long. Winx, in stark contrast, has never lost a race, so you stand a pretty good chance of making that $50 backing her, rather than blowing it on Gluey.
Psychologically, there is the nightmare scenario of Winx falling over at the first turn and breaking a leg. There goes Winx, along with your thousand bucks. But gee, she just keeps on winning. Gluey, on the other hand, has never won anything, and will almost certainly come second last or thereabouts, but at least you've only lost $50.
But what if, by some miracle, you could get 100/1, not on Gluepot, but Winx?
You won't. No-one will offer you odds like that. But if no-one except you and a select group of mates knew about a race where you could get Gluey odds on the champ, because no-one except you knew that Gluey was lazing away in a paddock some­where as Winx arrived at the barrier wearing the number of the unloved and unfavoured, well, you'd never have to punt again in your life.
Throw away the form guides, mortgage the house, put the champagne on ice. This would be the closest thing to a certainty in the history of the track.
And while in reality you'd never be able to do it with Winx, on many occasions any number of Gluepots have been given the day off in order for much better horses to take their places and make very handsome profits for those brazen enough to pull it off. And it was precisely such a stunt that Gillespie was cooking up in Boggo Road back in 1984.
A ring-in.
A ring-in is the act of substituting a very fast horse for a hope­lessly slow one, like Gluey, and investing heavily in its long odds, knowing that the animal actually running the race should be odds-on favourite. The art and craft of success in such an endeav­our is making certain that nobody gets wind of it, not a soul; before, during or after the race in question.
The ring-in doesn't have to be a champion. It just has to be by far the best horse in the field. And given that races come in various categories according to the average strength of the horses competing, a good horse that consistently does well among fast company can, barring disaster, be confidently expected to run rings around a field of mediocre opposition.
The sport's handicappers, who decide what weight a horse must carry in a race, will also be deceived. The good horse will carry the weight of one poorly performed, allowing it to sprint to the line with little or no impediment.
In the confines of Boggo Road's sandstone and basalt walls, John Gillespie was hardly cooking up something new. The ring-in has a long and dishonourable history in racing, and while the scam can end catastrophically, over the years these swaps have made a lot of people a good deal of dough.
Inevitably, the only ones we know about are the ones that went wrong. Perhaps the most prolific substitute in Australian racing history was the 1930s galloper Erbie. Erbie was a very handy nag, with an impressive official record of 23 wins. But historians of the track reckon the gelding claimed at least another dozen wins under other names before being exposed in 1934.
Erbie's last recorded run (as Erbie, that is) was in Sydney in 1933, but he continued racing across several states under names including Duke Bombita and Chrybean. It all came undone when greed got the better of owner/trainer Charlie Prince at Murray Bridge, South Australia, where the less-than-impressive Redlock won easily after carrying one of the race's lightest weights into the Trial Stakes. Suspicions were raised as he was heavily backed despite recent ordinary form.
Charlie Prince personally pocketed more than £1000, very handy money in those days. A tip-off sent stewards after Prince, but they accepted his claim that all was above board, producing a 'receipt' for Redlock's purchase.
Racing writer Bert Wolfe was unconvinced. After seeing a photo of Redlock's finish, he chased evidence of a ring-in by attending the gelding's next race at Kadina, South Australia.
Wolfe asked to examine the horse after the race, which Redlock had won by 12 lengths, and, as he suspected, found that dye had been used to conceal Erbie's distinctive white blaze.
'I have no hesitation in asserting that the gelding which raced at Kadina on Saturday is our old friend, Erbie, in a new guise,' Wolfe wrote. 'I have watched him race and win on numerous occa­sions in Sydney and on provincial tracks within the metropolitan radius. I know his markings and characteristics.
'This time he hasn't a blaze down his face and his brands are different… but despite his new face, the gelding is Erbie.'
The chief steward was summoned and used petrol to remove the dye and reveal Erbie's blaze. The brands had also been clumsily tampered with for good measure. Erbie was impounded, having run his last race under any name, real or imagined. The real Redlock was eventually found where he'd been hidden, taking it easy in a paddock at Malmsbury, in central Victoria.
Prince was arrested and spent two years in jail for fraud, though his lifetime ban was later lifted.
Another substitution that ended in tears and jail time for the plotters came to light in May 1972, when a car salesman from the Melbourne suburb of Brighton, Vittorio 'Rick' Renzella, pulled off a $33,000 coup with a ring-in at a Victorian provincial track at Casterton. Renzella bought a mediocre bush galloper called Royal School, then purchased a far superior specimen with a string of city wins named Regal Vista.
Renzella had done his homework – the two horses had very similar markings and could easily have been mistaken one for the other, so he was able to switch them for the Casterton race without any problem. Well, except that Regal Vista had a brand on its left hind leg, which Royal School did not.
But Renzella had that covered. The registration papers he handed to the steward for Royal School before the race were fake, and Renzella had made sure that they mentioned the brand. This should have seen him well covered, but for one problem – there was a bloke in the crowd who wasn't buying it.
Veteran trainer Jim Cerchi declared after the race that he'd seen the real Royal School run before, and that the Royal School he was looking at that afternoon in Casterton wasn't him.
'This is a ring-in!' he announced to anyone who was listening, which turned out to be just about everybody there.
It also became clear that, in its previous four starts, the real Royal School had run last, third last, last and second last, so little wonder that it started at 40/1.
An inquiry led to Rick Renzella, jockey Stephen Wood and three others being charged with fraud, and Renzella being jailed. As well as being warned off tracks for life, Renzella got a two-year holiday at Her Majesty's pleasure into the bargain. Oddly, the stewards disqualified the plodder Royal School for life too, as if the horse had been in on the scam all along.
Where the old gelding ended up is unknown but if you were a dog owner in the late 1970s, it's a fair bet your pooch might have sampled what was left of Royal School out of a tin.
---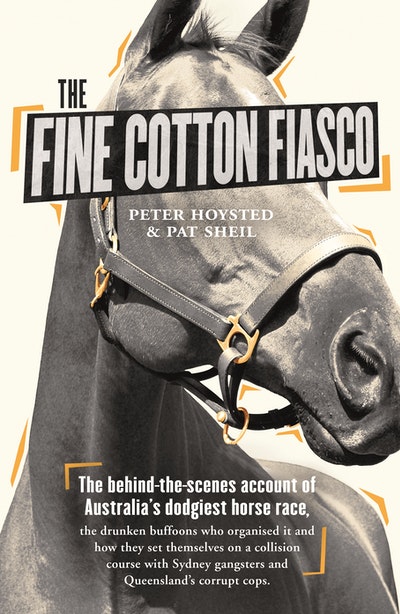 Welcome to Queensland, 1984. We hope you enjoy your day at the races.
Buy now
Buy now
---