Andrew Byrne reveals the impetus behind the creation of The Pretty Girl Killer.
Christopher Wilder was one of the most dangerous men Australia has ever produced. I first came across his name while researching stories to be commissioned for a new TV crime show. I was soon hooked and quickly became fascinated why this monstrous serial killer was virtually unheard of in the country of his birth. He became the 'most wanted' criminal in America, responsible for the brutal murders of around a dozen young women at least, yet very little if anything was known about his formative years growing up in Sydney's leafy suburbs. What I discovered shocked me more than almost any other story in my career and I knew immediately that only a book could tell the full story. 
Wilder was the result of a wartime romance between the teenage daughter of a Sydney tram conductor and a US naval officer who'd survived the Japanese attack on Pearl Harbour. He lived in a house his father had built amongst the towering gum trees overlooking the Lane Cove River in Ryde. The neighbourhood was more Aussie than Vegemite and just a few streets away from where I later lived and raised my own kids. I drove past the cul-de-sac, where the Wilder's red brick family home was tucked away, almost every day and became obsessed with understanding how such a family-friendly environment could produce such an evil man.
For the next year my investigation into Wilder's remarkable life – and all its dark secrets – took me up and down the east coast of Australia and then to the United States where I followed in his murderous footsteps, recreating the dramatic final months of his life. I found and interviewed people whose lives were forever changed by the psychopath. They all had extraordinary stories they agreed to recount for me about how the ruggedly handsome Aussie surfer and racing car driver duped and manipulated them with his intense charm. Many of them, particularly the survivors, were talking publicly for the first time.
One of his most courageous victims was renowned marine biologist Linda Grober, who at the time Wilder abducted her from a shopping mall was a petite nineteen-year-old university student. He smuggled her into his motel room, gagged and bound, inside a sleeping bag. For hours he abused and tortured her, gluing her eyes shut and subjecting her to agonising electric shocks, using a homemade device he carried in his briefcase. Sitting in Linda's living room listening to this intelligent woman open up for the first time about how she managed to outwit and escape one of the world's biggest psychopaths was one of the most humbling experiences of my life.
I interviewed the special agent who led the mammoth manhunt for Wilder (still one of the biggest in US history), the police officers who investigated Wilder's homicides and the private detective who first cracked the case against him but was abused and ignored by authorities. One interview, with the hugely successful Miami businessman whose beautiful fiancée Rosario Gonzalez disappeared after last being seen with Wilder, will always haunt me. Sitting at the huge table in his plush company boardroom, his heaving sobs reverberated off the wood-panelled walls, as he described how for ten years following her disappearance he put on his tuxedo every anniversary of their wedding date, then went to their local church to sit alone and remember his true love. Rosario's body, like many of Wilder's other victims, has still not been found to this day.
The most astonishing discovery about Wilder concerned his teenage years in Sydney when, with a camera slung over his shoulder, he prowled the beaches north and south of the city, targeting always pretty young women. Confidential police case files revealed a bombshell – Christopher Wilder was the prime suspect in one of the most notorious unsolved murder cases in Australian criminal history, the Wanda Beach murders. Fifteen-year-old schoolgirl's Marianne Schmidt and Christine Sharrock were lured into the sand-hills on a windswept beach near Cronulla on a summer day in 1965, where they were sexually assaulted then brutally stabbed and battered to death. Marianne's four younger siblings were on the beach playing games, completely unaware that their big sister was fighting for her life nearby. Three of her brothers and her sister Trixie agreed to be interviewed about the traumatic events of that day, and they also went back to Wanda Beach with me to do so – the first time they had returned together in five decades. It was a crime that shocked all of Australia, and although police undertook one of the largest murder investigations in NSW, no-one was ever charged. Officially it remains open but senior police, who have thoroughly reviewed the investigation recently using modern technology and methods not available at the time, have absolutely no doubt Wilder was the Wanda Beach killer. The Pretty Girl Killer details the overwhelming case against him and reveals how authorities let him slip through their fingers and lost crucial evidence.
My interviews with Marianne Schmidt's siblings were truly heartbreaking and only served to emphasise why it remains vitally important to clear up every unsolved cold case, no matter how old.
Wilder was not a stereotypical psychopath who operated in the shadows, coming out at night to prey on, stalk and grab his victims off the street. He was handsome, successful and very popular with women – he was never without a girlfriend. Behind the facade of a perfect gentleman, who wined and dined his dates in fancy restaurants and took them dancing in trendy nightclubs, Wilder was extremely cunning and knew his naive young victims felt less threatened by a stranger during the daytime. So he targeted them on crowded beaches, in busy shopping centres and at beauty pageants, even cockily approaching them when they were with their parents. Well dressed and confident, he managed to fool everyone for so long – family and friends, work colleagues and even judges, police officers, psychiatrists, therapists and magistrates. 
Thankfully, barbaric men like Wilder are very few and far between, but they should never be forgotten, no matter how heinous their crimes. The lessons to be learned from the mistakes that allowed him to continue killing are as important today as back in 1984 when Christopher Wilder fulfilled his often repeated boast that one day he would be on the front page of every newspaper. 
The exact number of Wilder's victims will never be known. The bodies of many young women abducted in Florida where he lived have never been found. Dumped in 'alligator alley', all trace of human remains disappear within a matter of days. Wilder is the prime suspect in a number of cases. 
In addition to the two Wanda Beach victims in Australia, in the final few weeks of his life, the FBI believes Wilder abducted twelve women. Nine were murdered, two escaped and he let one go.
He duped and abused dozens more women and children, including many in Australia, for more than twenty years. 
Now this astonishing full story is revealed for the first time in The Pretty Girl Killer.
---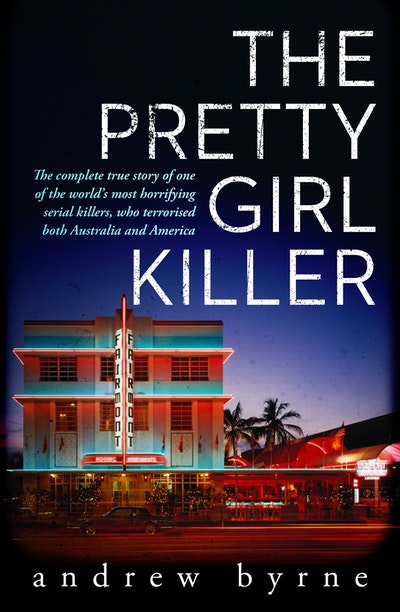 The complete true story of one of the world's most horrifying serial killers, who terrorised both Australia and America
Buy now
Buy now
---