The Silent Listener author on the best and hardest things about finishing her debut novel.
What's the first story you remember writing?
I remember writing a story for my dolls and teddy bear, who were lined up along a wall in my bedroom. The story was very Blytonesque… full of picnics, bike rides, smugglers, and contraband – I specifically remember how exciting that particular word sounded, and proudly inserting it into the story at appropriate places (and probably a few inappropriate ones too). I also remember stapling the pages down the middle and reading it aloud to my toys in what I thought was a very grown-up voice.
What do you love about reading and writing thrillers?
Without a doubt, what I love most about thrillers is the way authors use language to trick the reader – in the nicest possible way of course! For example, there are some very carefully crafted lines in The Silent Listener that on first reading are seemingly straightforward, but once you know the truth, you could re-read them and realise that what the character said or thought actually means something else. I really enjoyed crafting those sentences!
Can you tell us about discovering the seed of The Silent Listener.
I began writing this novel as a series of small vignettes that I was using to process events from my childhood. The more I wrote, the more I invented events and characters, and drew on both fact and fiction to create what I hoped was a compelling story.
What's so enticing about rural Australia as a setting?
The extremes! Rural Australia is all about extremes: extreme climate, extreme geographical features, extreme isolation, extreme attitudes and behaviours, extreme possibilities, and sometimes extreme eeriness. So you have a ready-made level of intensity of place and character, which can lead (hopefully) to voice and plot that pushes boundaries, and moves into the unpredictable. And that's when the real magic happens.
'The moment he dies, the room explodes with life.' At what point did you know you'd hit on a killer opening line?
That line came out of my head just like it is. It's never had one edit, and I have to confess that I instantly felt good about it. The rhythm is right, it immediately sets the tone of the whole book, it's perfect for Joy, and it says volumes. Some lines are like that, and some lines are painfully difficult to get right. It's the beauty and agony of writing.
Please tell us about the book's creation.
I had been writing the vignettes for a few years, linking them together, developing fictional characters and threads like the dictionary Joy makes, but it wasn't coming together. It wasn't a novel but rather a series of related scenes. I felt as if I'd tipped over a huge bottle of ink, and the ink just kept coming and coming, and spreading out… I knew I could continue to write 'chapters' and 'scenes' forever and it was gratifying that people found them compelling and said they were well-written, but I knew I needed a 'channel' so that all that ink would flow in one direction… to somewhere (like the little groove in the old wooden desks of my primary school that held pens and pencils and was right next to the hole for the inkpot). What I was lacking was a story and a structure, something that would pull readers in and, like a current, pull them along that flow of deep blue ink. What I needed was an overarching story that would keep readers interested in what was happening to Joy and her family and make them want to know what happens next. So I had to consciously approach my writing differently: I had to become a plotter and be rigorous and disciplined about focusing on plot and structure, knowing that I could come back and edit the sentences to make them more powerful.
After nearly a year of doing this, I had a much better novel, but it still required a mountain of work. I took a month off work (not so easy when you run your own business) and worked literally every single day for 30 days, sometimes for up to 13 hours, and clocked up nearly 250 hours of writing, editing and re-structuring. The end result was essentially the manuscript that I sent to literary agent Jacinta di Mase for her consideration. She liked it, signed me up, and a few months later, I had my contract with Penguin Random House Australia.
Another significant moment was when I decided to go back to uni and study creative writing at a post-graduate level. I completed a Post-Graduate Diploma, then a Masters, and met some wonderful people and learnt a lot. Because I was a single mum with teenagers, I could manage only one subject a semester, so both qualifications took years to complete, but that was fine because it wasn't the finishing that I was concerned with or the piece of paper at the end: it was the doing and the learning.
Some time after I completed my Masters, one of my fellow students with who I'd become friends encouraged me to apply for Antoni Jach's Novel-writing MasterClasses. I've completed several of these MasterClasses now and they really push you to examine what you're doing with your writing and why. Along the way, I have met dozens of people at many different stages towards and beyond publication. This helped me understand the intensity of the work I would need to put in, and helped me 'de-deify' authors. Subconsciously, I had always put authors on a pedestal, believed they were demi-gods and incredibly 'special'. But the published authors I met (many of whom became friends) were ordinary people who had put in the hard yards and trusted their talent and creative aesthetic. And many had faced challenges that I was still struggling with: finding time to write, and silencing the inner critic. This was very reassuring, and gave me the courage to begin to believe that I could do it, that perhaps I could finish a book and maybe even get it published.
What's the hardest thing about completing a novel?
The hardest thing about completing a novel is keeping on going when you don't know if it will ever be more than a manuscript on your computer. I have friends who are at this stage, who are facing that uncertainty. Even if you're picked up by an agent, there's still no guarantee that a publisher will love it enough to acquire it. My agent received quite a few rejections of The Silent Listener from publishers. I was lucky though – Penguin expressed interest before any of those rejections came in, so my ego was not too badly damaged. The moral here is that you really have to believe in yourself, and listen to people who say they like your work, and why they like it.
I also think the wording of your question has hit the nail on the head: 'completing' a novel. It's easy to start a novel, but to keep going – to finish it and to do all of the editing, restructuring and killing of darlings that finishing entails – that's hard. I must have thought about giving up a dozen or more times, and I honestly harboured a small belief that I actually never would finish it, but people around me were so positive about my work and I'd invested so much time, that I couldn't give up.  
What's the best thing about completing a novel?
The best thing about completing a novel is the great sense of accomplishment. I have a visual metaphor of the novel in my head: it started out as a rough block of wood, and as I edited, recrafted and restructured the words, it started taking on a distinct shape. Now it is a smooth solid sphere of polished wood that's satisfying to hold and rotate in your hands. There are still some little bumps in it, still some extra polishing that could have been done to it, but like a hand-made fabric, the imperfections hopefully remind you that a human created it.
What's a piece of writing advice that's resonated?
Italo Calvino wrote:
'If I think I must write one book, all the problems of how this book should be and how it should not be block me and keep me from going forward. If, on the contrary, I think I am writing a whole library, I feel suddenly lightened: I know that whatever I write will be integrated, contradicted, balanced, and amplified, buried by hundreds of volumes that remain for me to write.' 
When I read this (which was cited in a friend's doctoral thesis I was editing), I was working hard at making the novel as good as I could possibly get it, and I did indeed 'feel suddenly lightened'. I realised I was trying to put too much into the novel, trying to explore too many themes and trying to include everything I'd ever thought of! So I spent a few days wearing out my Delete key, and it felt great. A bit scary, but great. (And of course I have a folder called Deleted Bits that is brimming with files that I will probably never look at again.)
Any advice for would-be thriller writers?
When you think of an idea that you like (Emily lies to Lucy about where she was that night), also consider the exact opposite of it (what if Emily tells the truth, but Lucy lies to Emily?), because sometimes the opposite is absolute gold – and ultimately a lot more satisfying for you and your readers.
Give some special attention to the closing paragraph and line of each chapter. Cliff hangers are the obvious way to go, but you can also mix it up a bit, just so long as you aim to evoke an emotional response from the reader that will make them want to keep reading.
Scariest book you've ever read?
I think it might be Rosemary's Baby by Ira Levin, which was published in 1967 and I read in about 1974. The main premise is totally preposterous, but also totally believable – which reminds me of what James Wood says in How Fiction Works about what he calls 'plausible impossibilities'. I was haunted by that book for a long time, and I still all too easily recall a number of its images and events. I could never bring myself to watch the movie. It's perhaps not scary in a traditional sense, but it's left me with a metaphorical scar so I think it qualifies!
A classic thriller you love (and why)?
My favourite classic thriller is Rebecca by Daphne du Maurier. She absolutely nailed the art of deceiving the reader, imbuing lines of dialogue and thought with double meanings, and creating tension that you feel in the pit of your stomach. It's worth reading twice in quick succession so you can appreciate what she did.
A contemporary thriller you love (and why)?
I'm not sure if this would strictly be called a 'thriller' but there is a gruesome murder in it and a lot of twists and turns, so I'm going with it: The Nancys by RWR McDonald. The voice of the protagonist is singular, the plot is unpredictable, and the heinous crimes are duly solved by the most original sleuths I've ever read. Plus it made me laugh – many times.
What scares you?
I'm very pragmatic when it comes to spiders and rats and the dark and so on, but I can't deal with snakes. The scenes in the book that include snakes are essentially all true representations of what it was like on the farm I grew up on. We occasionally had snakes in our backyard and under the house, which completely terrified me, and my father told me they lived in the dam that we swam in. Yes, that's right… we swam in the dam that I thought was teeming with snakes!! I felt like my heart was a solid lump of stone whenever I was in that water, and now I wonder why I ever agreed to submerge my body it. I also hated the walk to and from the dam because we had to swish a long stick through the grass ahead of us, and thump our feet loudly on the ground to frighten away the snakes. Said feet were always in gumboots even if it was 100o (we spoke in Fahrenheit in those days), so that the snakes couldn't bite us, but I was convinced they'd just rise up like dancing cobras did in movies and strike above the top of my gumboot. Ugh!
---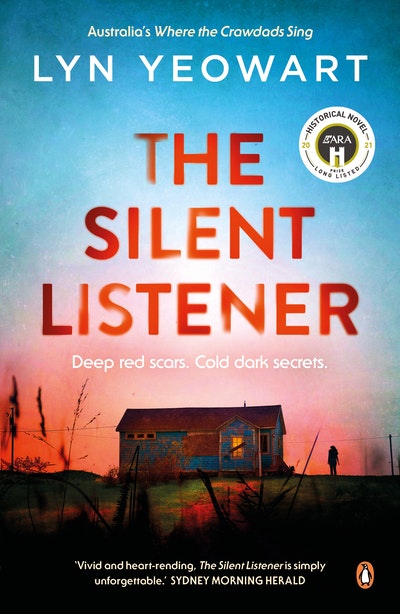 'A wickedly dark debut - haunting and unputdownable.' Christian White, author of The Nowhere Child
Buy now
Buy now
---