In The Yield, Tara June Winch explores how every word is embedded with stories.
Interlaced narratives of people and place combine within Tara June Winch's The Yield. In the spaces between these stories there are profound reminders of the importance of language and storytelling to understanding identity. It's fitting, then, that the book be published in the lead-up to NAIDOC Week 2019, the International Year of Indigenous Languages.
Peppered throughout the text are the personal Wiradjuri-language dictionary entries of Albert 'Poppy' Gondiwindi. 'The dictionary is not just words,' he writes, 'there are little stories in those pages too.' The words he assembles are embedded with stories of past, present and future. Every narrative is interwoven in space and time – every detail irrevocably connected to what was and what will eventually come to be.
To celebrate Tara June Winch's ode to the power of language, we're presenting one Wiradjuri word a day in the lead up to publication. From the pages of The Yield, here are five of Poppy's dictionary entries and associated stories. Breathe life into these Wiradjuri words by reading them aloud.
Where is your country? – dhaganhu ngurambang
The question is not really about a place on the map. When our people say Where is your country? they are asking something deeper. Who is your family? Who are you related to? Are we related? There's a story I read about someone who wanted to build a map that was the scale 1:1 so that the map covered all the oceans and all the mountains and land at its true size. That made the girls laugh when I told them – imagine walking underneath and holding the thing above your head in the dark? That's a little what a map does, takes the light out so you can't see. The map isn't the thing, this country is made of impossible distances, places you can only reach by time travel. By speaking our language, by singing the mountains into existence.
World, all over the world, everyplace – bangal-ngaara-ngaara
Once, the ghosts came when I was meant to be doing chores, and away we went to shake a leg. I had never been to a dance in my life, I must have been about thirteen years old. All my family was at the corroboree and there they showed me the dance of the crow. We all danced and while we were dancing we flew into the sky, doing things that humans can't do. We went bangal-ngaara-ngaara and the ancestor, my great-great-great-nanny was there, and she was teaching me about dying. We were flying and she said, 'No-one ever dies.' I said, 'I'm sure they do because my daddy died.' She took her claw then and ripped a feather off my wing and she said, 'This is not you. If I rip all the feathers off you, it is not you.' 'What is me?' I said, and she said, 'You is only electricity and electricity cannot die. You go somewhere else, but your feather is not you.' We went to a thousand and one places in our dance and she showed me that dust to dust is just where we are resting – in the ground some places, in the water other places, burnt in ashes other places – she just said, 'They now soil, they now water, they now lightning.' Afterwards we flew back to the fire. All my ancestors danced through night and we ate quandong fruit by the fire. It was sweet and I stayed awake a long time after dessert. But then it was time for bed and they took me back to the Boys' Home. When I lay in bed that night I was very scared that I was going to die, that they showed me dying for a reason. But I didn't die that night, I think they just wanted to tell me things, but not always in the way I thought. I realised I was just learning, it didn't need to be in a special order, they just had me learn what I needed for all the days, not just the one I feared.
Respect – yindyamarra
I think I've come to realise that with some things, you cannot receive them unless you give them too. Unless you've even got the opportunity to give and receive. Only equals can share respect, otherwise it's a game of masters and slaves – someone always has the upper hand when they are demanding respect. But yindyamarra is another thing too, it's a way of life – a life of kindness, gentleness and respect at once. That seems like a good thing to share, our yindyamarra.
Marks or tracks, impressions of passing objects – murru
This is the tracks the snakes, the goanna, the birds, and us make as we crisscross the world. We all leave murru behind, so leave a gentle one.
Yield, bend the feet, tread, as in walking, also long, tall – baayanha
Yield itself is a funny word – yield in English is the reaping, the things that man can take from the land, the thing he's waited for and gets to claim. A wheat yield. In my language it's the things you give to, the movement, the space between things. It's also the action made by Baiame [the spirit that ruled the Gondiwindi] because sorrow, old age and pain bend and yield. The bodies of the ones that had passed were buried with every joint bent, even if the bones had to be broken. I think it was a bend in humiliation just like we bend at our knees and bow our heads. Bend, yield – baayanha.
---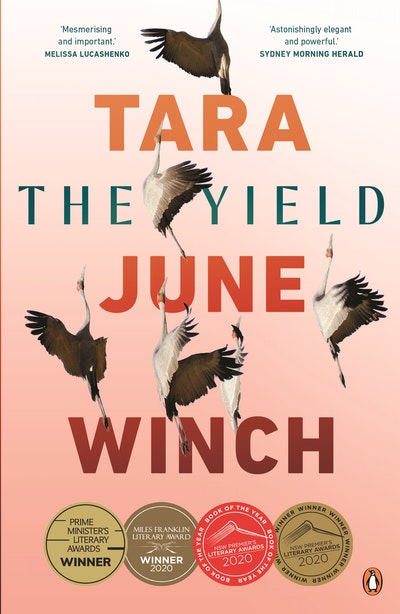 Winner of the 2020 Miles Franklin Award. Winner, Book of the Year, People's Choice, Christina Stead Prize for Fiction at NSW Premier's Literary Award. Shortlisted for the Stella Prize. Shortlisted for the VPLA. Just tell the truth and someone will hear it eventually.
Buy now
Buy now
---