This divine paella dish is sure to be loved by all.
Saffron is a bulbous perennial plant in the iris family that blooms in the autumn. Harvest takes place over two weeks and the flowers are handpicked before dawn, before they open for the day. It requires more than six thousand flowers and over twelve hours of labour to create just 30 grams of saffron, hence the nickname "red gold." In this recipe, the musky, piney saffron is complemented by the earthy, smoky paprika and garlicky sweetness. It's a taste of heaven.
9 Plant Points | Serves 4
1 tablespoon olive oil or vegetable stock
1 medium yellow or white onion, finely chopped
1 jarred roasted red pepper, chopped
1 red sweet pepper, seeded and chopped
1 medium courgette, chopped
2 garlic cloves, crushed
2 tomatoes, seeded and chopped
1 pinch saffron threads
1 teaspoon smoked paprika
1/8 teaspoon cayenne pepper
220 g short-grain rice (Arborio, Japanese sushi rice, Bomba rice)
600 ml Biome Stock Unleashed (page 239 of The Fibre Fuelled Cookbook) or vegetable stock
10 g fresh flat-leaf parsley, finely chopped
1 lemon, sliced
In a paella pan or a large, shallow frying pan, heat the olive oil over medium heat. Add the onion, roasted red pepper, and sweet pepper to the pan and cook for about 10 minutes, until brown and reduced.
Add the courgette, garlic, tomato, saffron, paprika, and cayenne and cook over medium heat, stirring occasionally, for another 10 minutes, until the vegetables are soft.
Add the rice and stock and stir once to combine, then shake the pan to evenly distribute the rice and vegetables. Reduce the heat to medium-low and let simmer for 22 to 25 minutes. Check for most of the liquid to be absorbed and the rice at the top to be nearly tender. If for some reason your rice is still not cooked, add 60 ml more water or stock and continue cooking (can also finish cooking in the oven; see Pro Tip).
Remove the pan from the heat and cover with a tight-fitting lid or foil, then place a tea towel over the lid to rest for 5 minutes (this allows the rice to finish steaming). Garnish with fresh parsley and lemon slices.
PRO TIP: Once the rice is mixed in, resist the urge to stir it again in order to allow a crispy crust to form at the bottom, called a socarrat. Depending on the size of your pan or burners on the hob, you may need to finish this in the oven. Cover with foil, then finish in a 175°C oven, until the rice is cooked through.
Hungry for more recipes? Sign up to our foodie email here.
---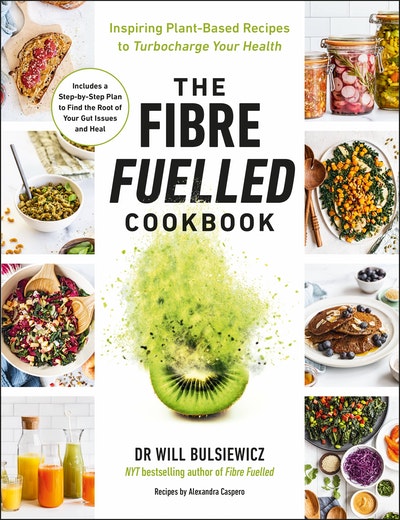 A pioneering gut health cookbook from New York Times bestselling author Dr Will Bulsiewicz. Packed with delicious plant-based recipes and featuring Bulsiewicz's ground-breaking GROWTH plan for overcoming food sensitivities.
Buy now
Buy now
---