These delicious stuffed peppers are a hearty addition to your weekly meal rotations.
Sweet peppers contain a molecule called sweet pepper pyrazine, which is responsible for their distinctive scent. The human nose has an incredible capacity to detect this smell, even in exceedingly light concentrations. For example, you may notice a sweet pepper nuance to Cabernet Sauvignon wine due to the gentle presence of this molecule.
7+ Plant Points | Makes 4 stuffed peppers
5 large fresh red sweet peppers, halved and seeded
2 tablespoons diced white onion
Fresh coriander, to taste
135 g quinoa, rinsed
360 ml Low-Histamine Biome Stock (page 159 of The Fibre Fuelled Cookbook) or water
279 g cooked black beans
150 g sweetcorn kernels, frozen or thawed
2 teaspoons ground cumin
11/2 teaspoons garlic powder
1/2 teaspoon salt
Pinch ground pink peppercorn
Avocado oil or olive oil, for brushing the exteriors of the sweet peppers
 Supercharge It! (optional toppings):
Coriander
Red or white onion, diced
Preheat the oven to 230℃. Place two sweet pepper halves flat-side down on a lined baking tray. Roast on the middle or top rack for about 20 minutes, rotating halfway through, until slightly charred and soft.
Place the roasted red pepper, white onion, and coriander in the base of a food processor and pulse to create a chunky salsa. Season to taste with salt and pepper, then set aside.
Add the quinoa and vegetable stock to a saucepan and bring to the boil over high heat.  Once boiling, reduce the heat, cover with a tight-fitting lid, and simmer for about 15 minutes, until all of the liquid is absorbed and the quinoa is fluffy.
Reduce the oven temperature to 190℃ and lightly grease a 22 × 33 cm baking dish or rimmed baking tray.
In a small bowl, combine the red pepper salsa, black beans, corn, cooked quinoa, cumin, garlic powder, ½ teaspoon salt, and a pinch of pink pepper.
Brush avocado or olive oil on the exterior of the peppers to prevent them from drying while baking. Scoop the filling into the peppers.
Cover the stuffed peppers with foil and bake for 30 minutes. Remove the covering, then bake for another 20 to 25 minutes, until the peppers are tender.
Garnish with supercharged toppings of your choice and serve.

FF Unleashed: If you are not restricting histamine, you can substitute bottled roasted peppers instead of roasting your own peppers for the stuffing. Add 11/2 teaspoons chilli powder to the stuffing and substitute black peppercorns for the pink peppercorns.
Hungry for more recipes? Sign up to our foodie email here.
---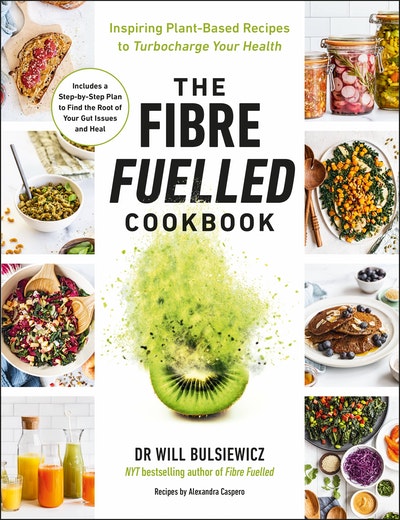 A pioneering gut health cookbook from New York Times bestselling author Dr Will Bulsiewicz. Packed with delicious plant-based recipes and featuring Bulsiewicz's ground-breaking GROWTH plan for overcoming food sensitivities.
Buy now
Buy now
---