Enjoy this wholesome, beautifully spiced meal from the Fibre Fuelled Cookbook.
During the era of Indian maharajas and maharanis, royal chefs created exuberant spice blends for a complex, aromatic culinary experience. The composition of garam masala differs regionally across India, and may include up to thirty different ingredients. According to Ayurvedic tradition, garam masala is properly named for its ability to enhance digestive fire, or agni, which supports strong immunity and a long, healthy life.
FODMAP note: This recipe uses 170g of chickpeas to make 4 servings. Note that 40g of canned chickpeas is considered low FODMAP, while 80g is considered moderate FODMAP.
8 Plant Points | Serves 4
2 teaspoons garlic-infused olive oil or stock, plus more as garnish (optional)
2 tablespoons chives (fresh or freeze-dried)
2 teaspoons smoked paprika
2 teaspoons ground cumin
1/2 teaspoon garam masala
1/2 teaspoon ground turmeric
1/2 teaspoon salt
1/4 teaspoon freshly ground black pepper
1/4 teaspoon cayenne pepper
170g canned chickpeas, drained and rinsed
400g tofu, drained and cut into cubes
One 400g can chopped tomatoes
370g cooked quinoa
Juice of 1 lemon
180g diced cucumber, to garnish
Fresh flat-leaf parsley, to garnish
Heat the garlic-infused olive oil in a large frying pan over medium heat. Add the chives, paprika, cumin, garam masala, turmeric, salt, black pepper, cayenne, chickpeas, and tofu.
Stir occasionally and cook for about 5 minutes, until the tofu starts to get a little crisp on the outside.
Add the chopped tomatoes and allow the mixture to simmer for about 20 minutes while you prep the rest of the ingredients.
To assemble the bowls, fill with a base of cooked quinoa, then top with the chickpea-tofu mixture.
Drizzle with lemon juice and more olive oil, if desired. Garnish with the diced cucumber and fresh parsley.
---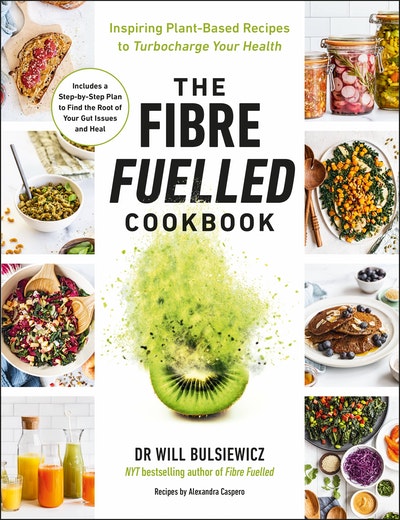 A pioneering gut health cookbook from New York Times bestselling author Dr Will Bulsiewicz. Packed with delicious plant-based recipes and featuring Bulsiewicz's ground-breaking GROWTH plan for overcoming food sensitivities.
Buy now
Buy now
---